WCC's Allied Health Career Exploration Camp 2014 is here! Students can learn about the different kinds of health care careers and will earn their First Aide & CPR Certification during this four-day event. The cost of the camp is $40 and includes a field trip to Wayne Memorial Hospital and a camp t-shirt! Register today to secure your spot as we are limited to 50 students each session.
June 23-26, 2014 (rising 6th-8th graders) 8:30 a.m. – 11:30 a.m.
July 21-24, 2014 (rising 9th-12th graders) 1:00 p.m. – 4:00 p.m.
Sample itinerary
Monday:  Basic Healthcare Techniques, Hand Washing, Putting on PPE, Vital Signs
Tuesday: Campers will pick one area of interest – EMS, Fire, Nursing, Nurse Aide, or Dental – and will learn about this healthcare career in detail.

Wednesday: Field trip to Wayne Memorial Hospital.  Parents need to drop their campers off and pick them up at Wayne Memorial Hospital (we will notify you of the location closer to the day of the field trip). Students should bring money for a snack and wear their camp t-shirts!
Thursday: First Aide & CPR Certificates of Completion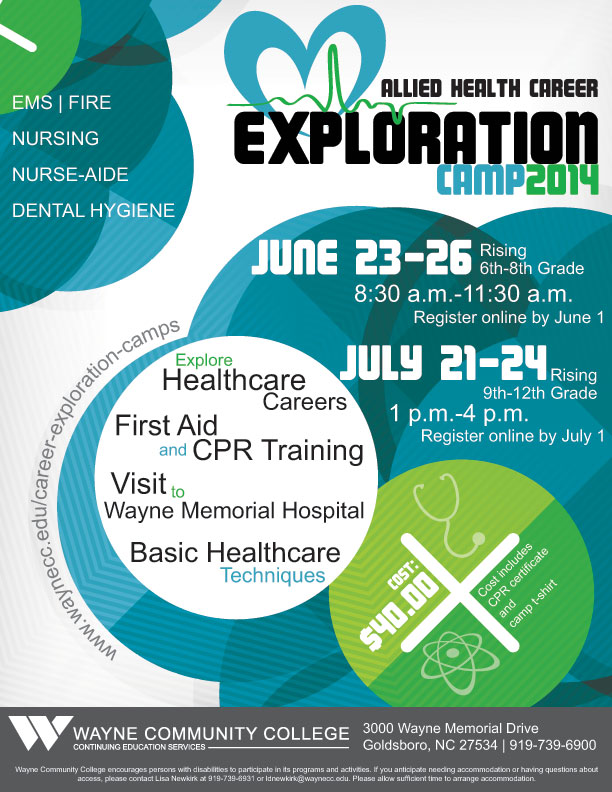 All students who wish to attend should download and complete the Steps to Register below.
1. Download the Continuing Education Registration Form and Permission Slip and fill out all items on both forms. The registration form can also be picked up on the WCC campus in the Walnut building.
2. Be sure to sign and date the form (use the new Digital Signature option if desired–just click the Signature block and follow the directions).
3. Print  your registration form and submit to WCC. You can send in the forms by mail (address is below); you can fax/email/scan your signed forms to WCC's Continuing Education Department; and you can drop-off your signed forms along with your course fee (we accept Cash or Credit Card). The camp fee is due at time of registration.
Mail completed Registration and Permission Forms to:
Wayne Community College Continuing Education ATTN: Registrar
P.O. Box 8002
Goldsboro, NC 27533-8002
Drop-off completed Registration and Permission Forms / Course Fees to: Walnut Building, Continuing Education receptionist
Fax completed Registration Form to: (919) 739-7133 or email to: wcc-faxce@waynecc.edu
For Credit Cards: After we receive your Registration Form, we will contact you for your Credit Card information.
NOTE : We strongly suggest you leave off your Social Security number when you fax or email your registration. You can call our office with your Social Security Number for security purposes.
Middle School Permission Slip
High School Permission Slip
CES Student Registration Form
Want more information? Complete the Information Request Form below and someone will contact you shortly.