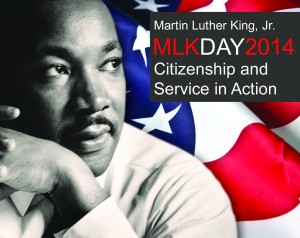 Program of Celebration
The Cultural Diversity/Global Education Task Force will host a program of speakers to celebrate Dr. King's legacy at 1 p.m. on Thursday, January 16, 2014.
The guest speaker will be Manuel Dudley, Ph.D.
Dr. Dudley graduated from Goldsboro High School. He received a Bachelor of Science degree in Human Development and Family Studies with a minor in Psychology from The University of North Carolina at Greensboro in 1994. He also received a Master of Science in Counseling and Educational Development and Specialist in Education in Gerontology degrees from the same university in 1997. He received a Doctorate of Philosophy degree from North Carolina Agricultural and Technical State University in Leadership Studies in 2011.
Dr. Dudley began his community college career in 1997 at Wayne Community College as a part-time recruiter and Human Resource Development trainer, then went on to become the Department Chair of Human Services. He was hired by Mitchell Community College in 2003 as the Dean of Math, Natural, and Social Sciences. Dr. Dudley currently works at Guilford Technical Community College as the Dean of the Greensboro Campus.
His work with the North Carolina Community College Minority Male Mentoring Initiative was recognized by the System Office in 2008. He serves on the boards of The Greensboro Housing Authority, the UNC-Greensboro School of Counseling and Educational Development, and The Sanctuary House.
Dr. Dudley, wife Kimberly, and daughter Sonni live in Greensboro and are active in various community organizations and initiatives.
Winners of the college's writing contest will be recognized during the event and students will provide musical performances, including the presentation by Virgil Shaw of his original song, "Keep Dreaming."
The public is invited to this program. There is no charge and no tickets or reservations are required.
——————————————————————————————————————————
Presentation of Lee Daniels' "The Butler"
WCC's Cultural Diversity/Global Education Task Force will present Lee Daniels' The Butler at 7 p.m. in Moffatt Auditorium.
No admission fee.
WCC students and employees may bring family members and guests to this film. Come early to guarantee a spot. Please be in your seat before 7 p.m.; the program will start on time.
History Instructor Charlotte Brow will serve as moderator for a discussion following the film for anyone who wishes to stay. Many who have seen it say that they came away invigorated and inspired and wanted to share their thoughts, and others had questions about the timeline and events portrayed. Mrs. Brow will lend her expertise and lead the conversation.
Director Lee Daniels teams up with Emmy Award-winning screenwriter Danny Strong to tell the remarkable story of White House butler Eugene Allen (played by Oscar-winner Forest Whitaker), who served eight U.S. presidents over the course of 30 years, and witnessed sweeping social change during his three decades of service at 1600 Pennsylvania Avenue. Inspired by Wil Haygood's Washington Post article, the film features Robin Williams as Dwight D. Eisenhower, James Marsden as John F. Kennedy, Liev Schreiber as Lyndon B. Johnson, John Cusack as Richard M. Nixon, and Alan Rickman as Ronald Reagan. Oprah Winfrey, Cuba Gooding Jr., Terrence Howard, Jane Fonda, David Oyelowo, Lenny Kravitz, Melissa Leo, and Vanessa Redgrave co-star. (Author: Jason Buchanan)
Lee Daniels' other films are The Paperboy (2012), Precious (2009), Tennessee (2008), Shadowboxer (2005), The Woodsman (2004), and Monster's Ball (2001). Said Daniels, "Here's the thing: I think the media underestimates the intelligence of the moviegoer. We need to be fulfilled. People want to sit down and think, and I try to make people think."
Rated PG-13
Runtime: 132 minutes
Awards: www.imdb.com/title/tt1327773/awards?ref_=tt_awd
Trailer: Lee Daniels' The Butler
Forest Whitaker discusses his role in The Butler with additional commentary provided by Charles Allen (Eugene Allen's son), Oprah Winfrey, and director Lee Daniels: www.imdb.com/video/imdb/vi490449177?ref_=tt_pv_vi_2
——————————————————————————————————————————
The submission period for the Essay/Creative Writing Contest has ended.
Winners will be announced during the celebration event at 1 p.m. on Thursday, Jan. 16 and their essays printed here.
"Citizenship and Service in Action"
This Martin Luther King, Jr. Day, we are turning our attention to the theme of this year's celebration: "Citizenship and Service in Action." Dr. King's life embodied this value, so it is no surprise that he stated, "Life's most persistent and urgent question is: 'What are you doing for others?'"
What does Citizenship and Service in Action mean to you? How have you impacted the lives of others, or had your own life impacted by an act of service? In a work of creative writing or an essay, share your story of what Citizenship and Service in Action means to you.
Student prizes: First Place – $75.00 Second Place – $50.00 Third Place – $25.00 The winning composition will be published in the 2014 issue of the Renaissance, the Wayne Community College literary magazine
Faculty/Staff prizes: Personalized business card holder
Deadline: January 10, 2014 at 10 a.m.
Word limit: 500 words or less
Contestants are strongly encouraged to submit their entries by through the online submission form using the link below.
Do not include your name on the essay or other work of writing.
If you are unable to submit your entry online, you may drop off entries at the circulation desk of Erwin Library, on the 3rd floor of the Wayne Learning Center.
The Student Contest is open to all curriculum, Continuing Education, WEMCHS, WCC Adult High School, GED, and ESL, as well as dual-enrolled high school students. Faculty/Staff Contest is open to all employees of Wayne Community College.
Questions about the essay/creative writing contest may be forwarded to the Cultural Diversity/Global Education Task Force, care of Jennifer Sebai at jlsebai@waynecc.edu or 919-739-6763.