Small Business Center
---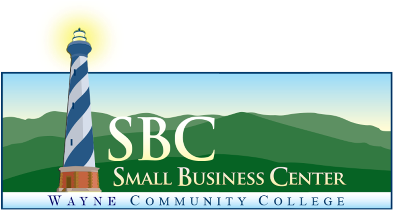 The Small Business Center, part of NC's dynamic Small Business Center Network, provides one-on-one consulting services, resources, and free seminars.  Our goal is to help you realize your dream of owning your own business or making your current business more profitable.
FREE Counseling
The center provides analysis and evaluation to determine our clients' immediate needs at the Wayne Community College Campus and other off-site locations listed below. Individual attention is provided for those clients who need detailed assistance in starting a business.
NOTE: Wayne Community College will be closed on Fridays for the Summer from May 18th – August 9th.
Current Off Campus One On One Counseling Schedule
(NOT FOR CLASSES OR SEMINARS)

Day of the Month
Time
Location
Address
1st Monday of every month
8:30 am to 10:00 am
Downtown Goldsboro Development Corporation (DGDC)
219 N. John St.
Goldsboro, NC 27530
2nd Tuesday of every month
8:30 am to 12:00 pm
Wayne County Chamber of Commerce
308 N. Williams St.
Goldsboro, NC 27533
3rd Monday of every month
3:00 pm to 5:00 pm
Wayne County Public Library-Goldsboro
1001 E. Ash St.
Goldsboro, NC 27530
1st Thursday of every month
9:00 am to 12:00 pm
Steele Memorial Library-Mount Olive
119 W. Main St.
Mount Olive, NC 28365
*3rd Friday of every month
9:00 am to 12:30 pm
Wayne County Library-Fremont Branch
202 N. Goldsboro St.
Fremont, NC 27830
1st Wednesday of every month
1:00 pm to 4:00 pm
NC Works
2006 Wayne Memorial Dr.
Goldsboro, NC 27534
All Other
M-THURS. 8:00 am - 4:30 pm
FRI. 8:00 am - 12:00 pm
WCC Campus
Walnut Bldg. Room 108
3000 Wayne Memorial Dr.
Goldsboro, NC 27534
*Summer counseling at the Fremont Branch Library will move to Thursdays, from 2:00 p.m. – 5:00 p.m. on May 18th until August 9th.
Request a FREE One On One Counseling Appointment
Training
The center conducts FREE seminars and workshops designed to better educate the small business person to meet the ever-increasing challenges facing small business. Some of the Core programs are offered twice a year and include:
How to Start a Business
How to Write a Business Plan
Financing the Small Business
Taxes and Record Keeping
Advertising and Marketing the Small Business
Small Business Center brings professional training opportunities to the area's small business owners and other interested persons. Training sessions are offered as free or low-cost seminars, workshops, and short-term courses.
Most SBC seminars require a minimum of 3 pre-registered attendees before the session can be held as scheduled. By pre-registering you will be notified on any changes in the schedule.
Resources
The center maintains various types of business related information and current multi-media resources. Clients may check out these materials by visiting the center. The college library and other college facilities are also available. Additionally on a state and national level there are many online resources to aide you in your business planning.
Let Us Work For You
Are you considering a new business venture? Expansion? Or perhaps just need help with an existing plan? If so, let us work for you!
We are in the business of helping businesses succeed. Whether it's through additional training, one-on-one counseling or providing the contacts and information you need, we're here to serve you. We understand the problems small businesses face. And best of all, the services we provide are at no cost to you.
How to Contact Us
Dale Fey (919) 739-6941 or Linda Berard (919) 739-6940