Computer Courses
---
Get The Computer Skills You Need For A Great New Job!
Take advantage of low-priced training on some of today's top software programs. The Wayne Community College Continuing Education Services department offers Computer Program training that fits your schedule and at your pace, with traditional classes, hybrid classes and online training.

Customized Courses Tailored For Your Employees:
We can tailor computer training to fit your company's specific needs. We offer training in Microsoft Office, Basic Computer skills, Excel, Adobe Creative Suite, Web Page Design, and much more.
Web Supported/Hybrid Courses:
We are now offering Web Supported/Hybrid courses: these course are a combination of in-class and on-line instruction. In most cases, you can work on your Web Supported course in the Computer Lab (Magnolia Building). These courses offer the benefit of more instruction with less gasoline!
Slow-Paced Instruction Available:
We offer specialized classes designed to meet the needs of individuals new to the computer. These courses are taught by dedicated and patient instructors who understand the difficulties of learning new technical skills. These classes are presented at your pace and make learning the computer fun!
Online Courses From ed2go—Learn On Your Schedule!
We offer over 200 ONLINE computer courses covering almost every subject imaginable!  Courses for Teaching Professionals, Microsoft Office, Computer Troubleshooting, Computer Networking, Wireless Networks, Web Page Design, Languages, Personal Development, Child Care, Business Admin., and so much more!  New courses start every month!  Learn more about online Ed2Go Courses visit online at www.ed2go.com/waynecc
VMware vSphere 6 Install, Configure and Manage
This course is online and is mostly hands-on via remote access to VMs running actual VMware technologies. The course explores installation, configuration, and management of VMware vSphere, which consists of ESXi and vCenter Server. This course is based on ESXi 6 and vCenter Server 6. Completion of this course satisfies the VMware authorized prerequisite to taking the VCPDCV exam. Upon completion of this course, the student can take the examination to become a VCP certified. The hands-on assignments in this course will require about 3 to 5 hours per week.  For more information, please Learn more about the VMware vSphere 6 Online Course.
Administrative Assistant Certificate Program:
This program will provide students with extensive training in a variety of basic computer/office skills.  This course is designed to provide the student with extensive computer skills most in demand by today's employers.  This course usually meets twice a week for two hours in each meeting and there is no Capstone course required.  You will learn the basics of computer maintenance (Firewalls, Spy ware, Ad ware, malicious code, MS Updates, hard drive clean-up & defragment, etc.), using email and attachments, word processing, spreadsheets, presentation programs, databases, (using programs such as Microsoft Word, Power Point, Excel, Access) and much more.  We now offer Work Keys Training and testing for the Career Readiness Certificate as an optional section of the course.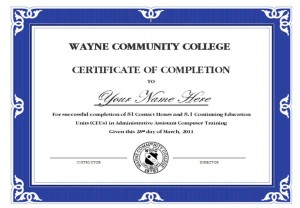 Download a PDF with more information about our Administrative Assistant Certificate Program
For more information contact us at (919) 739-6931.