The Academic Skills Center is an instructional support service available to Wayne Community College (WCC) students and community members preparing to enter WCC. The Center provides a place for students to study with assistance from professional staff and peer tutors.
Academic Skills Center Schedule
Monday-Thursday 7:45 AM – 8:00 PM
Friday 7:45 AM – 1:00 PM
The Center offers supplementary instruction through group study, computer tutorials, audio/video tutorials, and worksheets. In addition to helping students better understand concepts taught in reading, English, math, and science courses, the Center staff also aids students in improving their study skills and in becoming independent learners.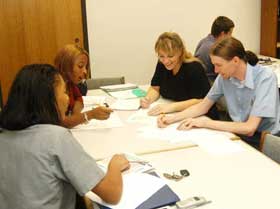 Our Mission Statement
The mission of the Academic Skills Center is to facilitate student learning through individualized and group instruction, facilities, equipment, and materials.
Our Goals
To supplement classroom instruction
To provide academic assistance for college preparation
To encourage personal growth within the community by providing remedial programs in reading, grammar, and mathematics.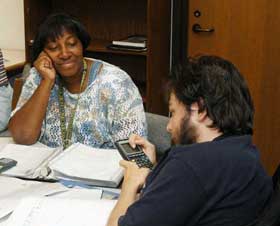 If you have questions, comments, or assistance needs, you may contact us at 919-735-5151 ext. 6746 or 6748. Or you may visit us in the Wayne Learning Center, Third Floor, Room 322A.
"You can teach a student a lesson for a day; but if you can teach him to learn by creating curiosity, he will continue the learning process as long as he lives."  ~Clay P. Bedford