Wayne Community College's unit of the Association of Educational Office Professionals (AEOP) swept the district association's annual awards for 2013.
In a ceremony held during the District 12 Annual AEOP Meeting and Workshop earlier this month, WCC was presented the N.C. Association of Educational Office Professionals "Strive for Excellence Award" that is determined by the participation of the unit's members on committees, as officers, and in events and workshops, and the professional certifications they hold, and the unit's activities such as newsletters, scholarships, and service projects. The college's unit was also recognized for recruiting three or more new members and recruiting the most new members to the organization.
Dr. Peggy Teague, WCC vice president for academic and student services, was honored as the "Katrina V. Miller Administrator of the Year." She had been named the unit's Administrator of the Year this past spring and will be the District 12 nominee for the statewide AEOP administrator of the year award.
While dismissive of her own accolade, Dr. Teague said, "I was honored to be in attendance when these many awards were announced. Our chapter won all of the awards – no other chapters were recognized! They work hard and support many events on campus as well as raising funds for local and district scholarships."
The AEOP is a professional organization of educational office personnel and administrators. It provides its members educational opportunities, a professional standards certificate program, scholarships for member and students, a legislative platform, and awards at levels from the individual unit to the state organization.
Wayne Community College is a public, two-year college with an open-door admission policy located in Goldsboro, N.C. As it works to develop a highly skilled and competitive workforce, it serves 15,000 individuals annually as well as businesses, industry and community organizations with high quality, affordable, accessible learning opportunities, including more than 100 college credit programs.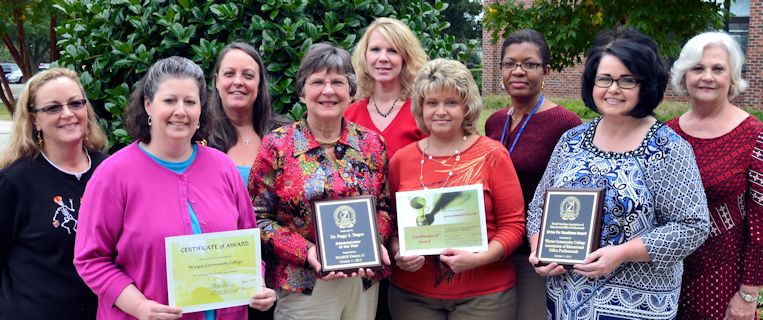 Celebrating the awards their unit received at the District 12 Annual Meeting are Wayne Community College Association of Educational Office Professionals members (left to right) Jerrie Stanley, Becky Mulligan, Treasurer Linda Berard, Administrator of the Year honoree Dr. Peggy Teague, Robin Wheeler, Wendy Potter, Secretary Angelia Warner, President Theresa White-Wallace, and Vice President Annette Hill.