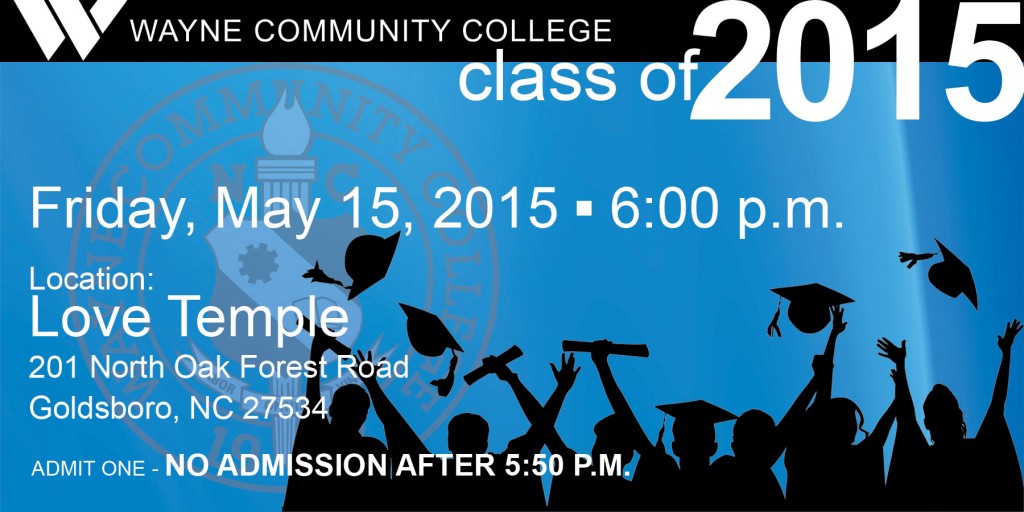 Curriculum Graduation:
Location – Love Temple (Map)
Friday, May 15
6:00 p.m.
No late admittance.
Graduation Letter
Each graduate will receive 4 tickets for guests (handed out at rehearsal).
This is a church and a formal event.
No food, drink, gum, or tobacco products.
No balloons, signs, noise makers, etc.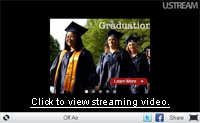 Graduation Rehearsal:
Wednesday, May 12
1:30 p.m.
Moffatt Auditorium – WLC building
Each graduate will receive 4 tickets for guests.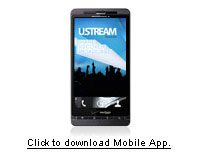 Application For Graduation:
Deadline Wednesday, April 1
Applications received after deadline will be processed in the Summer semester.
Cap And Gown Orders:
Deadline – Wednesday, April 1
See WCC Bookstore
PTK graduates:
Contact Vicky Lassiter, PTK advisor, for additional info (SPR 144, (919) 739-6881, lassiter@waynecc.edu).
WCC Honors Program graduates:
See Honors Program advisor for additional info.
Adult High School and GED Graduation – Thursday, May 8
The graduation ceremony for Adult High School and High School Equivalency Diploma (GED®) graduates will be Thursday, May 8th at 6:00 p.m. in Moffatt Auditorium on the campus of Wayne Community College. Each graduate will be given three guest tickets for seating in the auditorium. Additional seating for guests without tickets will be available in the cafeteria next to the auditorium where there will be a monitor for viewing the ceremony.
Graduation practice will be Wednesday, May 7th from 3:30 p.m. until 5:00 p.m. in Moffatt Auditorium. Guest tickets will be given to graduates at this time.  It is important for graduates to attend this practice. For more information call Ms. Rabhan at 919-739-6917 or Ms. Redmon at 919-739-6903.
Caps and Gowns ordered by graduates may be picked up from the bookstore beginning the week of April 28th. The bookstore will be open until 6:30 p.m. on May 7th the day of practice and until 5:00 p.m. on May 8th, graduation day.
Students or guests needing special accommodations should make arrangements with the Disability Services Counselor two weeks prior to graduation by calling 919-739-6729 or TTY 919-583-8544.
Congratulations to the High School Equivalency and Adult High School graduating class of 2014!