Curriculum Graduation
Applying for Graduation
**DEADLINES
SPRING 2016           March 24, 2016
SUMMER 2016        July 8, 2016
FALL 2016                November 18, 2016
Applications for Graduation are completed with your advisor.
A separate Application for Graduation is required for each degree/diploma/certificate.
Completed Applications for Graduation are due in the Office of Admissions and Records by the published deadline. Applications received after the deadline will be processed for the next semester.
Graduation Fee
There is no graduation fee.
There is a charge for caps and gowns for students walking in the Spring ceremony.
Walking in the Spring Ceremony
There is one graduation ceremony each year in May for (previous year) Summer and Fall graduates and current Spring candidates for graduation.
Students must indicate on the Application for Graduation if they plan to walk in the Spring ceremony.
Students who indicate they will walk in the Spring ceremony will receive a letter with information about Graduation Rehearsal and the Graduation Ceremony.
Cap and Gown
Cap and gown must be ordered from the WCC Bookstore by the graduation application deadline.
Graduation Rehearsal
Monday, May 9, 2016
3 pm
Moffatt Auditorium
Guest Tickets
Each graduate who indicates that they will be walking in the Spring ceremony will receive guest tickets at Graduation Rehearsal. The number of guest tickets will be determined by the space available in the facility and the number of graduates who will be walking.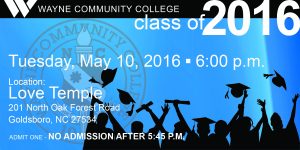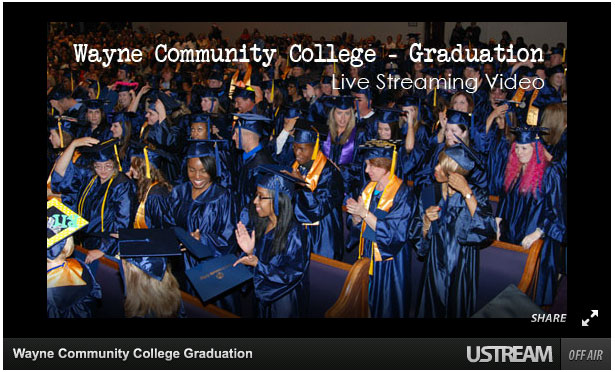 Using a Mobile Device? Get the USTREAM App.
After you download and open the USTREAM App, search for WayneCC Graduation.
Adult High School and HSE Graduation
The AHS and HSE Diploma Graduation Ceremony will be Friday, May 6 at 11:00 a.m. in the Moffatt Auditorium on the campus of Wayne Community College.
Each graduate will be given guest tickets.
Graduation practice will be Wednesday, May 4, at 6:30 p.m. in Moffatt Auditorium.
Graduates must purchase their cap and gown from the College bookstore by Thursday, March 24.