Scholars of Global Distinction
---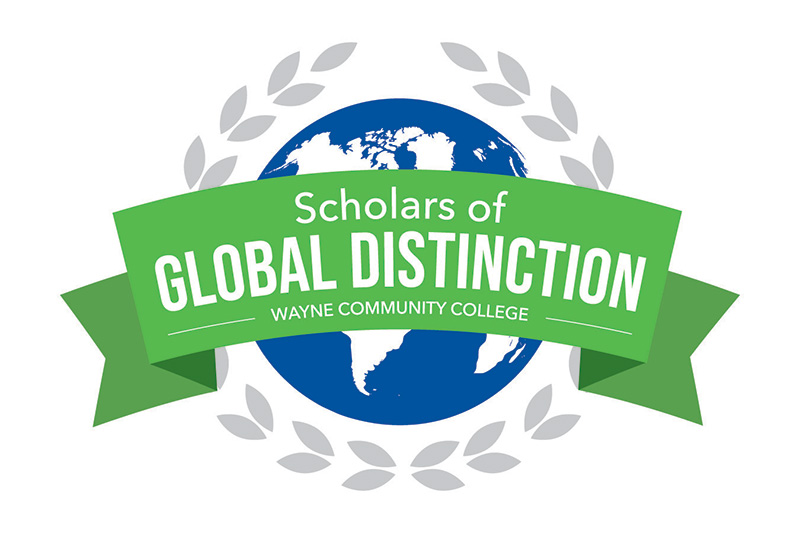 The Scholars of Global Distinction program is a partnership between community colleges in North Carolina and UNC World View. The program was developed to give you the global competencies and skills needed for our increasingly diverse workforce.
When you transfer to a four-year school or begin your career, the notation "Graduated with Global Distinction" on your transcript or resume will set you apart from others by showing that you have a more comprehensive understanding of global cultural, political and historical information.
Wayne Community College's leadership and faculty are committed to develop and offer globally intensive courses and activities with the goal to create a truly global campus and to give you a world class education.
Program Requirements
Complete at least 15 credit hours of globally intensive courses
Participate in eight international activities and dialogues
Gain 30 hours of global experience in a study abroad or domestic inter-cultural experience
Complete a capstone presentation related to their global learning experience
How to Apply
To get started in the program, please contact:
Allyson Daly
919-739-6868
abdaly@waynecc.edu
or
Clara Kitchin
919-739-6752
cmkitchin@waynecc.edu
or
Ariana Reyes
919-739-6848
arreyes@waynecc.edu
---
Inherently Global Courses
These courses include foreign language and/or have the words World, Global, International, Comparative, or Culture in their titles.
| Department | Course | Course Name |
| --- | --- | --- |
| Languages | SPA 111 | Elementary Spanish |
| | SPA 112 | Elementary Spanish II |
| | SPA 181 and 182 | Spanish Lab |
| | ENG 261 and 262 | World Literature |
| | COM 140 | Introduction to Intercultural Communication |
| Humanities | REL 110 | World Religions |
| | HIS 111 | World Civilizations I |
| | HIS 112 | World Civilizations II |
Globalized Courses
Courses made global through the efforts of the teacher with the collaboration of the Scholars of Global Distinction and an approved syllabus.
| Department | Course | Course Name | Instructor |
| --- | --- | --- | --- |
| Science | BIO 110 | Principles of Biology | Lynn Swafford |
| Humanities | ANT 210 | General Anthropology | Bryan Harrell |
| | ART 111 | Art Appreciation | Soundra Beamon |
| | ART 111 | Art Appreciation | Jennifer Jackson |
| | ART 111 | Art Appreciation | Angie Waller |
| | ART 114 | Art History Survey I | Angie Waller |
| | DRA 111 | Theatre Appreciation | Tracy Notley |
| | ECO 252 | Principles of Macroeconomics | Dan Fagan |
| | HEA 110 | Personal Health/Wellness | Aaron Narron |
| | HUM 110 | Technology and Society | Steven-Michael Crowder |
| | HUM 115 | Critical Thinking | Chris McCallister |
| | HUM 230 | Leadership Development | Dan Fagan |
| | MUS 110 | Music Appreciation | Randi Chalfant |
| | MUS 110 | Music Appreciation | Querida Hills |
| | MUS 110 | Music Appreciation | Jonathan Saeger |
| | PHI 215 | Philosophical Issues | Steven-Michael Crowder |
| | PHI 240 | Introduction to Ethics | Steven-Michael Crowder |
| | PSY 150 | General Psychology | Bill Reboli |
| | PSY 150 | General Psychology | Monica Sweigart |
| | PSY 150 | General Psychology | Nathan Johnson |
| | PSY 241 | Developmental Psychology | Bill Reboli |
| | PSY 281 | Abnormal Psychology | Bill Reboli |
| | REL 110 | World Religions | Arthur Brown |
| | REL 110 | World Religions | Meredith "Tommy" Colie |
| | SOC 210 | Introduction to Sociology | Duane Everhart |
| | SPA 111 | Elementary Spanish I | |
| | SPA 112 | Elementary Spanish II | |
| | SPA 120 | Spanish for the Workplace | |
| | SPA 181 | Spanish Lab 1 | |
| | SPA 182 | Spanish Lab 2 | |
| | SPA 211 | Intermediate Spanish I | |
| | SPA 212 | Intermediate Spanish II | |
| | SPA 281 | Spanish Lab 3 | |
| | SPA 282 | Spanish Lab 4 | |
| Math | MAT 143 (EXCEPT SECTION IN03) | Quantitative Literacy (Online) | Instructors Vary |
| Languages | COM 110 | Introduction to Communication | Ariana Reyes |
| | COM 140 | Introduction to Intercultural Communication | Ariana Reyes |
| | COM 231 | Public Speaking | Ariana Reyes |
| | ENG 111 | Writing and Inquiry | Allyson Daly |
| | ENG 112 | Writing and Researching in the Disciplines | Allyson Daly |
| | ENG 112 | Writing and Researching in the Disciplines | Lisa Phelps |
| | ENG 232 | American Literature | Danny Rollins |
| | HIS 111 | World Civilizations I | Dean Lawson |
| | HIS 112 | World Civilizations II | Dean Lawson |