Graduation
---

Congratulations to the Class of 2021! Graduates are presented by academic division in alphabetical order by last name. Refer to the timestamps below to skip quickly to your academic division so you can find your name.
0:08 – Special Message from Dr. Thomas Walker, President
3:28 – Special Message from Luke Barefoot, SGA President
4:26 – Arts and Sciences Graduates
26:56 – Allied Health and Public Services Graduates
46:41 – Applied Technologies Graduates
1:04:37 – Business and Computer Technologies Graduates
1:23:38 – Public Safety Graduates
1:25:05 – Adult High School and High School Equivalency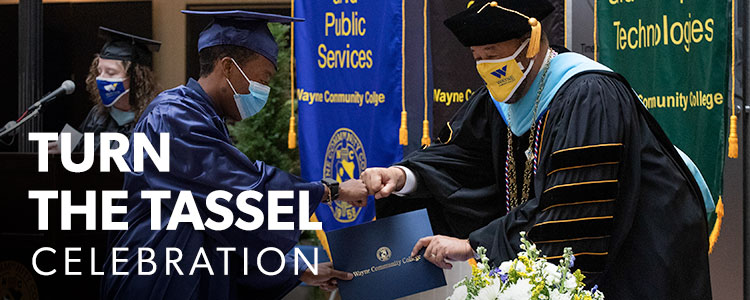 Friday, May 7
Come anytime between 9 A.M. and 12 P.M.
We invite you to wear your cap and gown so you can turn your tassel! This is not a formal ceremony. Casual attire is appropriate under your graduation gown — tennis shoes and jeans are fine. Bring up to 10 guests with you to help celebrate your achievement.
Grads with their guests will line up in front of the WLC building – with appropriate spacing between you and the grad in front and behind you. You will *enter the side door of the WLC building (*all grads and guests must wear a face mask to enter the building – be sure to bring one with you!) and process across the atrium where Dr. Patty Pfeiffer, our Vice President of Academic & Student Services will call your name and your degree/diploma/certificates earned. You will be congratulated by Dr. Thomas Walker, WCC President, and turn your tassel in front of the auditorium where we'll take a grad photo. You will exit out the south WLC doors where you and your guests can have a group photo taken with a WCC backdrop.
Students and/or guests needing special accommodations should contact the Disability Services Counselor prior to graduation to allow ample time for arrangements to be made. Call (919) 739-6732 or TTY (919) 583-8544 for accommodations.