Graduation
---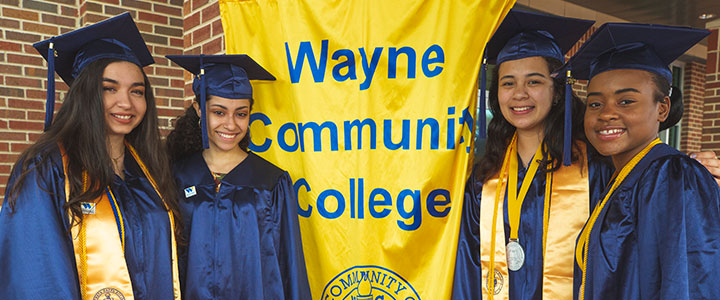 December 2019 Ceremony
Graduation exercises will be held rain or shine on Wednesday, December 18, 2019 at the Maxwell Center located at 3114 Wayne Memorial Drive in Goldsboro adjacent to the college.
The ceremony will be live streamed via Facebook Live. The stream will be located on our main Facebook page.
Graduation Rehearsal
All graduates are requested to attend Graduation Rehearsal in the Wayne Learning Center Building on Monday, December 16, 2019 unless you informed us you were not walking in the ceremony.  Tickets for graduates' guests will be distributed at rehearsal.  Final numbers will be determined after all graduation applications have been processed.  Our hope is to have 6 tickets per graduate.
11 am – 1:00 pm Lunch will be provided to graduates in the WLC Atrium
10:00 am – 11 am Graduation Rehearsal in the Moffatt Auditorium
11:00 am – 1 pm Cap and Gown Portraits in the College Transfer Advising Center
It Is A Formal Event
Remember, this is a formal graduation ceremony.  Tennis shoes, flip-flops, and/or shorts will not be allowed.  All graduates should dress business appropriate.  Absolutely no food, drink, or tobacco products are permitted.
Assistance Available
Students and/or guests needing special accommodations should contact the Disability Services Counselor prior to graduation to allow ample time for arrangements to be made.  Call (919) 739-6729 or TTY (919) 583-8544 for accommodations.
Information Updates
This graduation webpage will include updated information about graduation.  Please have your family and friends refer to the website for specific information about the ceremonies.
CONGRATULATIONS CLASS OF 2019!
We look forward to seeing you at Rehearsal on Monday, Dec. 16 and at Graduation on Wednesday, Dec. 18.