Wayne Community College recognized the eight members of its Pharmacy Technology class of 2017 in a formal pinning ceremony July 27.
The annual service includes presentation of pharmacy technician pins by the faculty of the program and recitation of the "Oath of a Pharmacy Technician." It denotes the graduates' passage from students to professionals in their field.
This year's graduates are
Brittany Bell, Katie Crawford, and John Savage of Goldsboro;
Lauren O'Neal of Mount Olive;
Esmeralda Avellaneda of La Grange;
Hannah Kariuki of Clayton;
Kylimry Scott of Pikeville; and
Latonya Williams of Godwin.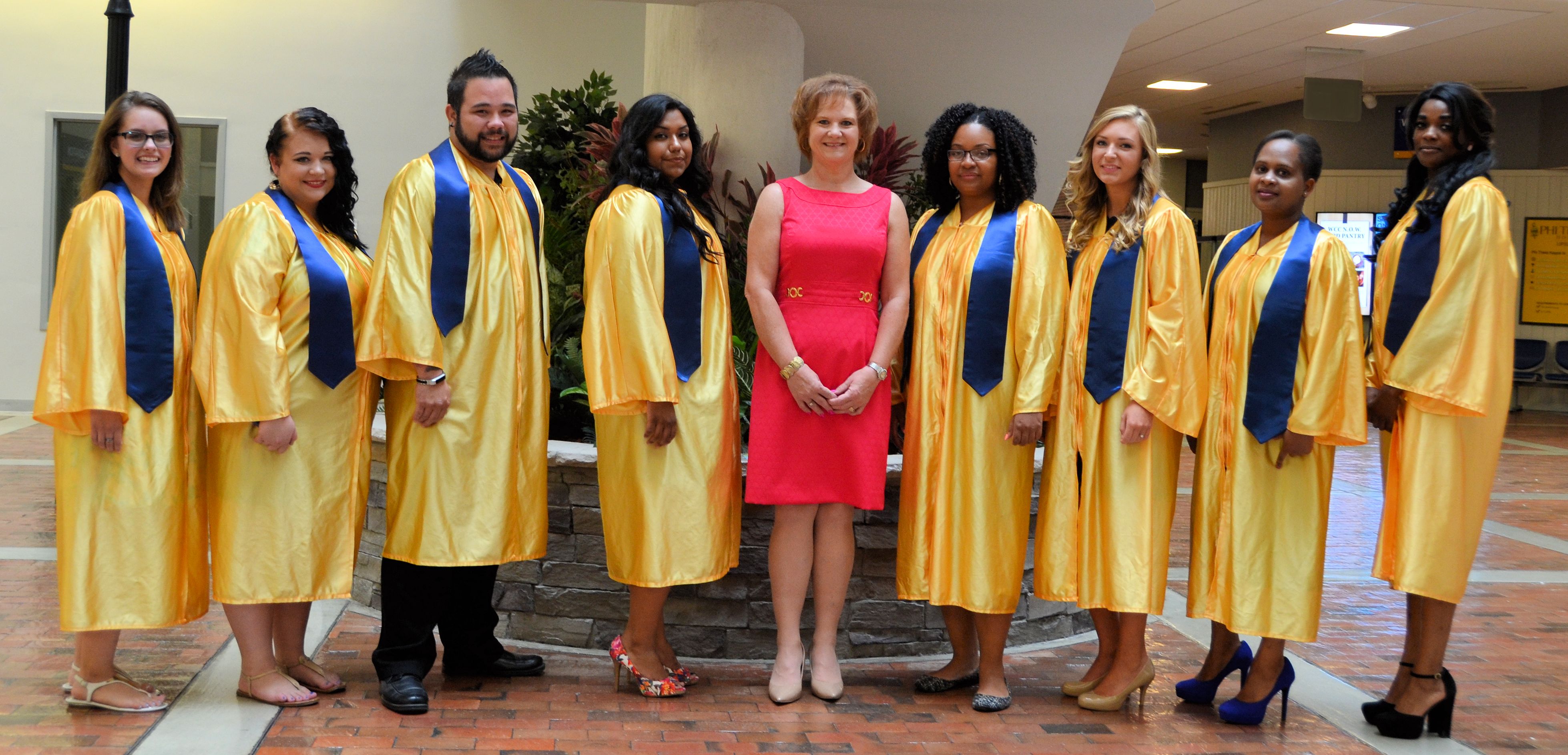 Laura Skinner, director of WCC's Pharmacy Technology Program, told the graduates, "Always remember, we are the future of the pharmacy world, here to help others survive."
She told the graduates that this point is "only the beginning of something great for each and every one of you." Skinner also reminded them to "count your pills twice, check the prescription label and the medication three times, but most importantly, remember that you are a pharmacy technician and you are ready to make a difference in health care."
People "just assume that technicians only wait on customers or count pills. What that may be some of what we do, pharmacy technicians do a whole lot more," Skinner said. "They are the 'right hand' of the working pharmacist, and if you ask most pharmacists, they will tell you that they can't run the pharmacy without them."
Wayne Community College's Pharmacy Technology program is a limited-admission, two-semester program that leads to a diploma. Graduates can choose to take the National Pharmacy Technician Certification Exam to earn the title of "certified pharmacy technician."
Wayne Community College is a public, learning-centered institution with an open-door admission policy located in Goldsboro, N.C. As it works to develop a highly skilled and competitive workforce, the college serves 14,000 individuals annually as well as businesses, industry, and community organizations with high quality, affordable, accessible learning opportunities, including more than 70 college credit programs. WCC's mission is to meet the educational, training, and cultural needs of the communities it serves.