Wayne Community College recognized members of its Associate Degree Nursing (ADN) class of 2019 in a formal pinning ceremony on May 9.
"These 39 graduates will join the ranks of 2,121 alumni from the Wayne Community College nursing programs," said WCC Nursing Department Chair Billy Tart. Nine of the graduates had already earned the status of Licensed Practical Nurse and continued their education toward their AND degree through the college's Advanced Standing program.
This year's graduates are
Holly Alana Azami, Maverick Barnes, Maureen Kelley Billie, Savannah Emilee Blackman, Rachel Fay Doblar, Sarah Christine Hare, Samantha Leigh Hepner, Abigail Hope Lee, Chad Lewis, Zaira Elena Ortiz, Olivia Louise Patterson, Danielle Elizabeth Peedin, Taylor Reisdorf, Kylie Rae Robertson Matthews, Patrick DeAndré Wendell Smith, Nancy Lourdes Sorto, Suzanne Renee Tamez, Lisa Wagner, and Karen Denise Webb of Goldsboro;
Shayla Loree Marak of Rosewood;
Dashawna Crystal Britt of Kenly;
Kalyn Brooke Jones Collins and Alicia Raetz of Seven Springs;
Courtney Raynor Davidson of Newton Grove;
Madison LouEllen Grant of Dudley;
Jacqueline DeAngelo Holmes of Calypso;
Victoria Dale Jordan of Benson;
Rachel Tyler Keel, Hailey Hill Lafone, and Brittany Leigh Young of La Grange;
Joy Mitchiner of Clayton;
Anna Mose of Knightdale;
Broc Painter of Princeton;
Breanna Kay Park, Bailee Lynne Creger Waters, and Jordan Alexandra Wright of Pikeville;
Sarah Marie Richards of Mount Olive;
Bailey Noell Smith of Snow Hill; and
Emily Ann Sturgill of Dunn.
The graduates can begin work as registered nurses after they take and pass the National Council Licensure Examination (NCLEX-RN).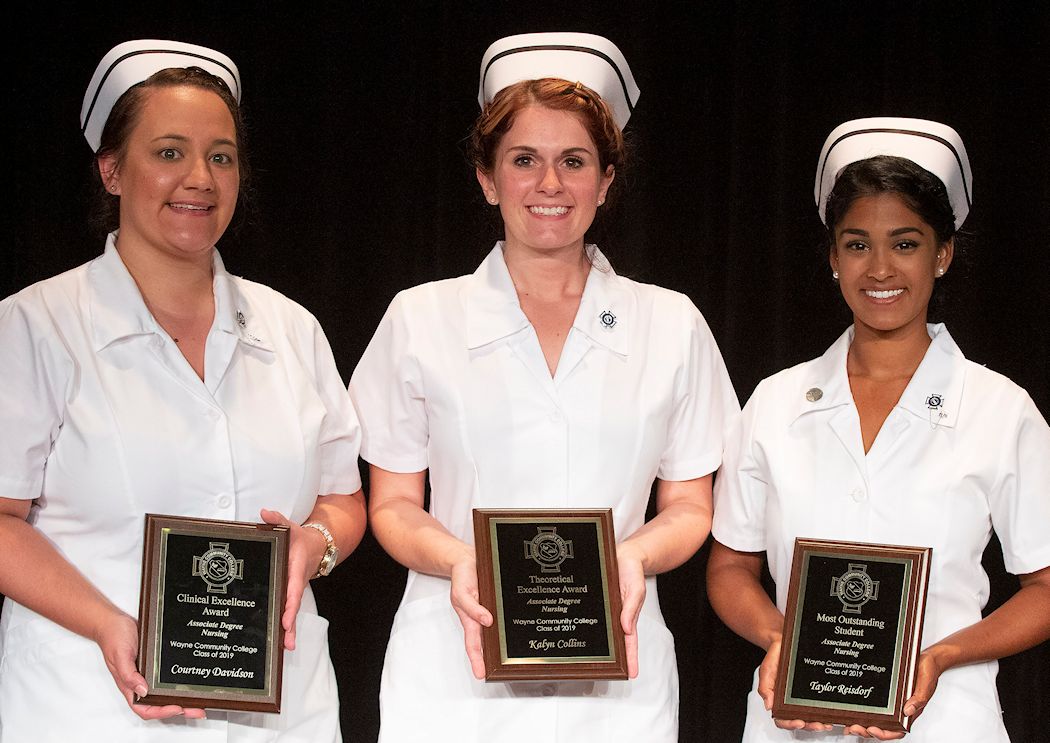 Three outstanding graduates were announced.
Collins was presented the Theoretical Excellence Award for the highest academic standards while in the ADN program. She "has shown a dedication to learning all she could. She has gone the extra mile in participating in voluntary components of the program to ensure her success," said Tart. "Faculty comment that [she] 'demonstrates a high level of thinking and clinical reasoning while at the same time showing compassion and empathy to her patients,'" he said.
Davidson earned the Clinical Excellence Award for achieving high standards in the clinical component of the program. She "consistently exceeds expectations," Tart said. She is "always prepared for clinical and in tune to [her] client's needs."
Reisdorf received the Outstanding Student Award. It recognizes the individual who achieved high standards in both the theoretical and clinical components of the program as well as actively participated in class and professional activities. She had excellent grades in the classroom, performed well in labs and clinicals, and was very active in the WCC Association of Nursing Students, Tart said, plus she "always has a positive attitude and a welcoming smile."
The winners received plaques and monetary awards provided by the Foundation of Wayne Community College.
The annual service, which includes presentation of nursing pins and nurse's creed scrolls by the faculty of the program, lighting of lamps (symbolic of Florence Nightingale going into the battlefield with a lantern) and recitation of the "Florence Nightingale Pledge," denotes the end of the graduates' academic journey and entry into professional life.
The pin presented in the ceremony was designed and used by the first graduates of the program in 1973 and is unique to WCC's nursing school. It symbolically welcomes the graduates into the nursing profession.
Tradition also influenced the graduates' outfit for the ceremony. The females wore a classic nurse's cap of a design that is specific to the WCC ADN program. Both the caps and the male graduates' shirt sleeves featured a black stripe that signifies the level of Registered Nurse.
"The cap is a sign of the nursing industry's ageless values of dedication, honesty, wisdom and faith," Tart said.
"Our graduates will be joining the over 4 million registered nurses in our nation that are year after year ranked as the most trusted out of all professions," he said, adding that it was fitting that the ceremony came during National Nurses Week.
The ceremony held personal significance for Janiel Marak, the college's Allied Health and Public Services Division Dean. "You hold a special place in my heart because my daughter is among you," she told the graduates.
Marak said that as she was walking in, "I overheard a mother say, 'What a wonderful day. I am so proud.' I thought, I am, too."
Another mother watched her daughter receive her pin via digital live stream. Mose's father and older brother were able to come from Kenya for the ceremony but the rest of her family – another brother, her sister, and their mother who they had to wake for the event because it occurred at 2 a.m. their time – tuned in on computer.
"My father cried," Mose said. "He said he didn't believe it." She thinks she may be the only woman from her village to finish college.
This wasn't Webb's first accomplishment in higher education, but her family came out, too, to celebrate the realization of a dream. The health education coordinator for the WATCH community health initiative, Webb holds a master's degree in counseling but had always wanted to be a nurse. On July 16, if all goes well with her licensure exams, she will start her new career as a Registered Nurse with Wayne UNC Health Care.
Wayne Community College's Associate Degree Nursing Program is a limited-admission, five-semester program that prepares students to practice as registered nurses. It is accredited by the Accreditation Commission for Education in Nursing, Inc.
Wayne Community College is a public, learning-centered institution with an open-door admission policy located in Goldsboro, N.C. As it works to develop a highly skilled and competitive workforce, the college serves around 12,000 individuals annually as well as businesses, industry, and community organizations with high quality, affordable, accessible learning opportunities, including more than 70 college credit programs. WCC's mission is to meet the educational, training, and cultural needs of the communities it serves.