The American Association of Community Colleges (AACC) has named Wayne Community College and Smithfield Foods as finalists for a national award.
The two are up for a 2023 Awards of Excellence in the Outstanding College/Corporate Partnership category for the apprenticeship program they developed and share.
"It is an honor for Wayne Community College to be selected as a finalist for an Award of Excellence with Smithfield Foods," Director of Apprenticeships Kristie Sauls. "Apprenticeship programs help accomplish the long-range goal of having highly skilled workers. It is not about filling a worker shortage of today, but rather a means to increase highly skilled employees for tomorrow."
"The maintenance technician apprenticeship program began as a vision to create technicians in eastern North Carolina for Smithfield Foods. Within six months of the implementation of the program, it turned into a model for the company that has been replicated across the United States. Currently, there are seven community colleges in five different states training maintenance technician apprentices for Smithfield," she said.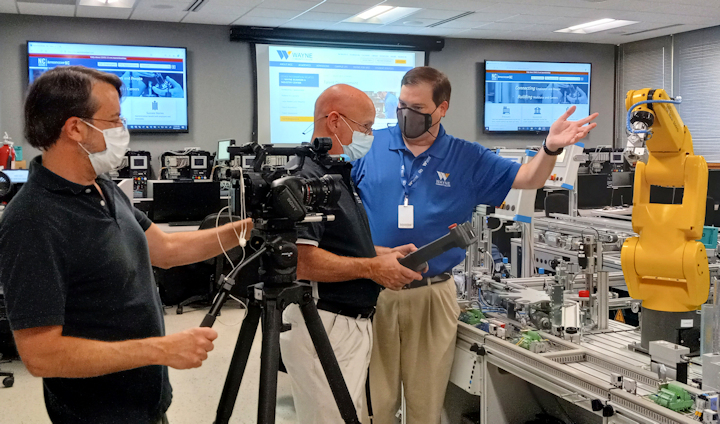 Currently, there are 29 Smithfield Foods apprentices studying at WCC in four Maintenance Technician cohorts (the first of which will graduate in May 2023) and a "Farm Leadership" apprenticeship for hog producers.
"The apprenticeship works so well because, at the end of the day, we have the same goals. We are both working to fill an industry need for training and retaining skilled staff, and more importantly, we want to offer people an opportunity to excel in their careers and improve their lives," said Smithfield Foods Talent Development Training Specialist Clarence Scott.
"This is a life-changing program for everyone involved. Both Wayne Community College and Smithfield Foods understand the program's importance and are fully invested in its success. That is what makes it such a wonderful partnership," said Scott.
"Being recognized by AACC as a finalist acknowledges the efforts that Smithfield Foods and Wayne Community College are putting into creating tomorrow's workforce," Sauls said.
Scott agreed: "This validates the collaborative work we have been doing together, and it's gratifying to be recognized."
"This recognition exemplifies the cooperative spirit Wayne Community College has in meeting workforce needs," said President Patty Pfeiffer. "The partnership we have developed with Smithfield Foods will positively impact the company's industrial maintenance needs while also providing student-employees with the opportunity to earn a college degree and journeyman's certificate."
The AACC Outstanding College/Corporate Partnership Award honors local, regional and national collaboration between a college and corporate partner that has achieved demonstrable, multi-year success in advancing the mission of the institution(s), the economic prosperity of a community, region or the nation, and the learning excellence of students.
The other finalists for the award are Broward College and Bank of America in Florida, Clark State College and The Abilities Connection in Ohio, Front Range Community College and the City of Highland Village in Texas, and Mercer County Community College and Infinity Flight Group in New Jersey.
The winner will be announced at the Awards of Excellence Gala during the AACC Annual Conference on April 3 in Denver, Colorado.
This is the fifth time that WCC has been a finalist for an AACC Award of Excellence. The other times were in 2018 in the "student success" category for its completion strategies, 2019 in the and in the "outstanding college/corporate partnership" category for its partnership with UNC Health Wayne and in the "student success" category for its Clearing a Path to Student Success (CAPPS) initiative, and in 2020 again for the CAPPS program, for which it won the award.
About AACC
As the voice of the nation's community colleges, the American Association of Community Colleges, delivers educational and economic opportunity for the more than 10 million diverse students in search of the American Dream. Uniquely dedicated to access and success for all students, AACC's member colleges provide an on-ramp to degree attainment, skilled careers, and family-supporting wages. Located in Washington, D.C., AACC advocates for these not-for-profit, public-serving institutions to ensure they have the resources and support they need to deliver on the mission of increasing economic mobility for all. Go to www.aacc.nche.edu for more information.
About WCC
Wayne Community College is a public, learning-centered institution with an open-door admission policy located in Goldsboro, N.C. As it works to develop a highly skilled and competitive workforce, the college serves 10,000 individuals annually as well as businesses, industry, and community organizations with high quality, affordable, accessible learning opportunities, including more than 165 college credit programs. WCC's mission is to meet the educational, training, and cultural needs of the communities it serves.