Wayne Community College and North Carolina Agricultural and Technical State University have signed an agreement to allow students to flow seamlessly between the schools' agriculture programs.
The transfer articulation agreement is for "2+2" programs between the institutions. It means that students who earn associate in applied science degrees in Agribusiness Technology or Animal Science Technology at Wayne Community College will be considered to have taken the first two years of a bachelor of science in Agricultural Education (Secondary Education or Agricultural Professional Service Tracks) at N.C. A&T if they transfer their credits there and continue their education online to earn the second two years of the "2+2."
N.C. A&T's Agricultural Education (Secondary Education) track is designed for individuals who want to become secondary agricultural teachers in the public school system. Graduates of that program are eligible for licensure from the North Carolina Department of Public Instruction.
The Agricultural Education (Professional Service) Track is those who have an interest in government, agribusiness, international agriculture, and cooperative extension careers.
"The College of Agriculture and Environmental Sciences at NC A&T State University is very excited to partner with Wayne Community College in relation to the 2+2 Online Program in Agricultural Education," said Dr. Antoine J. Alston, professor and associate dean of academic studies in the College of Agriculture and Environmental Sciences at N.C. A&T.
"Providing access and educational opportunities to the citizens of North Carolina is one of the primary strategic goals of our university. We look forward to having many students to matriculate through the program" Alston said.
Dr. Thomas A. Walker Jr., WCC's president, praised the agreement for providing another avenue for students to continue their educational momentum. Distance education programs open up opportunities for students that already have commitments such as families and jobs in this community, as well as keeping the cost of earning a bachelor's degree within reach, he said.
Walker also noted his pleasure that the agreement is with an institution that has such a rich heritage of agricultural education, research, and outreach.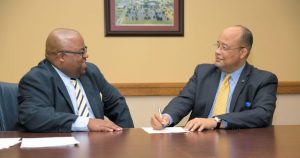 About N.C. A&T
North Carolina Agricultural and Technical State University (N.C. A&T) is a public, land-grant university and constituent member of the University of North Carolina system. It is a historically black university, established in 1891. The university is located on 200 acres in Greensboro, North Carolina, 300 miles south of Washington, D.C., and 350 miles north of Atlanta.
The university's history as one of only 18 historically black 1890 land-grant universities is reflected in its strengths in the STEM disciplines, particularly agriculture, animal science, engineering, and environmental science. A growing student enrollment reflects the demand for N.C. A&T's programs in those areas as well as in the arts and sciences, business and economics, education, nursing, and technology.
Learn more about N.C. A&T at www.ncat.edu/.
About WCC
Wayne Community College is a public, learning-centered institution with an open-door admission policy located in Goldsboro, N.C. As it works to develop a highly skilled and competitive workforce, the college serves 14,000 individuals annually as well as businesses, industry, and community organizations with high quality, affordable, accessible learning opportunities, including more than 70 college credit programs. WCC's mission is to meet the educational, training, and cultural needs of the communities it serves.