Adam Combs, simulation coordinator and clinical nursing instructor for Wayne Community College, has been selected for a national nursing leadership program.
Combs was chosen for the National League for Nursing's year-long Leadership Development Program for Simulation Educators. It is one of two tracks in the NLN Leadership Institute, an initiative of the NLN Center for Transformational Leadership.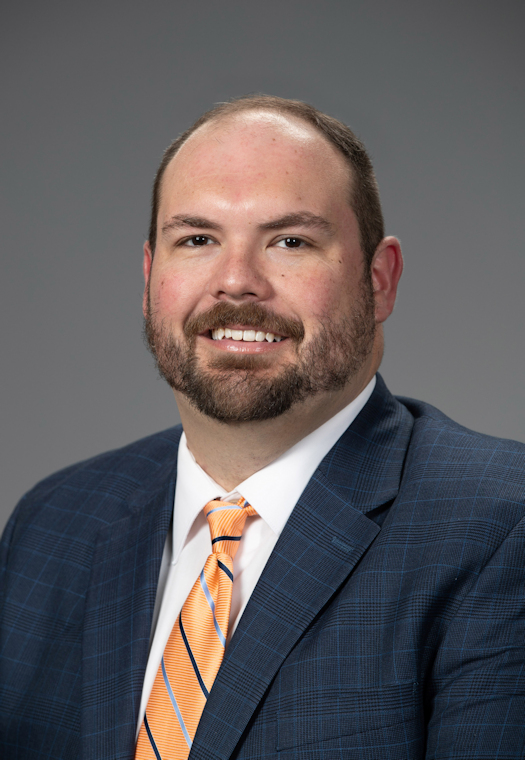 The initiative is designed for the experienced simulation nurse educator who aspires to a leadership role in simulation. Participants focus on maximizing their leadership potential to advance simulation initiatives in nursing education and practice.The 2022 NLN Leadership Institute cohort consists of 39 educators of which 16 are simulation educators. They were chosen through a competitive application process from colleges, universities, and health care institutions. Combs is one of just two simulation faculty members in the cohort who are from North Carolina; the other is a professor at the Duke University School of Nursing.
Those pursuing the Simulation Education Leadership track will study for a year under the direction of Susan Forneris and Mary Anne Rizzolo. Dr. Forneris is director of the NLN Division for Innovation in Education Excellence and Dr. Rizzolo is president of the Global Network for Simulation in Healthcare and a consultant to the NLN.
"It is vitally important that, as the most trusted professionals in health care, nurses be prepared to take a leading role in promoting excellence in health care delivery, advancing health access and equity, and ensuring cultural sensitivity and inclusion in caring for an increasingly diverse population of patients and their families, especially those encountering acute health crises and managing chronic medical challenges," said NLN Chair Kathleen Poindexter, interim associate dean of academic affairs at Michigan State University.
"As the nation and the world transitions from a global pandemic to dealing with COVID-19 as an endemic disease requiring ongoing response, the demand for competent leadership in nursing is more urgent than ever," Poindexter said.
Combs is a 2013 graduate of Wayne Community College's Associate Degree Nursing program. He earned his bachelor of science in nursing degree from the University of North Carolina Wilmington in 2015, master of science in nursing degree in nursing education from the University of North Carolina at Chapel Hill in 2018, and doctor of nursing practice-leadership from Gardner-Webb University in July 2021.
He has worked at WCC since 2017. He is also an adjunct nursing faculty member in the Hunt School of Nursing at Gardner-Webb University and the nurse educator in organizational and learning development at Wayne UNC Health Care.
Combs also uses his medical skills beyond the workplace. He assisted at a local medical facility during the height of the COVID-19 pandemic and served on a vaccine task force. He recently traveled to the Ukrainian border to provide aid to refugees with EXITUS, a nonprofit organization for which he is the volunteer director of community resources.
Participants spend time engaged in varied activities that examine key issues related to simulation to expand the science of nursing education while developing their personal leadership portfolios, then focus their efforts in an area of their choice.
To kick off the program, all Leadership Institute participants attended a joint virtual orientation session. The Intensive Leadership Retreat is scheduled for this summer in Washington, D.C. The entire Leadership Institute group will reconvene at the 2022 NLN Education Summit titled "Healthy Planet, Healthy People: Leading the Way Through Education, Practice and Policy" this fall.Throughout the year, the simulation educators will be immersed in leadership development webinars, exchange ideas and best practices in simulation in private forums, review existing scholarly research, visit simulation centers around the country to evaluate resources and operation, attend professional conferences, and contribute to a group project that will be posted in the Simulation Innovation Resource Center.
"The National League for Nursing is delighted to continue our commitment to the Leadership Institute, reflecting our unflagging dedication to professional development and leadership in health care education, practice, and policy," said NLN President and CEO Beverly Malone. "We anticipate another year of rewarding and productive interfacing and networking with these stellar individuals chosen for the LLEAD and Sim Leadership programs."
For more information about the Leadership Development Program for Simulation Educators, visit wwwNLN.org.
Wayne Community College is a public, learning-centered institution with an open-door admission policy located in Goldsboro, N.C. As it works to develop a highly skilled and competitive workforce, the college serves 10,000 individuals annually as well as businesses, industry, and community organizations with high quality, affordable, accessible learning opportunities, including more than 165 college credit programs. WCC's mission is to meet the educational, training, and cultural needs of the communities it serves.