The Allstate Foundation has provided a $1,000 gift to the Foundation of Wayne Community College in honor of the late Kirk Keller.
The donation was secured by Steve Moore, agency principal of The Moore Agency Team.
Keller, who passed away in April 2018, was a WCC instructor who was active not only with students at the college but also in the community with myriad organizations ranging from the Friends of the Cliffs of the Neuse to Kitty Askins Hospice Center, and many projects that related to history and veterans.
"As an alum of WCC, I wanted this grant is to honor the memory of Kirk Keller, our friend and leader in Goldsboro and Wayne County," Moore said. "Kirk was a huge part of the staff at WCC. He would do anything to help a student or a program become better. He is sorely missed at the college and in our community as well."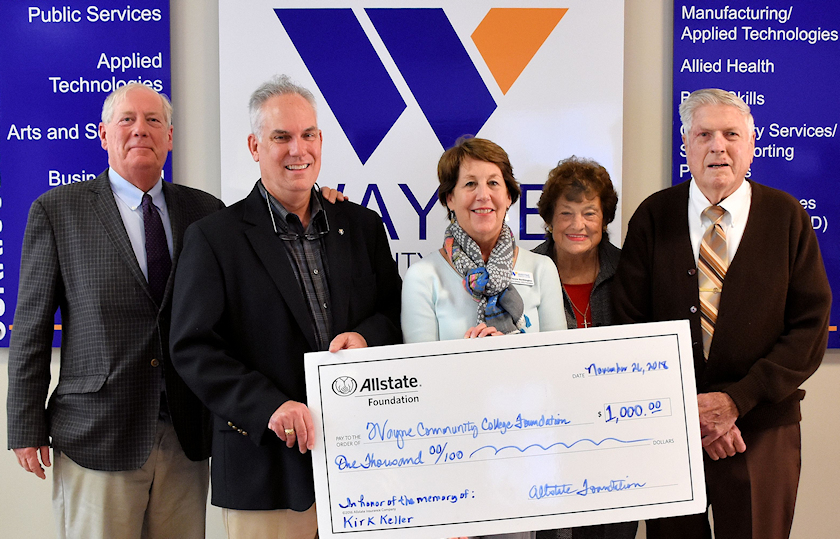 Moore also noted that Kirk was a fellow Eagle Scout and his patrol leader when he first joined Scouts. "Kirk was always willing to help me in promoting the ideals of scouting. I could always count on him," he said.
Moore said that his agency, which has locations in Boone, Pinehurst, and Cary, as well as Goldsboro, is among many Allstate agents across the country caring for their communities by supporting important local causes.
The Allstate Foundation is an independent, charitable organization made possible by subsidiaries of The Allstate Corporation. The Allstate Foundation works to create more prosperous communities where people are empowered to fulfill their hopes and dreams by inspiring the next generation of leaders, breaking the cycle of domestic violence, closing the nonprofit leadership gap and honoring Allstate volunteers. More information is available at AllstateFoundation.org.
About Allstate
The Allstate Corporation (NYSE: ALL) protects people from life's uncertainties with more than 88 million proprietary policies. Allstate offers a broad array of protection products through multiple brands and diverse distribution channels, including auto, home, life and other insurance offered through its Allstate, Esurance, Encompass, SquareTrade and Answer Financial brands. Allstate is widely known from the slogan "You're in Good Hands with Allstate."
About the Foundation of WCC
The Foundation of Wayne Community College is a non-profit organization that works to broaden the base of community support for educational opportunities at the college. In addition to providing financial support to students, the Foundation funds mini grants and employee recognition, and offers cultural programs for the community. For more information about the Foundation, go to www.waynecc.edu/foundation.
About Wayne Community College
Wayne Community College is a public, learning-centered institution with an open-door admission policy located in Goldsboro, N.C. As it works to develop a highly skilled and competitive workforce, the college serves 12,000 individuals annually as well as businesses, industry, and community organizations with high quality, affordable, accessible learning opportunities, including more than 70 college credit programs. WCC's mission is to meet the educational, training, and cultural needs of the communities it serves.