Wayne Community College's Matt Bauer has been named an "IT Hero."
The college nominated Bauer, its Information Technology director, for the quarterly honor by Lenovo, Intel, and Windows 10 that recognizes those "serving in our government organizations to defend data, secure servers, and more" for their hard work.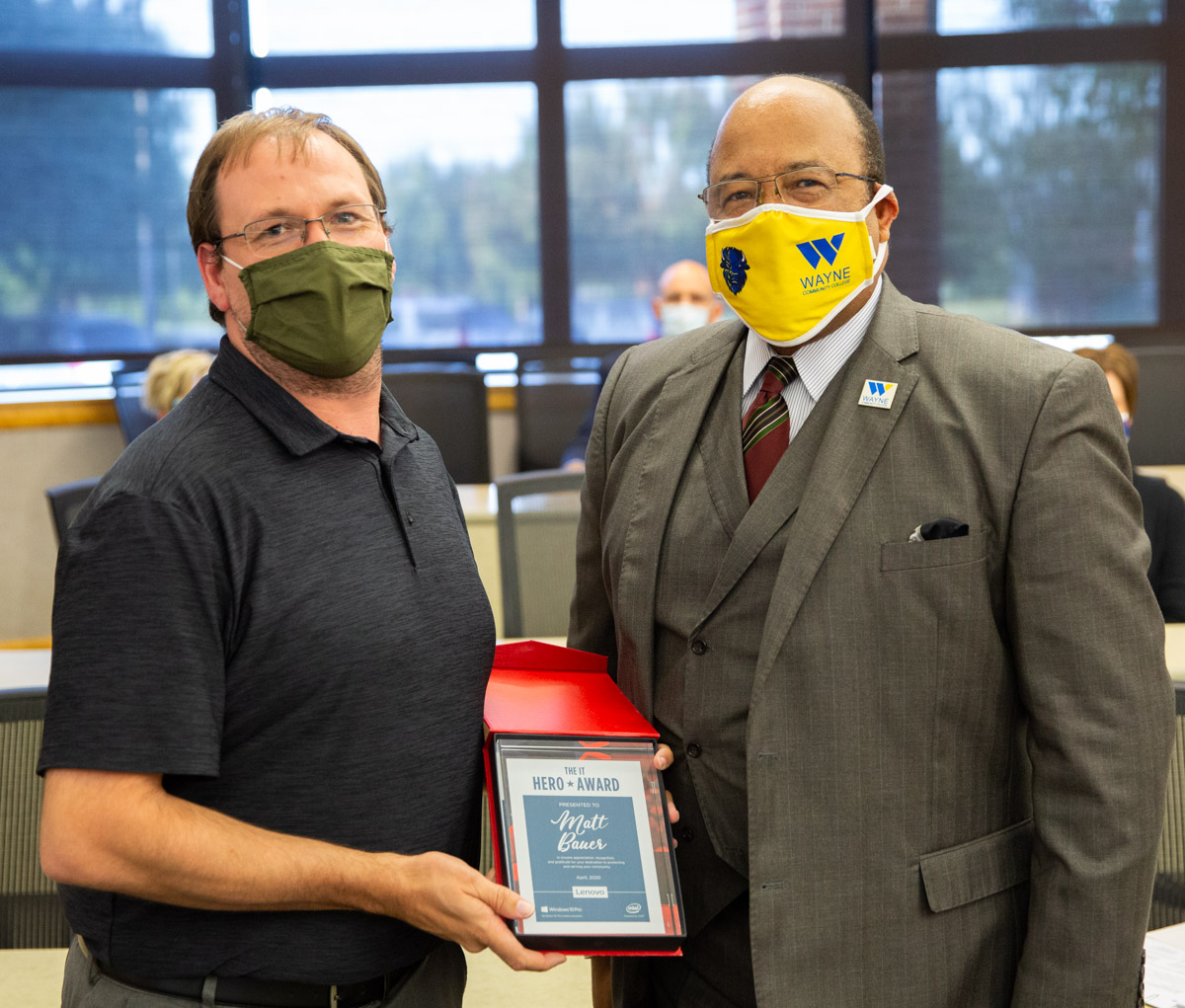 In presenting the trophy to Bauer, WCC President Thomas Walker Jr. said, "These days more than ever, Wayne Community College relies on technology to keep us working." He noted some of the WCC IT Department's accomplishments in response to the COVID-19 pandemic: making it possible to move to online instruction and remote work, developing Wi-Fi hotspots in parking lots, enhancing instructors' capability to stream and record instruction, and investigating the ability to use remote computers as office phones.
"Matt Bauer and his staff have always quietly kept things running, so when he became part of the college's official Pandemic Response Team, it was the first time that some of the members had interacted with him," Walker said. "He stepped up in this situation, but in reality, he always was our hero."
In soliciting nominations for the "IT Hero Award," Lenovo stated, "Not every hero works the front lines. And it's time those heroes got a little recognition. So, here's to the IT pros who keep government agencies running."
Bauer was shocked by the citation. "There is a lot we do in the background and nobody notices. That's how we operate," Bauer said. "The award was truly a surprise and was appreciated."
Wayne Community College is a public, learning-centered institution with an open-door admission policy located in Goldsboro, N.C. As it works to develop a highly skilled and competitive workforce, the college serves 11,000 individuals annually as well as businesses, industry, and community organizations with high quality, affordable, accessible learning opportunities, including more than 140 college credit programs. WCC's mission is to meet the educational, training, and cultural needs of the communities it serves. Connect with WCC at waynecc.edu.
Follow WCC on Facebook (also @WayneCCNewsandViews), Twitter, and Instagram.