Wayne Community College and the University of North Carolina at Pembroke have established a bridge program between their institutions.
Dr. Thomas A. Walker Jr., WCC's president, and Dr. Robin G. Cummings, UNCP's chancellor, signed the "BraveStep" agreement today that allows students to be "co-admitted."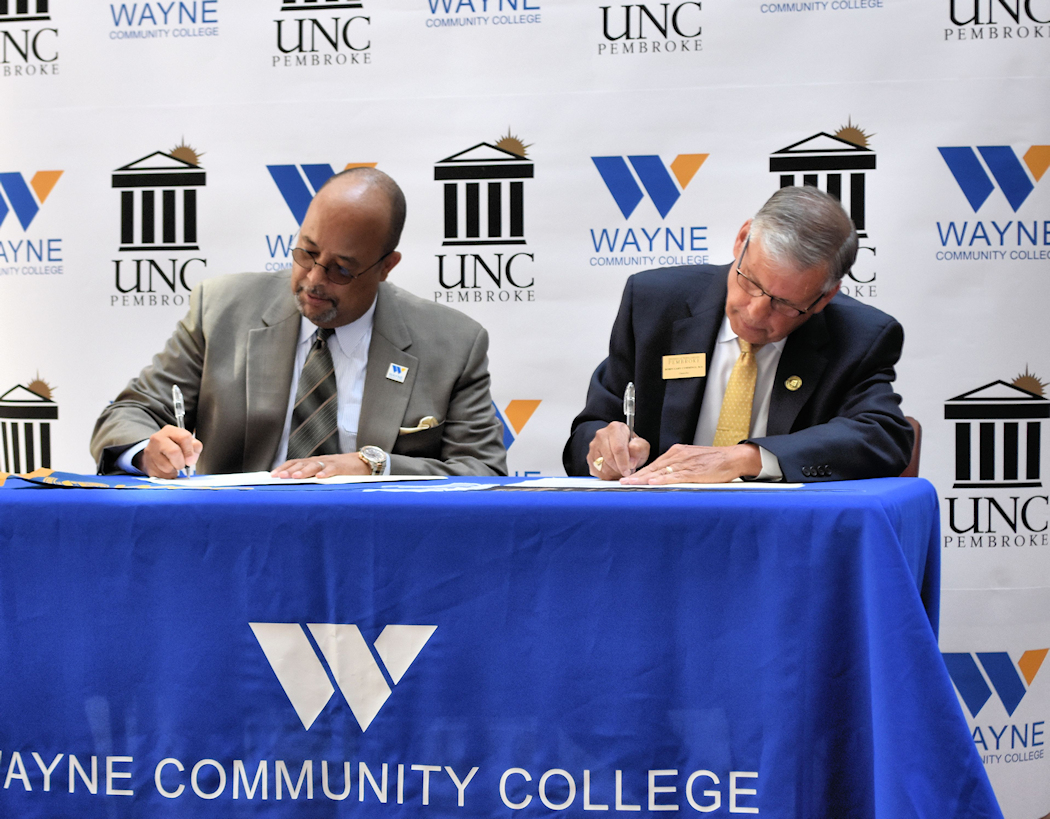 The students will begin their college career at WCC and transfer into UNCP after completing at least 30 credit hours at the community college.
"It becomes a seamless pathway for the student," Cummings said.
They will receive collaborative academic advising from both institutions. They can participate in activities and use resources, including facilities, at both schools.
"We look at them as just another of our students," Cummings said, but that doesn't mean they will be lost in the crowd. "We tell our students, 'You're a name, not a number,'" he said.
He noted that UNC-P has a 20-to-1 student to professor ratio, which means, "they are going to get a personalized education."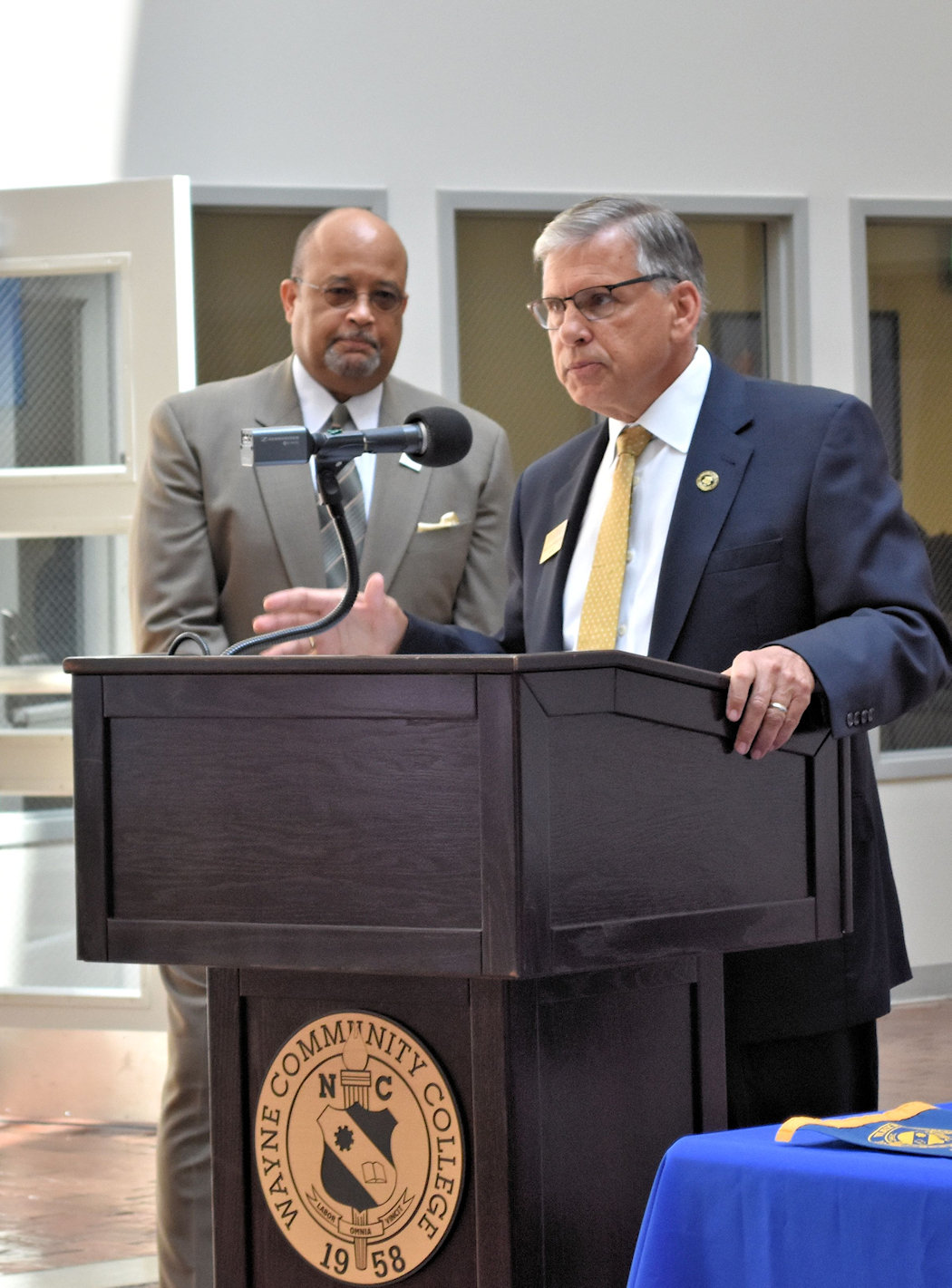 While Cummings jokingly called his college, "that school down I-95," Walker made the case for WCC students completing their undergraduate degrees there.
Referencing the man commonly thought to be the "father" of the North Carolina Community Colleges System, Walker said, "Dallas Herring said, [we should] take our students from here to as far as they can go. We don't think that Pembroke is too far for them to go."
"We believe that the pathway that BraveStep creates for Wayne Community College students will help even the most reticent student ease into university studies at UNC Pembroke, whether they ultimately go in person or take advantage of online degree programs," Walker said.
Even though the students will have moved on to UNCP having completed only around half of the number of semester hours required for graduation from WCC, they can still receive a WCC associate degree. The North Carolina's Reverse Transfer Program allows credits earned from UNCP to be transferred back to WCC to fulfill the requirements for an associate degree.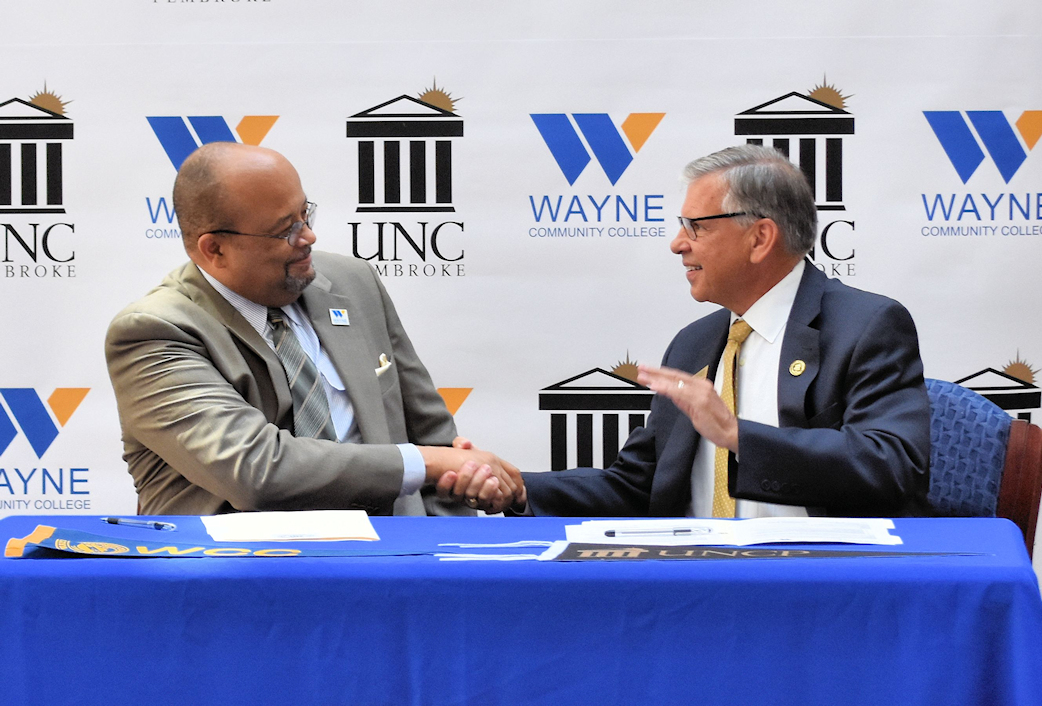 Cummings also touted the fact that UNCP is one of the three North Carolina universities that are part of the NC Promise Tuition Plan established by the North Carolina General Assembly. This scheme sets undergraduate in-state tuition at UNCP, Elizabeth City State University, and Western Carolina University at just $500 per semester.
A semester's tuition for an in-state, full-time student at WCC, and all other community colleges in the state, is currently $1,216, also set by State policy.
For comparison, UNC-CH in-state undergraduate tuition was $3,508.50 for a full course load for 2018-2019.
"Together, UNCP and WCC are turning barriers into guardrails," Walker said.
UNCP will select the BraveStep participants from qualified students based on the students' high school record and test scores on either the SAT or ACT.
WCC is the fifth community college to sign the BraveStep agreement.
For more information, potential participants can contact Kacee Ingram, director of the WCC College Transfer Advising Center, at 919-739-6755 or klingram@waynecc.edu.
Wayne Community College is a public, learning-centered institution with an open-door admission policy located in Goldsboro, N.C. As it works to develop a highly skilled and competitive workforce, the college serves 12,000 individuals annually as well as businesses, industry, and community organizations with high quality, affordable, accessible learning opportunities, including more than 70 college credit programs. WCC's mission is to meet the educational, training, and cultural needs of the communities it serves.