Dr. Edward H. Wilson, Jr. passed away on Wednesday, Nov. 23, 2022.
He served as Wayne Community College's fourth president for 15 years (1992-2007) as well as its Educational Development Officer for five years (1973 – 1978) and Associate Vice President for Instructional Services for two years (1978-1980).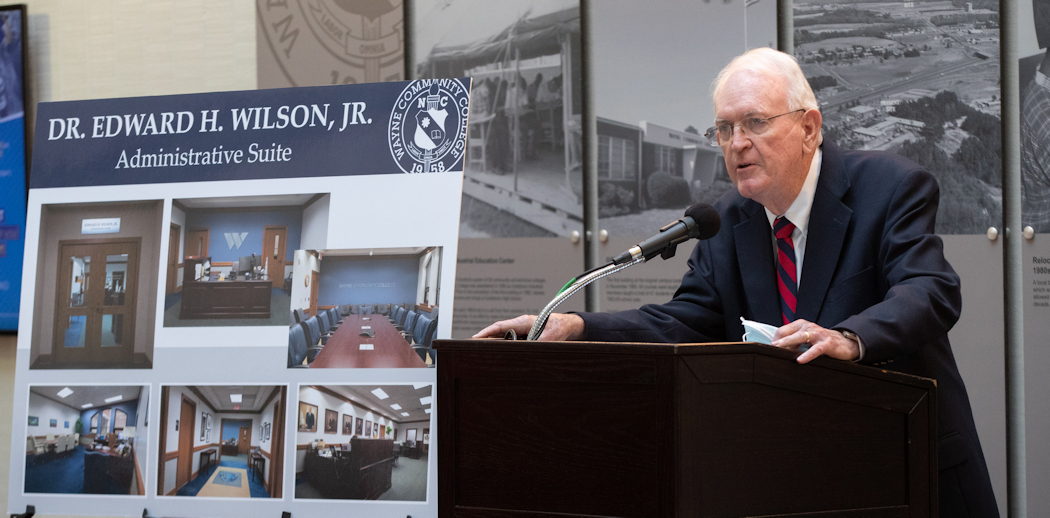 Dr. Wilson also held positions at the North Carolina Department of Community Colleges, Roanoke-Chowan Community College, North Carolina State University, and several grade schools.
He was heavily involved in civic and community organizations in Wayne County and state and national educational organizations, ranging from the Boy Scouts of America's Tuscarora Council and the Wayne County Economic Development Commission to the American Association of Community Colleges and North Carolina Association of Community College Presidents.
Among Dr. Wilson's accolades were
The Order of the Long Leaf Pine, 2007;
NC Association of Educational Office Professionals District 12 Administrator of the Year, 2007;
Wayne County Chamber of Commerce Cornerstone Award, 2007;
North Carolina Community College President of the Year Award Recipient, 2004;
United Way of Wayne County Chairman's Award, 2002;
United Way of Wayne County Emil Rosenthal Award, 2001; and
I.E. Ready Award by the NC State University Department of Adult and Community College Education, 1994.
The Wayne County Chamber of Commerce described Dr. Wilson well in announcing him as the Chairman's Award winner:
At the helm of his own "business," this man can personally serve cake and ice cream to birthday celebrants, then return to his office to make an all-cards-on-the-table phone call to his legislators, who DO actually listen to him. His professional path has taken him from elementary school teacher to high school principal and through various positions with colleges and the community college system, to his current position and second tenure as a community college president. Today we honor the man who puts the "Ed" in education.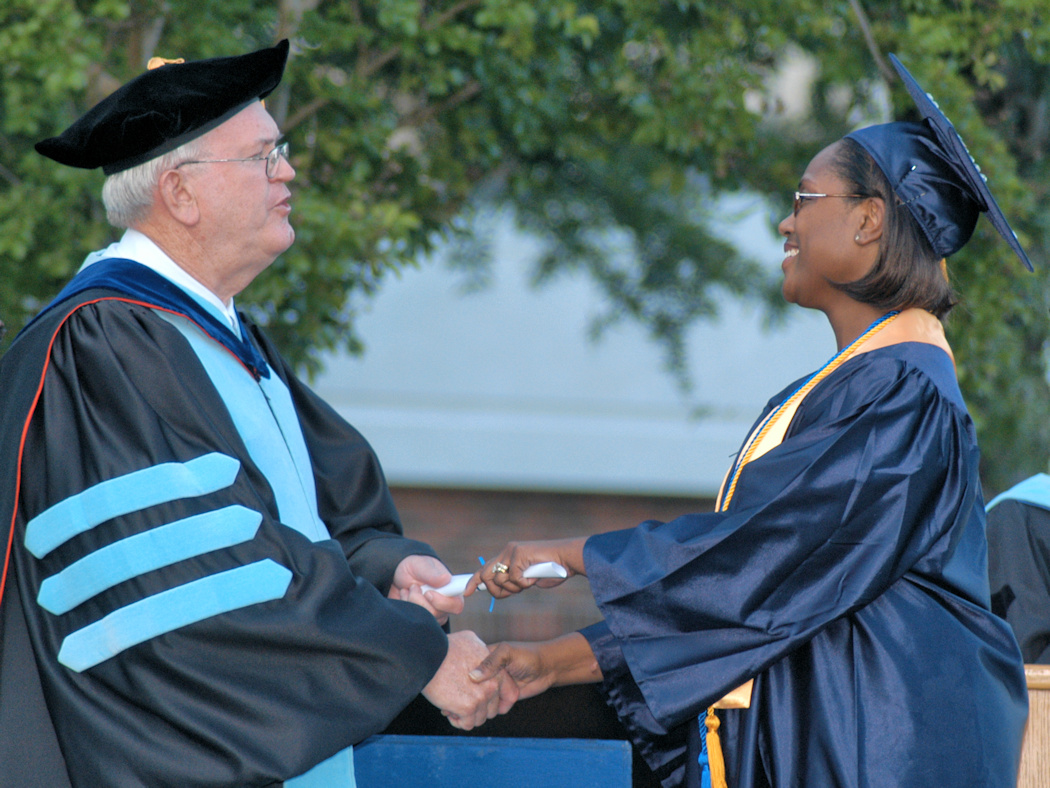 He was a proud graduate of the University of North Carolina at Chapel Hill (bachelor's degree in Education/Social Studies and master's degree in Education Administration/Political Science) and NC State University (doctoral degree in Community College Administration/Public School Administration).
Dr. Wilson is survived by his wife Sue, children Sherri and Stephen, and five grandchildren.
The official obituary for Dr. Wilson can be found here.
A celebration of life will be held at Saint Paul United Methodist Church, corner of South John and East Chestnut streets in downtown Goldsboro,  at 11:00 am on Saturday, Dec. 10. A reception will follow at the church.
Dr. Wilson's family has asked that memorial gifts be made to the Foundation of Wayne Community College. One easy way to do that is with the form on the Foundation's website.
Dr. Patricia A. Pfeiffer, the current Wayne Community College president, shared these thoughts.
With the passing of Dr. Ed Wilson, we have lost a man who left a tremendous mark not only on this college and the North Carolina Community College System, but also on this community and this state.
I started my career at Wayne Community College 28 years ago under President Wilson. He had a significant influence on my career and I am highly honored to be able to work in a suite the college named for him.
Dr. Wilson set an example that is rigorous for any successor to follow, from his community involvement, particularly with economic development organizations, to the way he enabled the expansion of technology in both instruction and services on the WCC campus. I am grateful that he left such a legacy.
Simply put, Dr. Wilson was a good man. Everyone on this campus, in our community, and far beyond who knew him is feeling a sense of loss. We offer our sincerest condolences to his wife Sue and his family and share that they will always have a home on the Wayne Community College campus.