Wayne Community College's Camp Kilowatt was able to expand again this summer with the support of a $28,064 grant from the Duke Energy Foundation.
This was the 10th year of the day camp and the ninth year that the energy company has supported it. Since 2010, Duke Energy has invested $164,122 in Camp Kilowatt.
The camps, which explore STEM (science, technology, engineering and mathematics) by providing hands-on learning opportunities inside and outside the classroom, went beyond the WCC campus and the four schools it served last summer and added two more schools.
The grant was one of more than 67 donations Duke Energy made to education and workforce training initiatives throughout North Carolina. The Duke Energy Foundation gave more than $2.5 million this year to enhance programs and initiatives focused on science, technology, engineering and math (STEM) learning, early childhood literacy, and workforce development.
"STEM education is a critical focus area of Duke Energy," said Millie Chalk, Duke Energy district manager. "We're excited to continue support for Camp Kilowatt to expand opportunities for students to explore science and technology and foster a true passion for learning."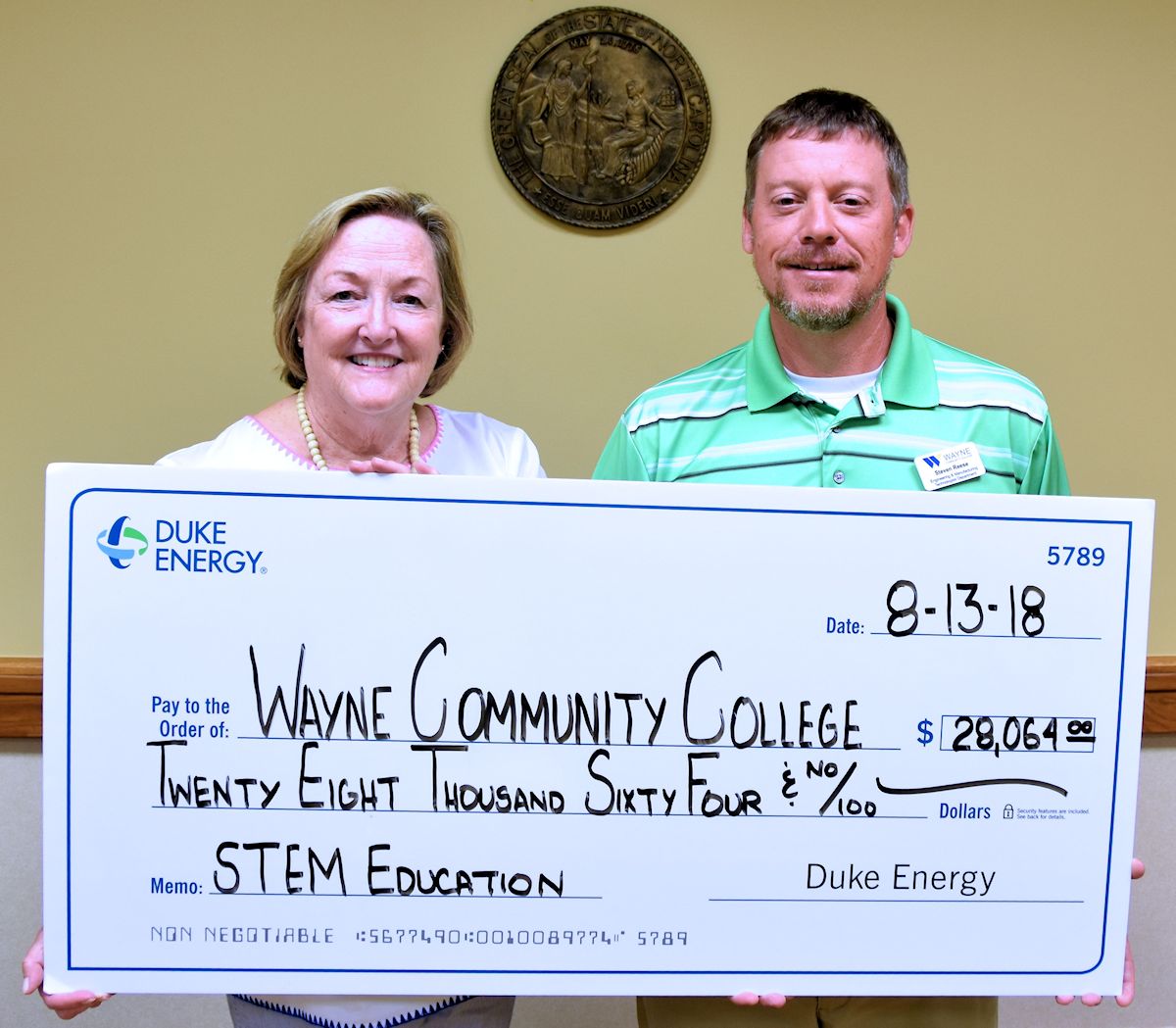 For the second year, the college partnered with Wayne County Public Schools to take the camp into schools. This summer, six middle schools throughout the county (Rosewood, Brogden, Grantham, Spring Creek, Eastern Wayne, and Norwayne) hosted four-day camps. Around 120 Wayne County students were able to attend those camps at no charge, thanks to the grant from Duke Energy.
The traditional camp, which charges a fee, was also held on the college's campus for than 40 middle and high school students.
Participants in both campus and middle school camps worked on projects like propeller cars, battery cars, glider planes, and windmills.
The grant covered stipends for counselors, which were teachers at the middle school camps, and the project coordinator, supplies and kits, daily snacks, and T-shirts.
Last year, Camp Kilowatt made the move into the community that organizers had always envisioned, said camp coordinator Steven Reese, an Engineering and Manufacturing instructor at the college. "This year we were able to refine how it was presented in the schools and make it available to more students, thanks to this grant."
A number of students who have aged out of the camp return each year as volunteers to supplement the counselors on the college's campus, Reese said, which is proof of the following Camp Kilowatt has developed.
About the Duke Energy Foundation
The Duke Energy Foundation provides philanthropic support to address the needs of the communities where its customers live and work. The foundation provides more than $30 million annually in charitable gifts. The foundation's education focus spans kindergarten to career, particularly science, technology, engineering and math (STEM), early childhood literacy and workforce development. It also supports the environment and community impact initiatives, including arts and culture.
Duke Energy employees and retirees actively contribute to their communities as volunteers and leaders at a wide variety of nonprofit organizations. Duke Energy is committed to building on its legacy of community service. For more information, visit www.duke-energy.com/foundation.
Duke Energy is a Fortune 125 company traded on the New York Stock Exchange under the symbol DUK. More information about the company is available at www.duke-energy.com.
The Duke Energy News Center (https://news.duke-energy.com/) serves as a multimedia resource for journalists and features news releases, helpful links, photos and videos. Hosted by Duke Energy, illumination is an online destination for stories about people, innovations, and community and environmental topics. It also offers glimpses into the past and insights into the future of energy.
Follow Duke Energy on Twitter, LinkedIn, Instagram and Facebook.
About Wayne Community College
Wayne Community College is a public, learning-centered institution with an open-door admission policy located in Goldsboro, N.C. As it works to develop a highly skilled and competitive workforce, it serves 14,000 individuals annually as well as businesses, industry, and community organizations with high quality, affordable, accessible learning opportunities, including more than 70 college credit programs. WCC's mission is to meet the educational, training, and cultural needs of the communities it serves. For more information, go to www.waynecc.edu.