Chad O. Evans has been honored with a national award for his achievements since graduating from Wayne Community College.
Evans, an achievement coach at the college, is the recipient of the National Organization for Student Success' 2020 Vashti Muse and Maxine Elmont Award for Outstanding Alumnus of a Student Success Program.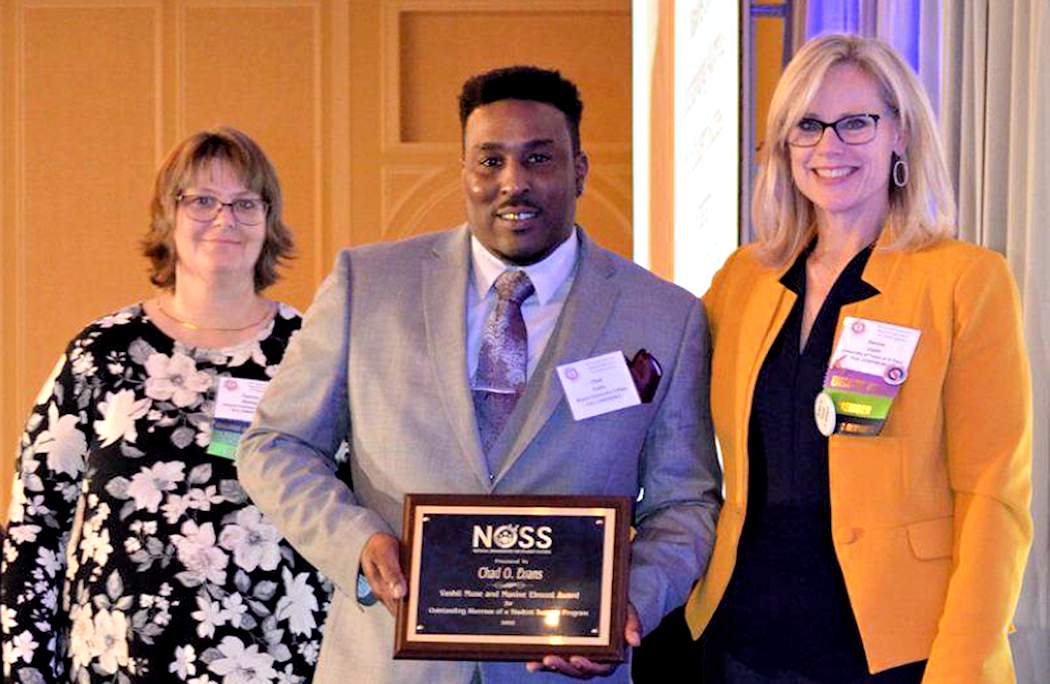 The award recognizes an alumnus of a student success program who has distinguished himself in an educational career and other areas of life. It is named for two veteran educators who were devoted to developmental students and active in NOSS.
Evans was presented a plaque and given the opportunity to make a short speech at the organization's annual conference held recently in Nashville, Tennessee.
Evans is a 2016 graduate of WCC's Business Administration – Operations Management program who took developmental math and reading courses. Developmental courses are gateway-level courses that bring students' skills up to the point at which they can be successful in college-level courses in those subjects.
He has continued his education at North Carolina Wesleyan College, receiving a bachelor's degree in Business Administration in 2018, and working toward a master's degree in Business Administration with an anticipated 2021 graduation.
After completing his degree at WCC, Evans was hired by the college to be the coordinator for its Male Minority Mentoring Initiative. He also served as a minority student success coach and recruiter before moving to his current position. He also served as an advisor for the WCC F.L.O.W. (Future Leaders of the World) Club and Chess Club.
Earlier this year, Evans was named the Outstanding Alumnus of a Developmental Education Program by the North Carolina Organization for Student Success.
About NOSS
The National Organization for Student Success, formerly known as National Association for Developmental Education, is a non-profit organization that exists to assist education professionals in making a positive difference in the lives of students. The organization has continually offered professional development opportunities for faculty and support staff in higher education since its founding in 1976.
About WCC
Wayne Community College is a public, learning-centered institution with an open-door admission policy located in Goldsboro, N.C. As it works to develop a highly skilled and competitive workforce, the college serves 11,000 individuals annually as well as businesses, industry, and community organizations with high quality, affordable, accessible learning opportunities, including more than 140 college credit programs. WCC's mission is to meet the educational, training, and cultural needs of the communities it serves.
Follow WCC on Facebook (also @WayneCCNewsandViews), Twitter, and Instagram.