The organizers of the Foundation of Wayne Community College Invitational have declared it to be a success for students.
The 29th annual event netted more than $165,000 for tuition scholarships and program and facility enhancements for the college.
The funds came from tournament sponsorships combined with a virtual auction, putting contest, and a 50/50 drawing.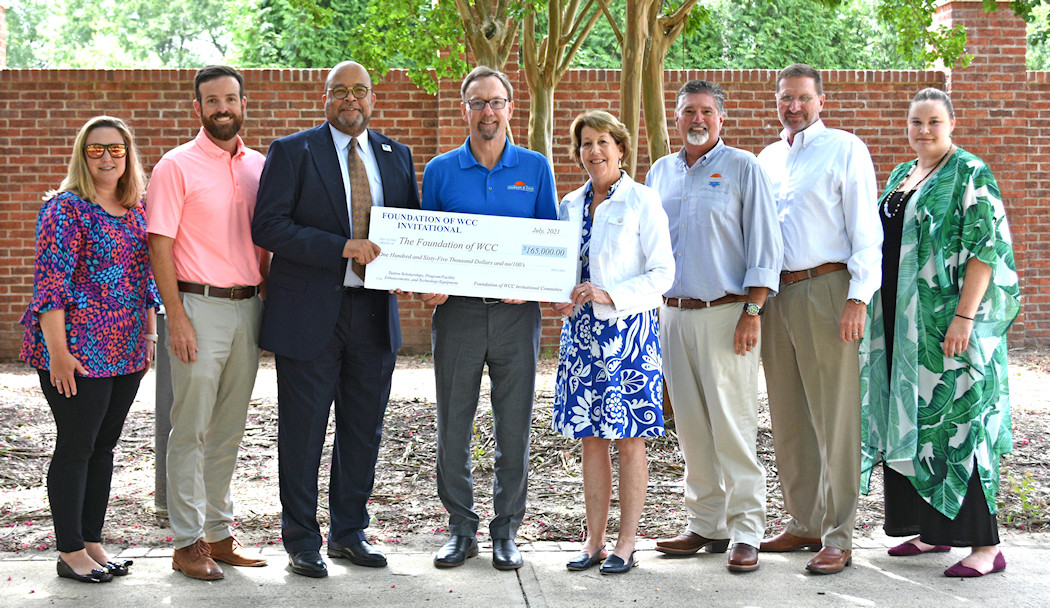 "All of the proceeds go toward student success," said Foundation of Wayne Community College Executive Director Adrienne Northington. "This achievement is remarkable considering all that COVID-19 threw at us."
Prior to the pandemic, the activities associated with the Invitational included an in-person dinner with a silent auction and a live auction. This year, as with 2020, the dinner could not be held and an auction was conducted online.
Last year, the tournament had to be cancelled due to inclement weather but the event still brought in $167,000 thanks to loyal donors and the virtual auction.
Thirty-two four-member teams competed in the super ball tournament that was played in June at Walnut Creek Country Club. This year the tournament experimented with a morning and an afternoon tee time, a format that organizers believe they will keep. "We're always looking to make it run more efficiently," said Northington.
"I am constantly amazed by the altruism of this community. Even though we are still being impacted by a pandemic, businesses and individuals did not hesitate to sign on as sponsors and players," said Tournament Chair Justin McLamb.
"The success of Wayne Community College students is an easy cause for donors and players to get behind. I am grateful for that generosity and honored that I can contribute in my small way to this event and the future of students," McLamb said.
More than 80 businesses and individuals served as sponsors for this year's tournament at six financial levels while others donated items for the auctions.
This year's event sponsors were
Tournament Sponsor: Jackson and Sons Heating and Air Conditioning
Diamond Sponsors: Benton & Sons, Daniels and Daniels Construction Company Inc., Edward E. Reeves, Janney Montgomery Scott LLC, Korschun Foundation, R.A. Bryan Foundation Inc., and Bonnie and Bill Hunter
Platinum Sponsors: Alta Foods LLC, Andy's Foundation, AP Exhaust Technologies Inc., Beacon Building Products, Branch Banking & Trust Company, Case Farms, CopyPro, Deacon Jones Auto Group, Georgia-Pacific Foundation Inc., Mount Olive Pickle Company, Ryerson, Southern Bank, Union Bank, Wayne Electric Company, Wayne UNC Health Care, and Wooten Development Company
Gold Sponsors: Arnold Wilbert Vault, AT&T, Baker Pipe & Parts LLC, Berkshire Hathaway Home Services McMillen & Associates Realty, Deborah K. Fulbright, Estelle and Dr. John Jennings, Goldsboro Builders Supply, Horne Moving Systems Inc., Jerry Tysinger, Sherry and Beecher Smith, Precision Plumbing, Professional Data Management Inc., Quality Inn, Seegars Fence Company, Select Bank & Trust, Seymour Funeral Home and Cremation, Strickland, Agner and Associates, Wayne Realty & Insurance Company Inc., and Worrell Contracting Company Inc.
Silver Sponsors: Baddour, Parker, Hine & Hale PC, Carr, Riggs & Ingram, E. J. Pope and Son Foundation, Eagles Properties Inc., Furniture Fair, Goldsboro Physical Therapy & Wellness, Group W. Management, Hettie and Al Grisette, Institutional Interiors Inc., KS Bank, Lee and Geoff Hulse, McArthur Properties of Wayne County LLC, Moseley Architects, North Carolina Community Federal Credit Union, Nunn, Brashear & Uzzell P.A., Pizza Inn, Ram Rent-All, Sasser Golf Cars Inc., Strickland Insurance Brokers Inc., Warren, Kerr, Walston, Taylor & Smith LLP, and Wells Fargo Advisors
Bronze Sponsors: Asphalt Services LLC, Banks, Gray & Crumpler PLLC, Carolina Family Pool & Patio, Dr. Edward H. Wilson, George F. Whitfield, Hamm Chiropractic, Hine Sitework Inc., Keen Plumbing, Porter Group, Ray Murray Inc., Shumate-Faulk Funeral Home & Crematory Inc., and Sutton's Safety Shoes Inc.
Wooten Oil Company founded the event in 1993 as a way to contribute to a cause that would use all of the money raised locally. Dillon Wooten and his business Wooten Development Company continue to be involved in it.
The Foundation of Wayne Community College is a non-profit organization that works to broaden the base of community support for educational opportunities at the college. It funds program and facility enhancements, provides employee recognition, offers cultural programs for the community, and awards scholarships. It gave a total of 517 scholarships worth nearly $493,500 for curriculum tuition, testing fees, books, and tools during the fall 2020, spring 2021, and summer 2021 semesters.
Wayne Community College is a public, learning-centered institution with an open-door admission policy located in Goldsboro, N.C. As it works to develop a highly skilled and competitive workforce, the college serves 10,000 individuals annually as well as businesses, industry, and community organizations with high quality, affordable, accessible learning opportunities, including more than 165 college credit programs. WCC's mission is to meet the educational, training, and cultural needs of the communities it serves.
Follow WCC on Facebook (also @WayneCCNewsandViews), Twitter, and Instagram.