Wayne Community College student Shekina Kieya Kabala is a finalist for a new scholarship at NC State University.
Kabala, who will receive her associate in science degree at the end of the summer term and is a 2015 Goldsboro High School graduate, is one of 19 finalists for the Goodnight Scholars Program's inaugural Transfer Class.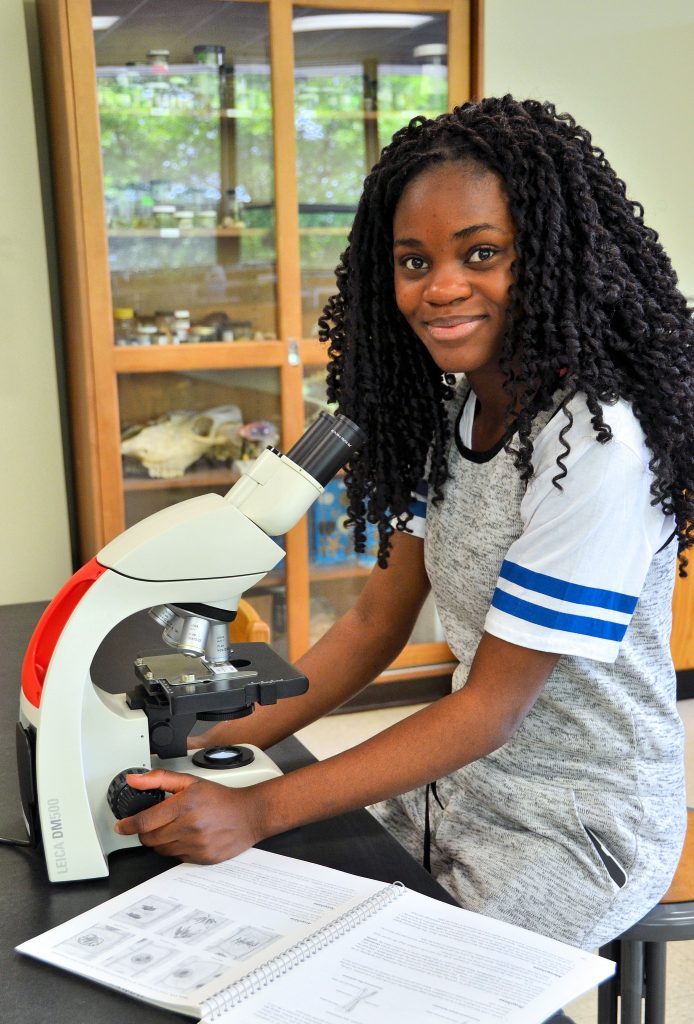 Interviews will be held next week and the field will be cut to the 10 students who will be chosen to join the program's Transfer Class of 2019 at the start of the 2017-2018 academic year.
The finalists were selected from a pool of 75 candidates from across North Carolina, representing four NC State academic colleges and 16 North Carolina counties. Finalists were scored by an application review committee consisting of 22 current and former NC State faculty and staff, as well as Goodnight Scholars alumni.
Each finalist demonstrated exceptional accomplishments in their community college careers including outstanding academic achievement, community involvement, and inspiring goals for success in the STEM (science, technology, education, and mathematics) or STEM education fields.
"We are delighted to announce our first-ever transfer scholarship finalists," said Allison Medlin, director of the Goodnight Scholars Program. "This is an exciting development in our Program's history and a new experience for our volunteers and staff to review transfer student applications. We were amazed by the talent and perseverance demonstrated by this incredibly accomplished group, and we look forward to interviewing them."
"I have no doubt that Shekina will excel, not only with this opportunity, but with anything she puts her mind to," said Katie Mullins, a WCC mathematics instructor who is Kabala's academic advisor. "Shekina is driven, knows exactly what she wants in life, and is not afraid of the hard work it takes to get there."
A native of the Democratic Republic of the Congo who has been in the United States just five years, Kabala said that learning English has been her biggest challenge but STEM subjects are her forte.
"I love chemistry. I love anything that has to do with math. I feel really comfortable," she said.
Kabala plans to earn a bachelor's degree in biology then go to medical school. She plans to practice in this country but also said, "I would like to do something for the people back home."
She is one of four members of her family currently in college. Her father earned an associate degree in Industrial Systems from WCC in 2015 and is continuing in that field at East Carolina University. Her two older brothers are working toward Information Systems degrees at WCC. She has two younger sisters to follow in their footsteps.
The Goodnight Scholars Program targets North Carolina residents from low- and middle-income families who aspire to study in a STEM or STEM education discipline at NC State. The value of the scholarship is $19,500 and is renewable for up to four years for first-year students ($78,000 total), and two years for transfer students ($39,000 total). In addition to the scholarship, Goodnight Scholars have access to an assortment of developmental programming focused on their professional and personal growth.
The Goodnight Scholars Program was established in 2008 out of the philanthropic generosity from North Carolina natives and NC State alumni Dr. Jim Goodnight, co-founder of global business analytic software leader, SAS Institute, and Mrs. Ann Goodnight, director of community relations at SAS Institute.
The Goodnight Scholars Program has evolved into a comprehensive student development program focused on cultivating professional and personal skills for over 200 current Goodnight Scholars per year. Goodnight Scholars receive insight and support from local and national STEM industry leaders and entrepreneurs; participate in professional development workshops; and engage in local, national, and international outreach efforts including STEM education outreach to North Carolina schools and service trips to the Republic of Trinidad and Tobago.
According to the program's website, each programming initiative sponsored by the Goodnight Scholars Program strives to "… develop critical skills and habits necessary for academic achievement; expose and educate students to current trends and advancement in the STEM and education industries; and establish strong personal and/or professional relationships with fellow Goodnight Scholars, NC State faculty/staff, NC State alumni, and STEM/education professionals."
More information on the Goodnight Scholars Program can be found at goodnight.ncsu.edu or Facebook.com/GoodnightScholars.
Wayne Community College is a public, learning-centered institution with an open-door admission policy located in Goldsboro, N.C. As it works to develop a highly skilled and competitive workforce, the college serves around 12,000 individuals annually as well as businesses, industry, and community organizations with high quality, affordable, accessible learning opportunities, including more than 70 college credit programs.
Wayne Community College's mission is to meet the educational, training, and cultural needs of the communities it serves.