Wayne Community College announced today that while its enrollment has decreased over the past few years, the number of students who have earned credentials has increased.
Since the 2012-2013 graduation year (consecutive summer, fall, and spring terms), the student headcount has dropped nearly 15 percent but the number of students who earned a certificate, diploma, or associate degree rose by nearly 80 percent. During the same period, the number of those credentials awarded increased 164 percent.
Less than an eighth of enrolled students attained credentials in 2012-2013. By 2018-2019, more than a quarter of the headcount were presented at least one credential.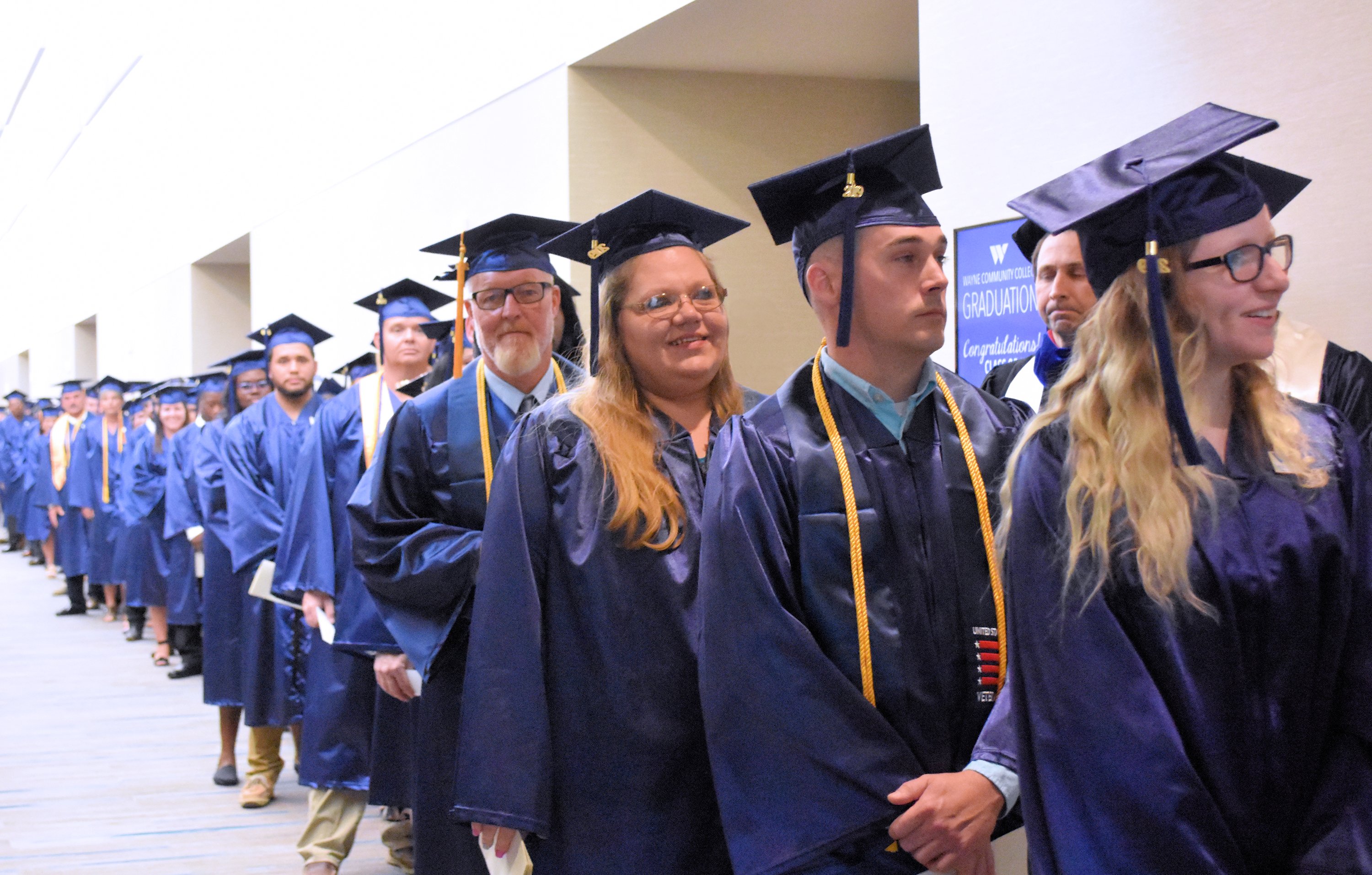 Last year's commencement ceremonies, held in December 2018 and May 2019, celebrated 1,134 individuals who earned 204 diplomas, 1,251 certificates, and 681 degrees.
The increase in credentials can be attributed to the college's CAPPS (Clearing a Path to Student Success) Initiative. CAPSS embraces a "guided pathways" approach to supporting students as they progress to completion with a goal of measurable improvement in student completion and increased employability skills.
"Wayne Community College is committed to student success," said Dr. Patty Pfeiffer, WCC's vice president of academic and student services. "I believe these numbers show our dedication to helping our students fulfill their educational goals. Our students are receiving credentials that can change their lives as well as the lives of their families."
WCC offers more than 140 associate degrees, college-credit diplomas, and college-credit certificates. Associate degree programs are designed to be completed in two years (64-76 credit hours), a diploma can usually be earned in three semesters (36-48 credit hours), and a certificate is ordinarily completed in a semester (12-18 credit hours).
Wayne Community College is a public, learning-centered institution with an open-door admission policy located in Goldsboro, N.C. As it works to develop a highly skilled and competitive workforce, the college serves 11,000 individuals annually as well as businesses, industry, and community organizations with high quality, affordable, accessible learning opportunities. WCC's mission is to meet the educational, training, and cultural needs of the communities it serves.
Follow WCC on Facebook (also @WayneCCNewsandViews), Twitter, and Instagram.