Wayne Community College will host a star athlete for its National Disability Employment Awareness Month event on Tuesday, Oct. 30.
The presentation by Elexis "Lex" Gillette, a Paralympic long and triple jumper who has won medals at every major international competition in which he has participated, will take place in Moffatt Auditorium from 6 to 7 p.m. There will also be a vendor fair with disability services and related organizations from 5 to 6 p.m. in the Wayne Learning Center Atrium and attendees are invited back there after the talk to meet Gillette and get his autograph.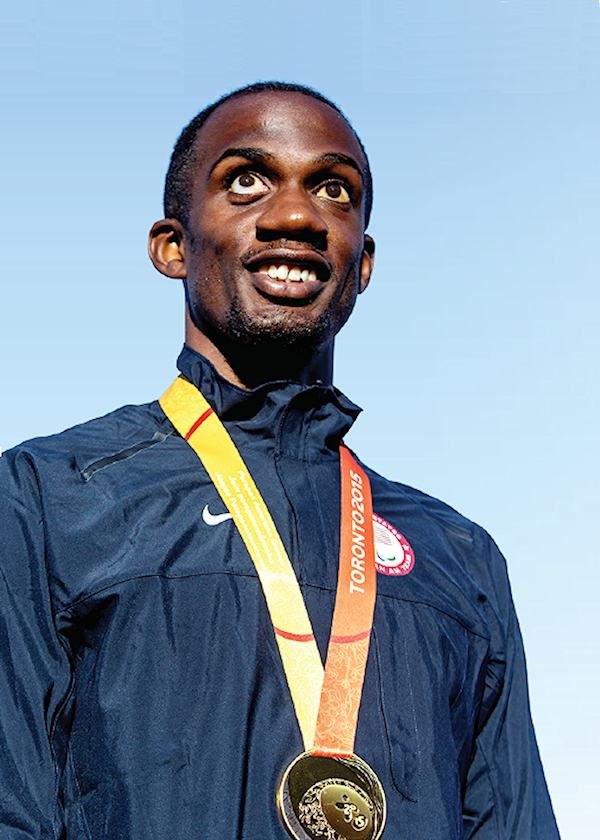 The only totally blind athlete to ever eclipse the 22-foot barrier in the long jump, Gillette is a current world-record holder in the long jump, a four-time Paralympic medalist, a three-time long jump world champion, and an 18-time national champion.
Gillette was born in Kinston but grew up in Raleigh. He lost his sight in childhood due to detached retinas but continued in public schools. While Gillette was a high student, his athletic ability was noticed and his journey to international competition began.
He persisted with his education, earning his high school diploma from Athens Drive High School in 2003, a bachelor's degree in Recreation Management from East Carolina University in 2007, and a master's degree in Business Administration from the University of Phoenix in 2012.
Still a Raleigh resident, Gillette is currently training at the Olympic Training Center in Chula Vista, California to make his fifth consecutive United States Paralympic team with the goal of winning a gold in the 2020 Paralympic Games.
When he isn't practicing and competing, Gillette is a singer/songwriter and a professional speaker. He has shared his motivational messages to large and small businesses and organizations and has provided a TEDx talk.
Gillette will speak at WCC about his odyssey and his personal slogan, which he has registered as his trademark, "No need for sight when you have a vision."
He has written about that motto:
"'No Need for Sight' literally means that sight isn't necessary. It doesn't say 'No Want for Sight'. I've been blind for almost 25 years now, and there are things that I 'want' to see, but do I 'need' to see those things in order to press forward in life? No. Needs and wants are two totally different things," he wrote.
"'When You Have a Vision' speaks to a bridge that connects us. What happens when you have a vision? You gain strength. You begin to see things for yourself, and those around you, that aren't yet in existence. Your focus shifts, and you begin to see past your current reality. You become connected to so much more in life, and some of those connections will be to people and things that you would've never thought of in your wildest dreams."
"So my slogan is a message for us all, a challenge for us all. Whether you're battling with blindness literally, or battling with it figuratively, having a vision is the key," Gillette wrote.
Learn more about Gillette at www.lexgillette.com.
This event is free and open to the public. It is provided by WCC Counseling Services.
Wayne Community College encourages persons with disabilities to participate in its programs and activities. If you anticipate needing accommodations or have questions about access, please contact the college's Disability Services Counselor at (919) 739-6729.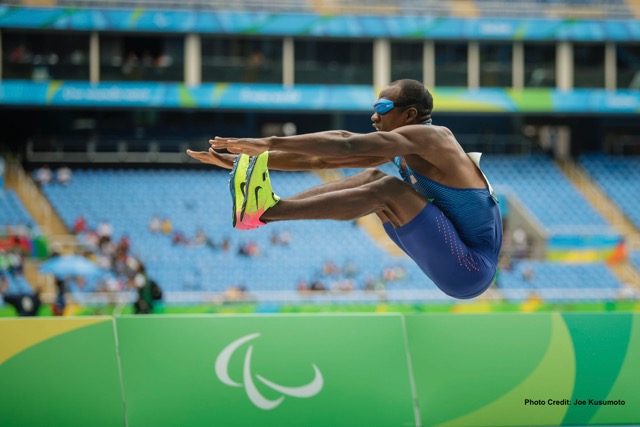 Lex Gillette "Box Score"
2017:
Para-Athletics World Championships, gold – long jump;
U.S. Paralympic Track and Field National Championships, gold – long jump;
Desert Challenge Games, gold – long jump, silver – 100m
2016:
Rio Paralympic Games, silver – long jump;
Paralympic Track and Field Trials, gold – long jump;
Desert Challenge Games, gold – long jump, silver – 100m
2015:
IPC Athletics World Championships, gold – long jump;
Parapan American Games, gold – long jump;
U.S. Paralympics Track and Field National Championships, gold – long jump, silver – 100m;
Desert Challenge Games, gold – long jump
2014:
IPC Athletics Grand Prix Finals, gold – long jump;
U.S. Paralympics Track and Field National Championships, gold – long jump;
Meeting d'Athlétisme Paralympique de Paris, gold – long jump;
Italian Open Championships Grand Prix, gold – long jump, silver – 100m;
IX Internacional Meeting Kern Pharma, Gran Prix Sauleda, gold – long jump;
Desert Challenge Games, gold and tied the world record – long jump
2013:
IPC Athletics World Championships, gold – long jump, silver and new American record – triple jump (12.66m), silver and new American record – 4x100m relay (43.62)
2012:
Paralympic Games, silver – long jump
2011:
Desert Challenge Games, gold and new world record – long jump (6.73m);
IPC Athletics World Championships, bronze – 200m, bronze and new American record – triple jump (12.55m)
2010:
U.S. Paralympics Track and Field National Championships, gold medals – long jump, triple jump, 100m, and 200m;
New Mexico Invitational, new indoor American record – 60m (7.70), new indoor American record – long jump (5.21m);
Paralympic World Cup, bronze – 100m;
Disability Challenge, gold – long jump
2008:
Paralympic Games, silver medal and new American record – long jump (6.46m), fifth place and new American record – triple jump (12.19m);
U.S. Paralympics Track and Field National Championships, gold – long jump and triple jump
2007:
Parapan American Games, bronze – long jump;
U.S. Paralympics Track and Field National Championships, gold – long jump
2006:
International Paralympic Committee Athletics World Championships, silver – long jump;
U.S. Paralympics Track and Field National Championships, gold – long jump;
Paralympic World Cup, silver – long jump
2004:
Paralympic Games, silver and new American record – long jump (6.24m)
2003:
IBSA World Championships, fifth place and new American record – long jump (5.99m)
2002:
USABA National Championships, gold and new American record – long jump (5.66m)