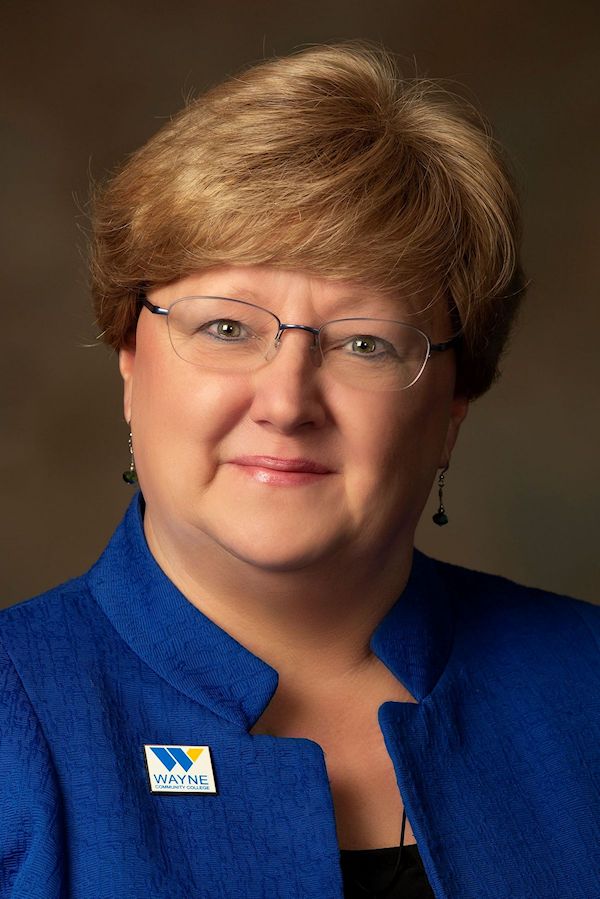 Dr. Patty Pfeiffer is Wayne Community College's newest vice president.
The college's Board of Trustees approved Pfeiffer to assume the position of Vice President for Academic and Student Services during its May 28 meeting. She had been in that role on an interim basis since December 2018.
"Dr. Pfeiffer provides this institution with superb leadership," said Dr. Thomas A. Walker Jr, WCC president. "Wayne Community College is fortunate to have the standard of excellence that she brings to this position and that she has exhibited her entire career."
Pfeiffer has been employed by the college since November 1994 when she joined the faculty as a nursing instructor. Since then she has moved up the ranks to Nursing Department Chair in 2008, Allied Health and Public Services Division Dean in 2010, and Chief of Staff and Vice President of Institutional Effectiveness and Innovation in March 2018.
Prior to her WCC career, Pfeiffer worked as a nurse and nursing assistant. She maintains her nursing credentials. She is licensed as a Registered Nurse in North Carolina, and nationally as an Inpatient Obstetric Nurse, and is a certified nurse educator.
She has received many awards related to nursing and academia. In 2015 she was recognized at the local and district levels of the Association of Educational Office Professionals as the Administrator of the Year and was a finalist at the state level. She was the 2007 Excellence in Teaching Award winner at WCC and a finalist for the award at the state level. In 2015 she received a National Institute for Staff and Organizational Development Excellence Award.
Pfeiffer is a product of Wayne Community College's Associate Degree Nursing program. She also holds a bachelor's degree in nursing, master's degrees in nursing and administration, and a doctorate in education, higher education, and adult learning.
Wayne Community College is a public, learning-centered institution with an open-door admission policy located in Goldsboro, N.C. As it works to develop a highly skilled and competitive workforce, the college serves 12,000 individuals annually as well as businesses, industry, and community organizations with high quality, affordable, accessible learning opportunities, including more than 70 college credit programs. WCC's mission is to meet the educational, training, and cultural needs of the communities it serves.