Wayne Community College recognized members of its Pharmacy Technology class of 2019 in a formal pinning ceremony held May 8 at the college.
The annual service includes presentation of pharmacy technician pins by the faculty of the program and recitation of the "Oath of a Pharmacy Technician." It denotes the graduates' passage from students to professionals in their field.
This year's graduates are
Jessica Nicole Carmichael, Veronica N. Ekebude, Bouchra Khlidi, Nader Khushafa, Taylor Pearce, and Naria J. White of Goldsboro;
Alyssa Cooke and Brenda Patrick of La Grange;
Natalie Riggs of Fremont and
Lindsey Whitman of Dudley.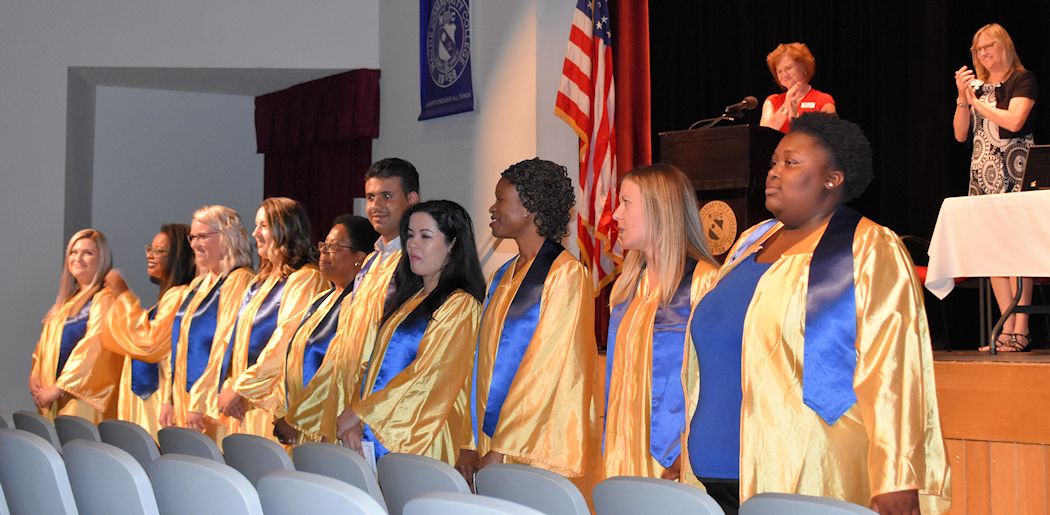 In addressing the graduates, Laura Skinner, director of WCC's Pharmacy Technology Program, talked about the need for technicians.
"What do pharmacy technicians do? More than wait on customers and count pills," Skinner said. "If you ask the pharmacist who their right hand is, they are going to point to their technician."
"Take extra steps to make connections with your patients," she advised the graduates. "You never know what someone is going through."
Wayne Community College's Pharmacy Technology program is a limited-admission, two-semester program that leads to a diploma. Graduates can choose to take the National Pharmacy Technician Certification Exam to earn the title of "certified pharmacy technician."
Wayne Community College is a public, learning-centered institution with an open-door admission policy located in Goldsboro, N.C. As it works to develop a highly skilled and competitive workforce, the college serves 12,000 individuals annually as well as businesses, industry, and community organizations with high quality, affordable, accessible learning opportunities, including more than 70 college credit programs. WCC's mission is to meet the educational, training, and cultural needs of the communities it serves.