Dr. G. Herman Porter
George Herman Porter, 85, died Sunday, February 24, 2019. Dr. Porter served as Wayne Community College's third president from 1987 to 1992. For more about his contributions to WCC, the North Carolina Community College System, and education in general, see below.
The family will receive friends on Thursday, February 28, 2019 from 6:00 to 8:00 p.m. at Seymour Funeral Home, 1300 Wayne Memorial Drive, Goldsboro. A service to celebrate Herman's life will be held at 2:00 p.m. on Friday, March 1, 2019 at St. Paul United Methodist Church, 204 E. Chestnut Street, Goldsboro. Interment will follow in Ebenezer United Methodist Church Cemetery in Bentonville, N.C. In lieu of flowers, the family requests donations in his memory for WCC Workforce Continuing Education be mailed to The Foundation of Wayne Community College, PO Box 8002 Goldsboro NC 27533.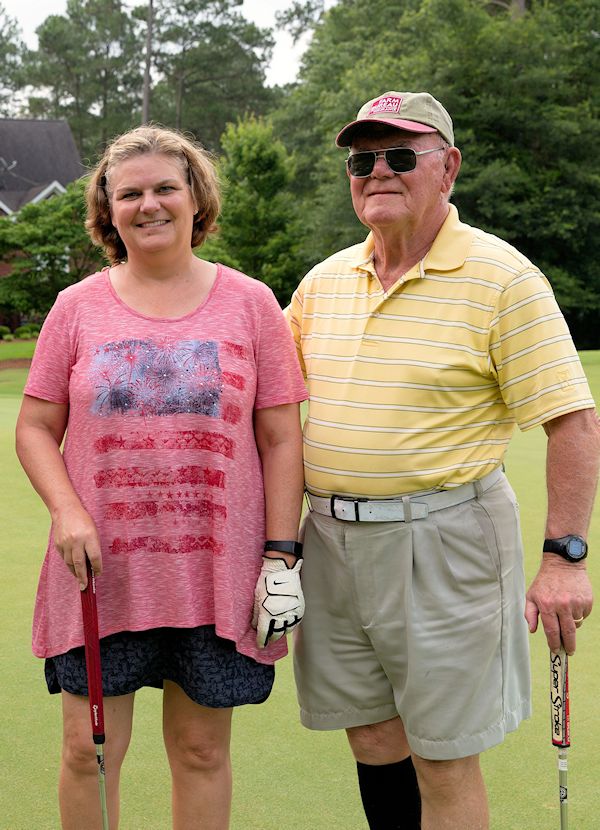 Following is a biography written by Karen Porter Burnette and Ray Porter  and provided for the presentation of the Order of the Long Leaf Pine in 2015.
George Herman Porter was born April 3, 1933, to parents on a small tobacco farm in Wayne County, NC.  He was the second in a family of four siblings.  He, along with his family, attended Falling Creek United Methodist Church. He was an honor student at Grantham School where he also played baseball and basketball.  Herman was very active in FFA and was a state vice president in 1951-52. He also won the local, regional and state public speaking awards.  Herman was awarded the National American Farmers Degree, the highest FFA honor at that time, in Kansas City his senior year.
Herman attended NC State University and was a member of the class of 1955.  While at NC State, he was a member of the NC State student government; the business manager for the Agriculture Club newspaper, "The Agriculturist"; charter member of Farm House Fraternity; inducted into the Blue Key Honor Society and the Order of 30 and 3 Honor Society.  He was also selected by the faculty of the School of Education as the Outstanding Senior and gave the graduation address.
After earning a BS degree in Agriculture Education in 1955, he taught Vocational Agriculture at Nahunta High School in Wayne County for one year. While there he taught three high school courses, and about 50 area farmers biweekly in the winter months.  He also supervised a veterans program there with two instructors.  In 1956, he was drafted into the US Army.  After serving two years in the Army, he returned to NC State in 1958 to earn his master's degree in Agricultural Education.  This vocational agriculture experience was good preparation for vocational work and community college work.  Many of the first Presidents in the North Carolina Community College System were Vo-Ag teachers who had shops and taught adults.
In 1959, Dr. Gerald James, NCSU professor, asked Herman to go work with him and join Dr. I. E. Ready downtown to assist them, and do his graduate work on Vocational Agricultural Education.  The first secretary was chosen, Helen Dowdy, and the first four got to work on what would become the community college system.
Dr. James and Herman Porter wrote a curriculum study guide for Vo-Ag Education and worked closely with the Employment Security Commission on a major manpower study for North Carolina using cards and an early model IBM machine for data summarizing.  They used this data to work with Industrial Education Centers staff.  In 1961 Herman was employed to assist Dr. Lynn Emerson, a retired Cornell University professor, and national expert on Technical Training.  He and Dr. Emerson presented to IEC personnel the recommended curricula and programs for each IEC.  They wrote a "Guide for Further Development of Industrial Education Centers" with recommendations, including one to establish the Community College System, which Dallas Herring suggested to Herman.  Herman presented the study results to a regional meeting in Roanoke, VA and in 1962 met with Governor Hodges along with Dr. James to review the Manpower Study results and IEC development.
In 1962, Herman wrote a plan for a new course in public schools, "Introduction to Vocations" and presented the plan to Dr. James, who then had become the Vocational Education Director in the Department of Public Instruction.  He got approvals, including legislation and the curriculum was started in several pilot schools.  In the summer of 1963, Herman, Dr. Scarborough, Dr. H.G. Beard, and Charles Law taught at NCSU a six-week course for Vocation teachers, math and science teachers and its correlation for teaching 9th graders.
In 1962, Dr. Ready asked Herman to read and summarize all the available literature and books regarding Junior/Community Colleges.  Dr. Ready reviewed the summary and asked Herman to send it to Dr. Howard Boozer at the Board of Higher Education.  Dr. Boozer and Dr. Ready used Herman's report in providing information to the Carlyle Commission which recommended the legislation for the Community College Act.
In 1963, Herman coordinated and kept notes on remarks by community college consultants from Florida, California, Washington, New York and Texas that were invited to meet with staff.  These notes were used to develop policies for the evolving North Carolina system. Also, in 1963, Herman and Fred Eason wrote the guide for local communities to use in studying the need and support for a Community College or Technical Institute.  Herman worked with several counties with their studies, including Columbus, Surry, Moore, and Rockingham.
In 1964, Herman, working as Administrative Assistant to Dr. Ready, wrote a "Self-Study Guide for Community Colleges and Technical Institutes." This was the beginning step toward laying a foundation for quality in the new North Carolina Community College System.
In 1964 to 1966, Herman was the Coordinator of Fiscal Affairs for the Department of Community Colleges and did the budgeting for institutions in the system.  He assisted in the development of the first budgeting formula for the equitable distribution of funds to the institutions. This system proved to be very helpful, as the first year before the formula, Herman had to negotiate with over 30 community college presidents!
From 1967 to 1973, Herman continued his work on quality for the system.  He was the first Assistant, and then in 1968 became the Director of Institutional Accreditation.  He had a major role in writing the Standards and Evaluative Criteria for State Accreditation.  He did this with the involvement of the Community College Advisory Committee, of which he served as its Secretary for 25 years.
In spring of 1973, Herman earned a PhD in Continuing Education from NCSU.  Later that year he went to Southeastern Community College as Acting President.  In 1974, Dr. Porter came back to Raleigh as Associate Vice President of Student Services and Accreditation.  He mostly managed the Accreditation program during the 1970s.
From 1980 to 1985, Dr. Porter was the Director of Planning for the Community College System.  He continued coordinating the accreditation with the SACS Commission on Colleges, in Atlanta, Georgia.  In 1985, Dr. Porter represented community colleges on a five-person committee to recommend changes in the Standards for the Commission on Colleges and Universities, covering 11 southern states.
In 1985, Dr. Porter became the Interim President of Isothermal Community College until their new president was hired, and in 1986, Herman retired from the Department of Community Colleges.  Within a few months Dr. Porter came out of retirement to come back to his home county as Interim President of Wayne Community College.  In 1987, Dr. Porter was named President of Wayne Community College where he led in developing plans for a new campus and the construction of the first several buildings.  He retired the second time in 1992 from Wayne Community College, but he did not stop working for education and the community colleges.
After the second retirement, he was appointed to the NC Community College State Board by the NC State Legislature.  He served on this board from 1992 to 2003.  Dr. Porter was Chair of the Board from 1999 to 2001.  During that period he was instrumental in coordinating the community college effort for the passage of the 2000 Higher Education Bond Referendum.
In 2003, he received the I.E. Ready Award, which is the highest award bestowed by the State Board of Community Colleges.  He was also recognized for being one of two longest employees of the Community College System.
Today, an avid golfer, Herman is seen most days somewhere on a golf course!  But he has managed to spend time on other activities in retirement that include;  Sunday school teacher at St. Paul United Methodist Church,  member of the Golden Kiwanis and served on the board of directors.  Through the Golden Kiwanis he volunteers as a math tutor at Spring Creek Elementary School in the Wayne County Public School System.  His class of third graders has achieved the highest math scores on the EOGs which has made him especially proud!
Herman has worked mostly behind the scenes as the community college system began and grew.  He was instrumental in getting a lot of the "leg work" done to help grow a quality North Carolina Community College System.  Herman's life has been dedicated to education and he has served honorably and with humility never seeking the limelight or personal recognition.