Wayne Community College has been honored for its support of the Military Order of the Purple Heart Purple Truck Run 2017.
The college hosted the Purple Heart Truck Run, with its theme "Mobility is Freedom," during this year's Independence Day holidays.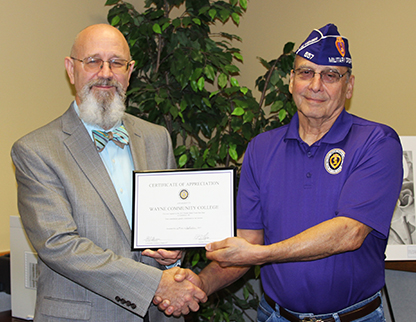 WCC was the first stop in the mobility-equipped 2017 Ford F-150 Raptor truck's 8,500 mile journey from the Iwo Jima Memorial in Arlington, Virginia, crisscrossing the country, and ending at the Military Order of the Purple Heart convention in Dallas, Texas in August. Amputee veterans took turns driving the vehicle.
At that convention, the truck was presented to a Purple Heart recipient who was injured in Afghanistan.
The recipient, Marine Sergeant (Ret.) Marshall Kennedy of Farmington, Arkansas, was chosen from a nationwide search of eligible and deserving nominees. Kennedy was on his fourth deployment when he lost both of his legs and sustained severe damage to his left arm after stepping on an improvised explosive device in Sangin, Afghanistan on June 13, 2011.
The Purple Heart Truck Run was co-sponsored by the Military Order of the Purple Heart and Wounded Warriors Family Support to raise awareness of both the project's mission and the sacrifices of veterans.
Wayne Community College is a public, learning-centered institution with an open-door admission policy located in Goldsboro, N.C. As it works to develop a highly skilled and competitive workforce, the college serves around 12,000 individuals annually as well as businesses, industry, and community organizations with high quality, affordable, accessible learning opportunities, including more than 70 college credit programs. WCC's mission is to meet the educational, training, and cultural needs of the communities it serves.