Phoebe Ramirez's art is representing Wayne Community College in a show of works from the state's community colleges.
"Many Seeds," an acrylic painting of several open pomegranates, has been included in the North Carolina Community College System 2021 Student Art Exhibition. The virtual show is hosted by The Art Gallery at Fayetteville Technical Community College and can be viewed through Aug. 21.
The show includes 33 pieces in forms ranging from jewelry to furniture, photography to digital art, metal sculpture to pottery, and all painting and drawing media. The art will be judged and awards will be presented on June 4.
Ramirez graduated from WCC this spring with an associate in arts degree. She plans to continue her study of art at the Savannah College of Art and Design then pursue work in animation or video gaming art.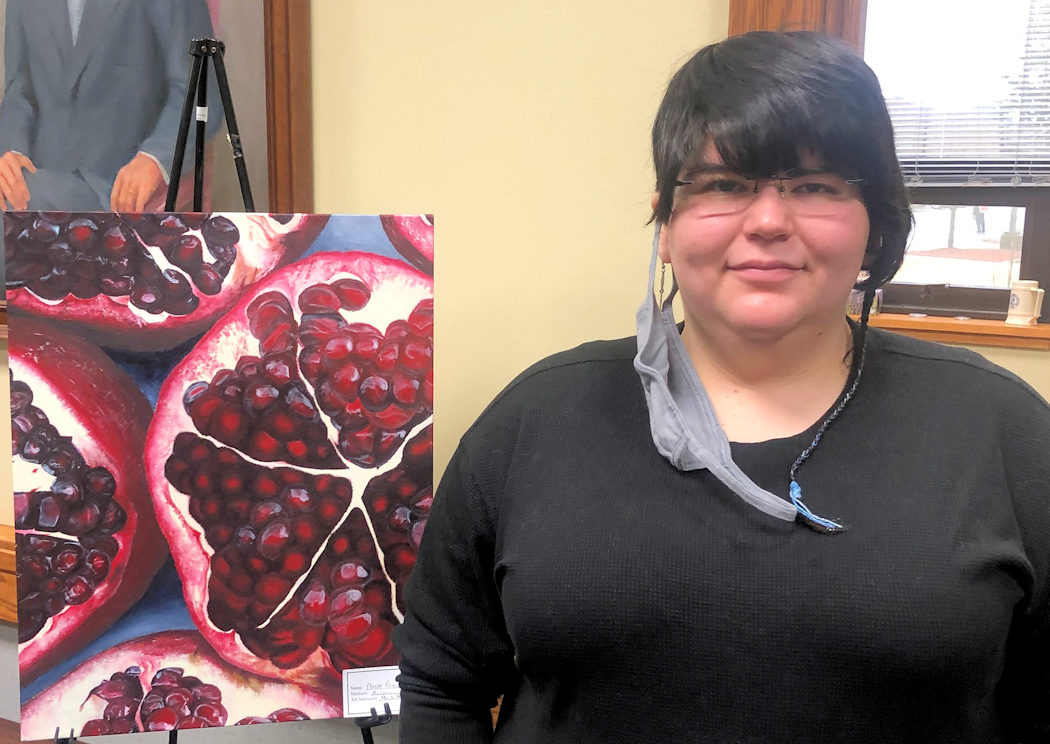 "I feel that Phoebe is a perfect choice to represent Wayne Community College Fine Arts. She is very humble and quite shy but her voice is powerful in her artwork," said WCC Art Instructor Angie Waller. "Her talent astounds many of her peers, and yet she patiently takes time to help anyone that may need some assistance. She does this with no complaints and prefers no accolades."
Ramirez said that the college's art program "helped me find my voice" and it "has been a second home to me."
Ramirez has had pieces in past shows at the college and its literary and art magazine "Renaissance," other locations in Wayne County, and in North Carolina House Majority Leader John Bell's office in Raleigh.
About WCC
Wayne Community College is a public, learning-centered institution with an open-door admission policy located in Goldsboro, N.C. As it works to develop a highly skilled and competitive workforce, the college serves more than 10,000 individuals annually as well as businesses, industry, and community organizations with high quality, affordable, accessible learning opportunities, including more than 140 college credit programs. WCC's mission is to meet the educational, training, and cultural needs of the communities it serves.
Follow WCC on Facebook (also @WayneCCNewsandViews), Twitter, and Instagram.