Wayne Community College held its 11th annual Recognition Ceremony to honor its top curriculum students. During the 2019 event, 93 awards were presented to 73 students.
Each year, WCC faculty members select one student from their program whose academic accomplishments best represent that program. Those students receive Outstanding Student Curriculum Awards.
Following are the students honored with Outstanding Student Curriculum Awards and the program recognizing them.
In the Allied Health and Public Services Division:
Jenna Woodard, Associate Degree Nursing;
Alyssa Price, Dental Assisting;
Cynthia Coker, Dental Hygiene;
Craig Wilson, Early Childhood Education;
Staisy Villalobos, Human Services Technology;
Kayla Capps, Medical Assisting;
Tonya Russell, Medical Laboratory Technology;
Bouchra Khlidi, Pharmacy Technology; and
Ariana Peloquin-Safford, Practical Nursing.
In the Applied Technologies Division:
Alexander Alvarado, Agribusiness Technology;
Robert Castillo-Ramirez, Air Conditioning, Heating and Refrigeration Technology;
Steven Taylor, Applied Animal Science Technology;
Erick Granados, Automotive Systems Technology/General Motors Automotive Service Educational Program;
David Rose, Automotive Systems Technology/Automotive Technical Education Program;
Scott Sheck, Aviation Systems Technology;
Glenda Creech, Business Administration/Operations Management;
Dylan Powell, Collision Repair and Refinishing Technology;
David Meek, Computer-Integrated Machining Technology;
Emily Bryant,Forest Management Technology;
Jeffrey James, Industrial Systems Technology;
Daniela Ortiz, Mechanical Engineering Technology;
Michael Wallace, Mechatronics Technology;
Ashley Bush, Sustainable Agriculture;
Justin Cianfarra, Turfgrass Management Technology; and
Chandler Matthews, Welding Technology.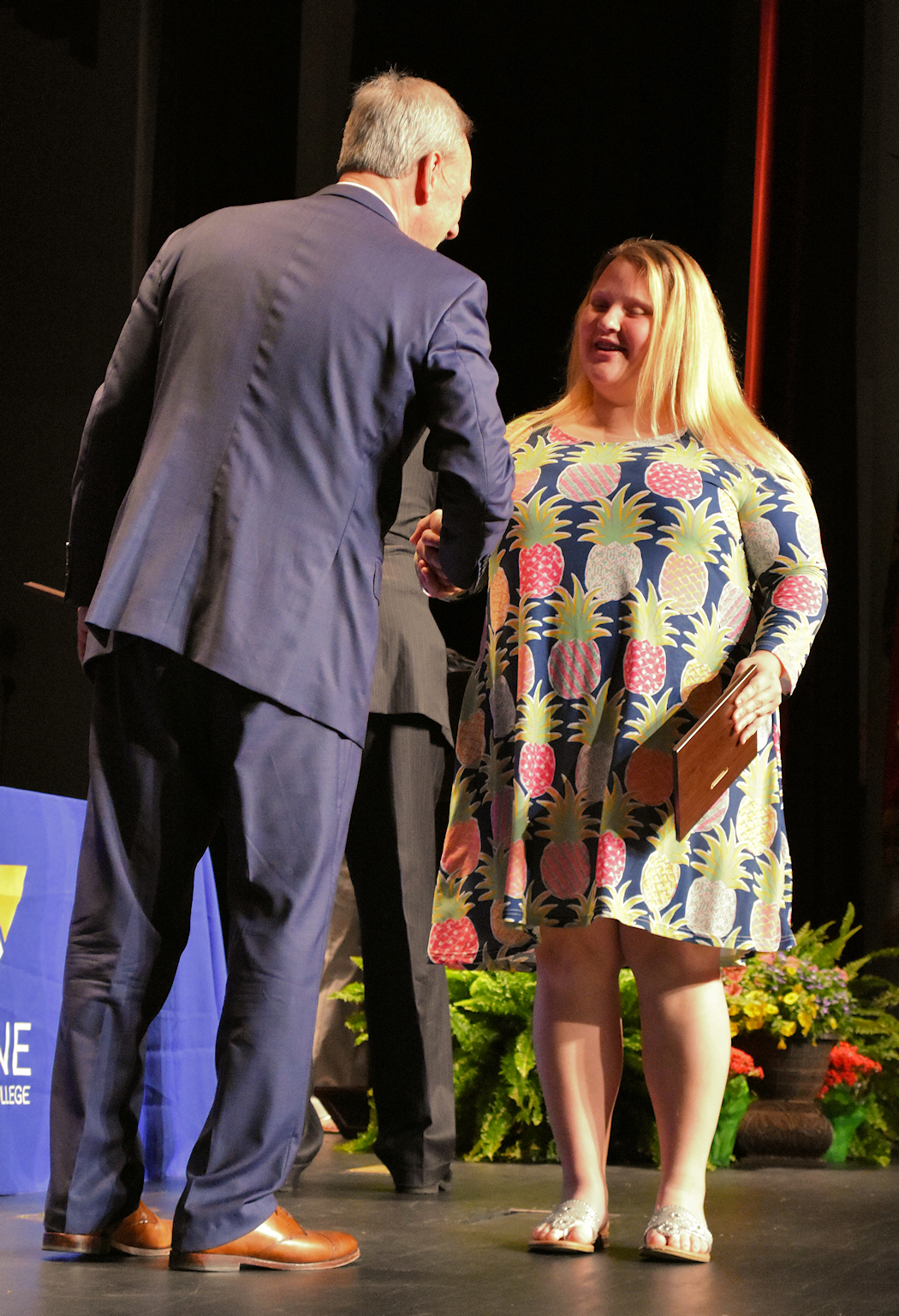 In the Arts and Sciences Division:
Hope Mitchell, Associate in Arts;
Matthew Herring, Associate in Engineering; and
Yunfei Chen, Associate in Science.
In the Business and Computer Technologies Division:
Enedina Howell, Accounting;
Amanda Kelly, Business Administration;
Parker Hood, Computer Programming and Development;
Kevan McCance, Information Technology Business Support;
Naemia Hanshali, Medical Office Administration;
Michelle Futrell, Network Management;
Wendy Skinner, Office Administration;
James Sutton, Simulation and Game Development; and
Andrew Stoops, Systems Security.
In the Public Safety Division:
Hugo Gonzalez, Criminal Justice Technology;
Japrelle Cintron, Criminal Justice Technology/Forensic Science; and
Christopher Sauls, Emergency Management Technology.
The WCC Honors Program recognized its 2019 students: Sarah Barefoot, Faith Mitchell, Hope Mitchell, Karina Velasquez-Galindo, Nathan Carroll, Rebecca Eliassaint, Joanna James, Kasey Jones, Tai Love, Amanda Matthews, Holly Uhler, and Mengni Wang.
To be admitted to the Honors Program, students must have a 3.5 grade point average and must maintain a 3.2 GPA to continue in it. The program focuses on academics, leadership, and service as integral components of a well-rounded education.
Enedina Howell, Abagail Lee, and Karina Velasquez-Galindo were recognized as finalists for the Academic Excellence Award and Estefani Cota was named the winner.
The Academic Excellence Award recognizes a student not only based on academic achievement, but also community service and leadership activities. The winner was presented a medallion by the North Carolina Community College System.
Amanda Matthews was honored for being selected as Wayne Community College's nominee for the 2019 All-USA Community College Academic Team competition and the New Century Scholars program. These national recognition programs consider academic accomplishments, leadership, activities, and how students extend their intellectual talents beyond the classroom in selecting award recipients.
Jessica Hoskin, an Accounting major, is the recipient of the 2019 Work-Based Learning Student of the Year Award. The award recognizes her extra effort and achievement in her work-based learning experience.  In addition to a superior work ethic and a strong command of employability skills, Hoskins has demonstrated innovation and a passion for her field of study.
The Dallas Herring Student Achievement Award recognizes a student who embodies the philosophy of Dr. Herring, one of the fathers of North Carolina's community college system, who said that community colleges should "take the people where they are and carry them as far as they can go."
FeiFei Zhang Kaglic and Carlissa Smith-Troublefield were recognized as finalists and Charles Howard Perkins as the winner of the Herring Award. Perkins became the college's nominee for this award at the state level.
The 2018-2019 members of Who's Who Among Students at Wayne Community College are Ariel Anderson, Ashanti Artis, Cristina Carranza, Hannah Carter, Estefani Cota, Rachel Doblar, Payton Herring, Jalisa Isler, Chloe Kandare, Logan Matthews, Faith Mitchell, Hope Mitchell, Rosemarie Morgan-Parks, Wendy Skinner, Carlee Stevens, Alvin Ward, Leea Williamson, and Matthew Willoughby.
Who's Who is a local chapter that honors the college's leading students for their academic excellence and the contributions they make to the college and community.  Only 1 percent of the students who attend WCC are selected for this honor annually.
Carlissa Smith-Troublefield was honored as the finalist and Kasey Jones as the winner of WCC's Governor Robert W. Scott Student Leadership Award. The winner was the college's nominee for this award at the state level, which is presented by the North Carolina Association of Community College Presidents to recognize outstanding student leadership and service.
The 2018-2019 Student Government Association Officers were recognized for providing great leadership to their fellow students, the college, and the community. They are President Cristina Carranza, Vice President Camryn Stallings, Secretary Logan Matthews, and Special Populations Chair Tyra Artis.
The 2018-2019 Ambassadors were honored for their service. They are Hannah Carter, Estefani Cota, Payton Herring, Faith Mitchell, Hope Mitchell, Alvin Ward, and Matthew Willoughby. While Ambassadors represent the college at special events on campus and within the community, they must maintain full-time academic status and a 3.0 or higher grade point average.
Logan Matthews, who started the year as an Ambassador then moved into the Student Government Secretary role in the spring, received the Advisor's Award.
In presenting the award, Student Activities Director Paige Ham said that Matthews "has gone above and beyond the call of duty … always carrying a smile on [her] face, laughing and always willing to go that extra mile. … [She] leads by example, never expecting to be recognized or rewarded."
The SGA Presidential Club Awards recognize those campus organizations that excel at service to the college and the community. This year, third place went to WCC FLOW (Future Leaders of the World), second to the Wayne Community College Association of Nursing Students, and first to the Criminal Justice Club.