The Wayne Community College Foundation Scholarship Invitational had another banner year.
The event netted $184,000, handily passing the $180,000 target organizers had set. All of the money goes to Wayne Community College students for scholarships for the 2017-2018 academic year.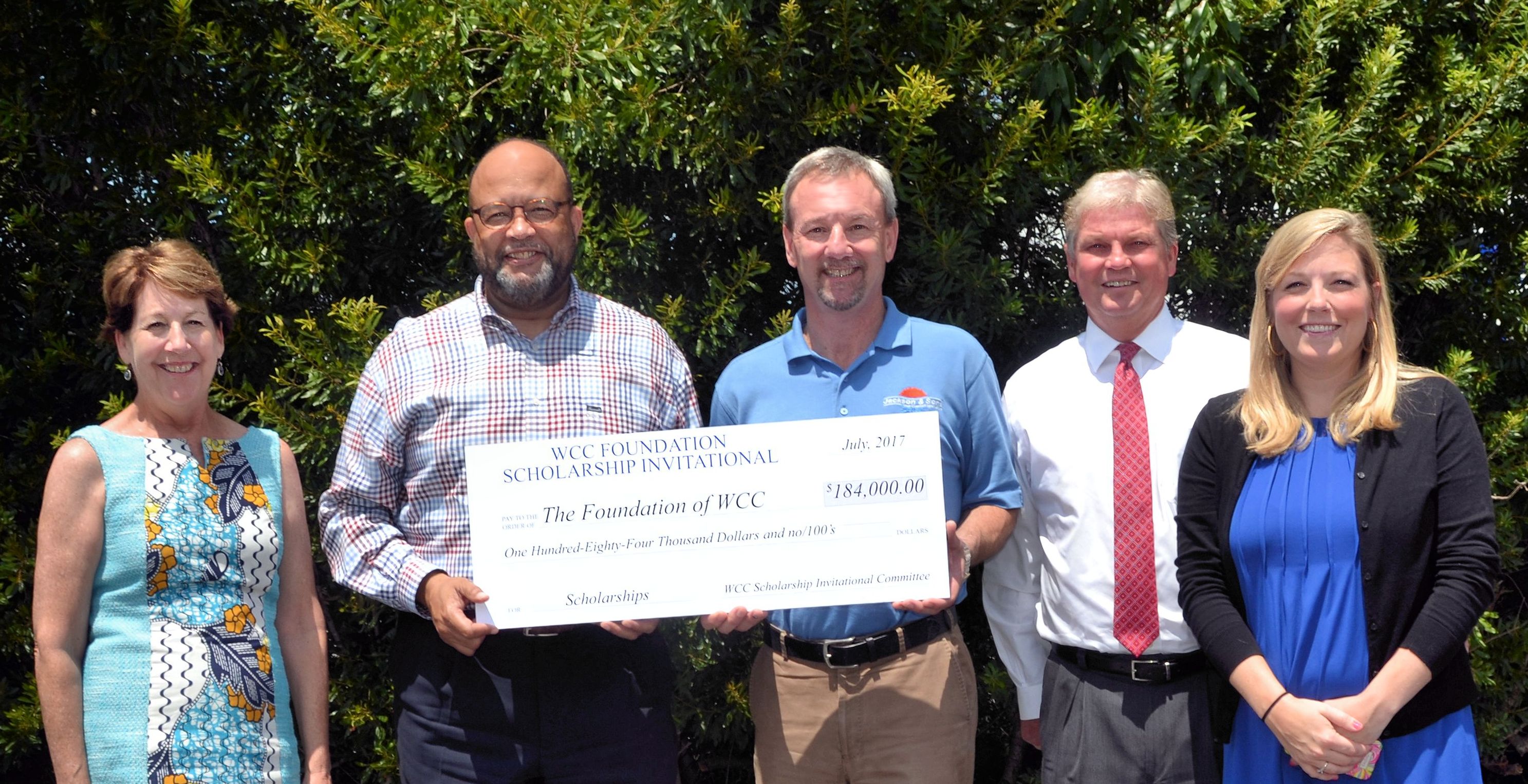 "I take great pride in this," said Invitational Co-Chair Jeff Jackson. "We're helping people who are helping themselves."
The total raised in the event's 25-year history is more than $1.7 million, which has assisted more than 2,500 students with their educations at WCC.
The Invitational's live and silent auctions and golf tournament, which were held in June at Walnut Creek Country Club and Goldsboro Municipal Golf Course, respectively, combined with sponsorships and donations, resulted in the record-breaking take. Last year's tournament brought in more than $176,000.
Credit goes to sponsors and donors as well as the event's organizers and volunteers, said Foundation Executive Director Adrienne Northington. "It takes a village to put this together," she said.
More than 90 businesses and individuals served as sponsors for this year's tournament at six financial levels. Dozens of people and businesses donated items for the auctions that earned more than $24,000. Students and employees at the college provided a volunteer workforce throughout the event.
Jackson and Sons Heating and Air Conditioning was the "Invitational Sponsor" for the 10th year because the cause is an easy one to support, said co-owner David Jackson. "This is not about us. This is about what we are doing for students," he said. Recruiting other supporters for the event is easy, too, "because it is giving back to the community."
"This is a fantastic event," said WCC President Thomas A. Walker Jr. "I see what the funds do for the lives of our students."
The Invitational is the Foundation's largest single source of funds for scholarships. During the last fiscal year, the Foundation awarded 527 scholarships worth $385,265 for tuition, testing fees, books, and tools.
Wooten Oil Company founded the event in 1993 as a way to contribute to a cause that would use all of the money raised locally. Dillon Wooten and his business Wooten Development Company continue to be involved in it.
The Foundation of Wayne Community College is a non-profit organization that works to broaden the base of community support for educational opportunities at the college. In addition to providing scholarships, it funds innovative campus projects and employee recognition, and offers cultural programs for the community.
Wayne Community College is a public, learning-centered institution with an open-door admission policy located in Goldsboro, N.C. As it works to develop a highly skilled and competitive workforce, the college serves 14,000 individuals annually as well as businesses, industry, and community organizations with high quality, affordable, accessible learning opportunities, including more than 70 college credit programs. WCC's mission is to meet the educational, training, and cultural needs of the communities it serves.
---
This year's event sponsors were
Invitational Sponsor: Jackson and Sons Heating and Air Conditioning
Diamond Sponsors: Eastern Building Supply, Korschun Foundation, R.A. Bryan Foundation Inc., R.A. Jeffreys Distributing Company LLC, and Annalean and Ed Reeves
Platinum Sponsors: Drs. Kay and Woody Albertson, Alta Foods LLC, Andy's Foundation, AP Exhaust Technologies Inc., AT&T, Benton & Sons, Branch Banking & Trust Co., Fran and Larry Boyce, Case Farms, CopyPro, First Citizens Bank, Follett Bookstore, Georgia Pacific Plywood Division, Ivey's Spring Creek Farm, Mount Olive Pickle Company, Raymond James Financial Services Inc., Ryerson, Dr. Victoria Samuels, Wooten Development Company
Scholarship Sponsors: Arnold Wilbert Vault, Berkshire Hathaway Home Services McMillen Group, Best Distributing Company, Brady Trane Services Inc., Carr, Riggs, and Ingram, Deacon Jones Auto Group, Dr. Deborah K. Fulbright, Goldsboro Builders Supply, Goldsboro Skin Center, Home Health and Hospice Care Inc., Cathy and Tom Howell, Horne Moving Systems Inc., In memory of Dr. Ross Wilson, Beth and Jack Kannan, Melda and Bill Lamm, Jesse G. Parks, Piedmont Natural Gas, PNC Bank, Precision Plumbing, Professional Data Management Inc., Ram Rent-All, Select Bank & Trust, Seymour Funeral Home and Cremation, Southern Bank, The Borden Fund Inc., The Little Bank, Jerry Tysinger, Wayne Electric Company, Wayne Realty & Insurance Co. Inc., Wells Fargo Advisors, Wells Fargo Bank
Gold Sponsors: Baddour, Parker, Hine & Hale PC, BB&T Insurance Services Inc., Best Commercial Development LLC, Jason M. Blackburn, Attorney at Law PLLC, Randy M. Byrd, Dan Wise Chevrolet Inc., Daniels and Daniels Construction Company Inc., E.J. Pope & Sons Inc., Erie Insurance, Franklin Baking Company LLC, Goldsboro Physical Therapy, KS Bank, North Carolina Community Federal Credit Union, Strickland, Agner, & Associates, Strickland Insurance Brokers, Warren, Kerr, Walston, Taylor, & Smith LLP, Wayne UNC Health Care
Hole Sponsors: Asphalt Services LLC, Banks, Gray, and Crumpler PLLC, Barwick Lawn Care, Carolina Family Pool & Patio, Evergreen Memorial Services Inc., Griffin Exterminating Company, Dr. Tony Hamm, Hartford Mutual Funds, Hine Sitework Inc., In memory of Randy Baker, Jackson Builders, Landscape Design of Goldsboro, Jan and Marty Metzler, Nunn, Brashear, & Uzzell PA, O'Berry & Lewis Inc., RE/MAX Complete, Sutton's Safety Shoes Inc., Ralph J. Wall Electrical Contractors, George Whitfield, Dr. Edward H. Wilson
Blue Sponsors: Bojangles', Carolina Ice Company, Coca-Cola Bottling Co., Culligan Water, Franklin Baking Company LLC, Dr. Tony Hamm, Parker and Parker PA CPA, Pepsi Bottling Ventures, Riley Outdoor Advertising LLC, S&D Coffee Inc., Southco Distributing Company
Corporate Dinner Sponsor: Outback Steakhouse
Invitational Breakfast Sponsor: Bojangles'
Invitational Lunch Sponsor: Chick-fil-A of Goldsboro
---