A Wayne Community College student is the recipient of a $5,000 scholarship from the State Employees' Credit Union (SECU).
SECU members, through the member-funded SECU Foundation, presented the scholarship to Jenna Jones, an aspiring dental hygienist who is currently an Associate in Arts major.
Based on the credit union's philosophy of "People Helping People," the scholarship recognizes Miss Jones' leadership, excellence of character, integrity and community involvement.
Scholarship funds will be applied to tuition and other expenses associated with her community college education.
"My fellow SECU members and I remain dedicated to helping North Carolina students succeed in their pursuit of higher education through our state's outstanding community college system.  SECU Foundation's 'People Helping People' Scholarship program will help open the doors for this deserving individual to discover her passion and challenge herself to make a difference in the lives of others," said State Employees' Credit Union's local Advisory Board Member Gene Smith. "As a representative of SECU's membership, it gives me great pleasure to award this scholarship to Jenna Jones."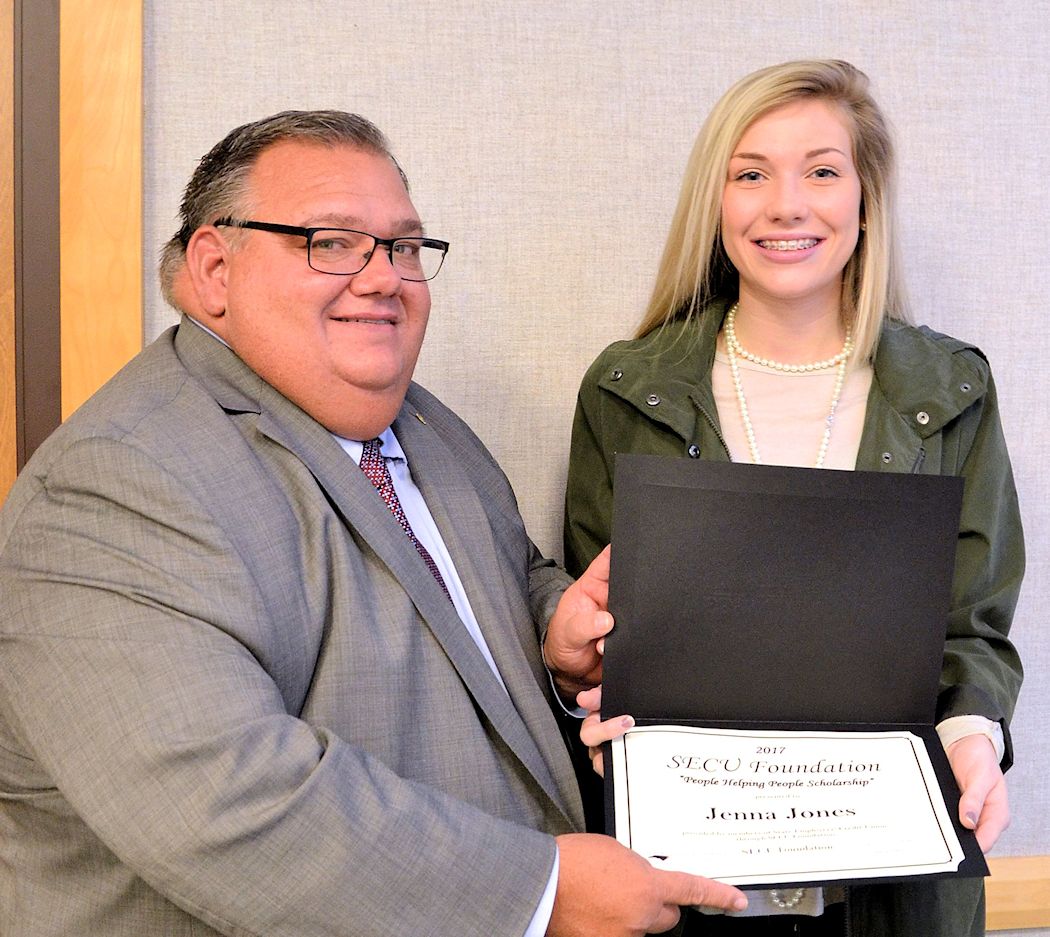 Annually, SECU members provide "People Helping People" Scholarships to each of the 58 community colleges in North Carolina through the SECU Foundation scholarship program.  To date, over $7.5 million has been awarded to help the state's community college students further their education.
About SECU and the SECU Foundation
A not-for-profit financial cooperative owned by its members, SECU has been providing employees of the State of North Carolina and their families with consumer financial services for over 80 years. The Credit Union also offers a diversified line of financial advisory services including retirement and education planning, tax preparation, insurance, trust and estate planning services, and investments through its partners and affiliated entities. SECU serves 2.2 million members through 262 branch offices, nearly 1,100 ATMs, 24/7 Member Services via phone and a website, www.ncsecu.org. The SECU Foundation, a 501c (3) charitable organization funded solely by the contributions of SECU members, promotes local community development in North Carolina primarily through high impact projects in the areas of housing, education, healthcare and human services.  Since 2005, SECU Foundation has made a collective financial commitment of more than $130 million for initiatives to benefit North Carolinians statewide.
About Wayne Community College
Wayne Community College is a public, learning-centered institution with an open-door admission policy located in Goldsboro, N.C. As it works to develop a highly skilled and competitive workforce, the college serves 14,000 individuals annually as well as businesses, industry, and community organizations with high quality, affordable, accessible learning opportunities, including more than 70 college credit programs. Wayne Community College's mission is to meet the educational, training, and cultural needs of the communities it serves.