Smithfield Foods and Wayne Community College welcomed a second cohort of maintenance apprentices in a signing ceremony recently.
Smithfield launched the maintenance apprenticeship program with Wayne Community College last September with 11 apprentices. The new cohort adds 14 apprentices, a mix of individuals already working for Smithfield and some hired specifically to join the apprenticeship program.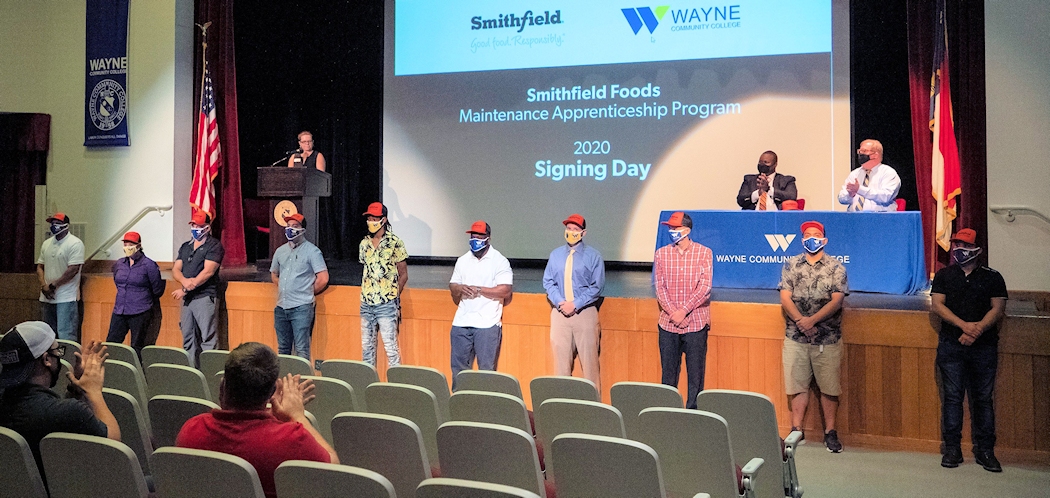 The apprenticeship program is designed to develop the next generation of experienced professionals for skilled trades at Smithfield Foods.
It provides hands-on engineering and mechanic training while the apprentices are working toward associate in applied science degrees in Industrial Systems Technology at WCC and journeyman's certificates. Participants receive free college tuition in addition to salary and benefits as they progress through the program.
Apprentices in the first cohort are working at the Clinton, Kinston, and Wilson plants and should finish their degrees in 2022. The new apprentices will train alongside experienced technicians at Smithfield's facilities in Clinton, Kinston, Tar Heel, and Smithfield, Virginia and study at WCC and should graduate in 2023.
"It is a three to four year program because they only attend school part time," explained Regional Apprenticeship Coordinator Kristie J. Norton.
"This is the future of what we're doing," said Joel Miller, Smithfield senior director of engineering. "We look at the classes we are starting now to replace the Baby Boomers that are going to be leaving five to 10 years from now. You are the future."
"For the first time, there is a paved path in our company where somebody can come in at the lowest paid job in a plant, become good at what they do, maybe become an operator, be recognized by maintenance, be given an opportunity to go through the maintenance program, earn your AS degree, transfer your AS degree … use tuition reimbursement to get a bachelor's degree," Miller said. "You will be promoted, there is no doubt in my mind that you will. There is no reason why you can't then move to corporate if that is your desire. And you can be the chief engineer, my boss."
The members of the new cohort were chosen from more than 100 applications, said Clarence Scott, Smithfield's Talent Acquisition Specialist for Maintenance and Engineering.
"The reason that you guys were selected was very simple," Scott said. "It was about your desire to succeed and move forward." What differentiated these apprentices from the other candidates was "hunger" and "passion," he said.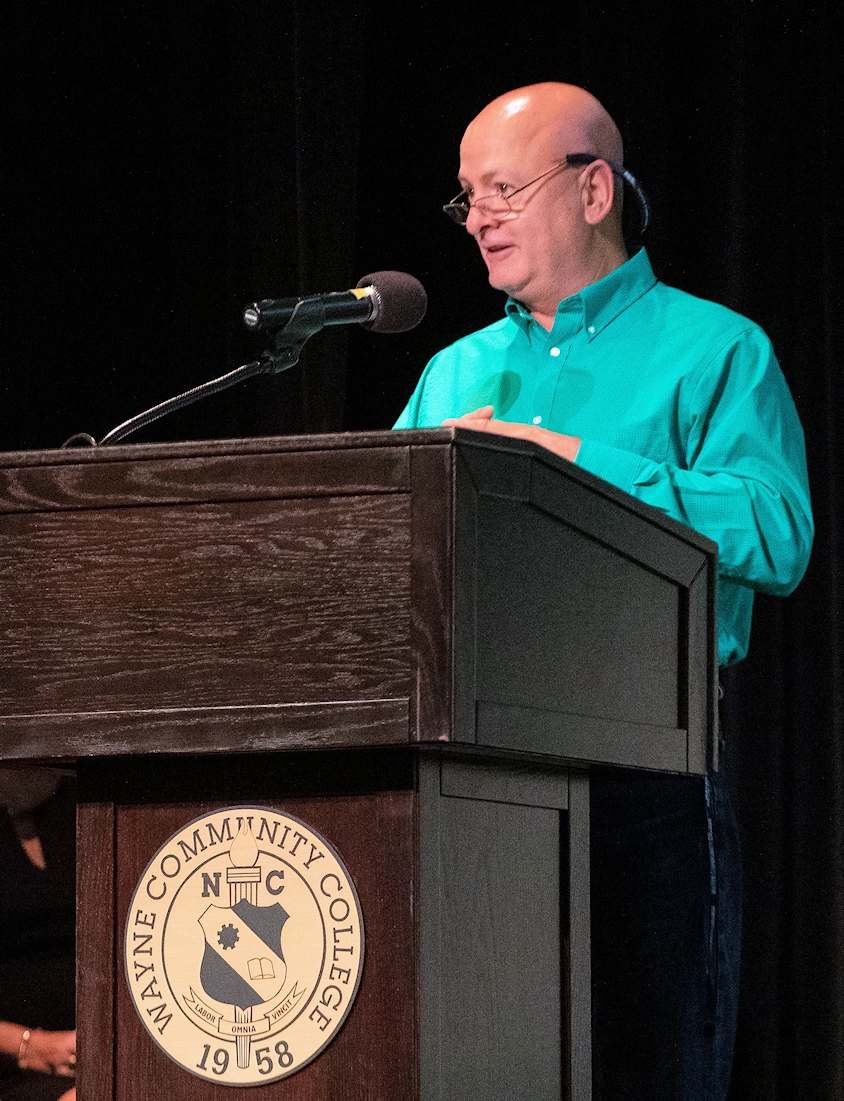 Dwayne Jones, a member of the first cohort from Wilson who works at the Wilson plant, told the new apprentices that that drive will see them through.
"This is just the beginning. Just a year ago, I was sitting where you are sitting, thinking, have I bitten off more than I can chew?' he said. "Do it one day at a time, one week at a time, one month at a time, and before you know it, you'll be standing where we are … with a year behind you."
"I've worked for many companies. I've had many different jobs, but Smithfield is a company that will take care of you. You do your part and they'll do their part," Jones said.
Craig Foucht, the executive director of Wayne Business and Industry Center at Wayne Community College, talked about the advantages of apprenticeships for businesses and students.
The program puts Smithfield ahead of the hiring process. Typically, employers call around graduation and ask about graduates, Foucht said. "Instead, Smithfield Foods chose to get involved before the first day of class."
"Programs like these take classroom theory and on-the-job experiences and when they really matter most, when you're learning it in the classroom, you can get out there and apply it on the factory floor or the company floor," Foucht said.
During the ceremony, the new apprentices signed their apprenticeship agreements.
The new apprentices are working and training at four facilities. By facility, they are
at the Clinton plant: Noah Durham of Godwin and Enrique Mendoza of Magnolia;
at the Kinston plant: Devin McEntire of Vanceboro;
at the Tar Heel distribution center: Quinn Burrus and Cristobal Resto of Fayetteville, Brandon Jacobs of Lumberton, Tyler Schantz of St. Pauls, and Kristen Snead of Dillon, South Carolina;
at the North plant (Smithfield, Virginia): Bartolo Concepcion of Saint Pauls, Calvin Coleman of Suffolk, Virginia, Randolph Gholston III of Hampton, Virginia, and Blake Hopkins and Te'Shawn Savage of Newport News, Virginia.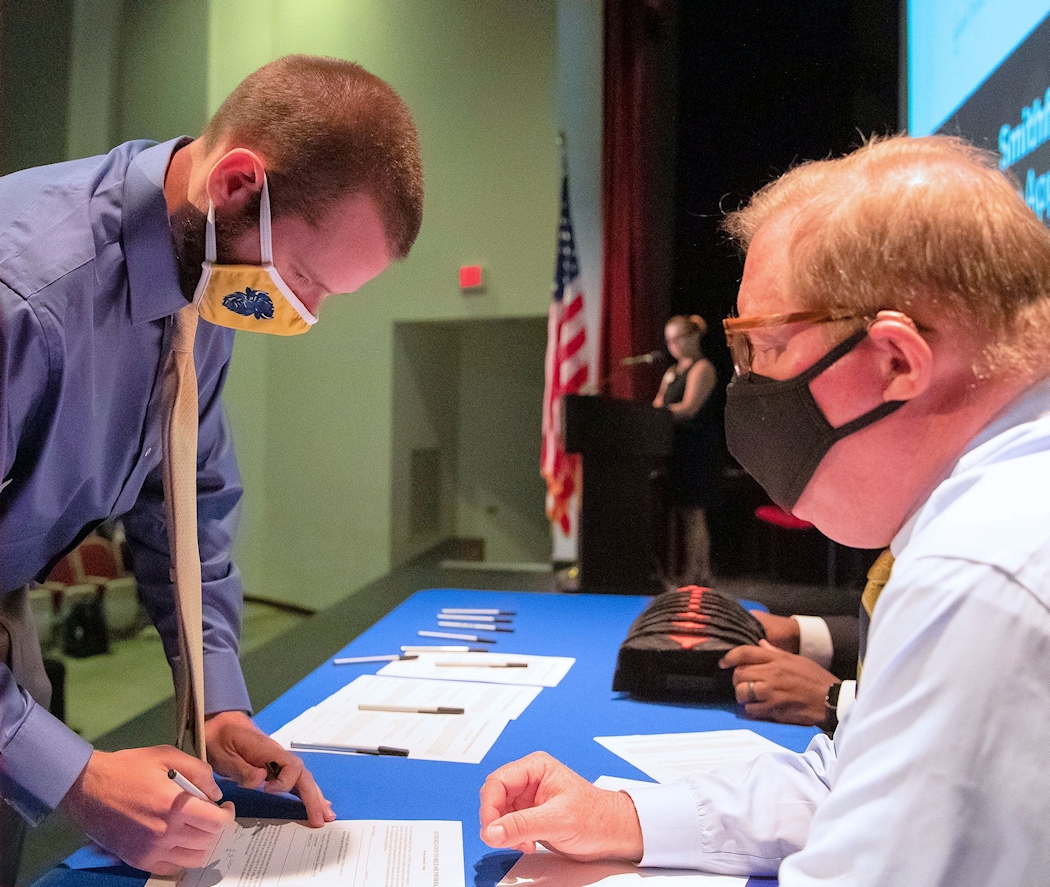 New apprentice McEntire is appreciative for the opportunity the program is giving him. When COVID-19 hit, he was laid off from his job as the wellness coordinator for the Shelby YMCA. During five months of unemployment, he applied for 50 jobs but didn't get a bite. His bachelor's degree in kinesthetics and exercise science are "not useful during a pandemic," he said. "I needed to find something else," McEntire said. "I want to provide for my family."
Of his new apprenticeship situation that gives him a job and a chance to learn new skills, McEntire said, "I love it."
Amador had already been working at the Clinton plant for almost a year and a half when he learned about the program. "I wanted to move up," he said. "I want to keep improving. I don't want to be stuck in one place."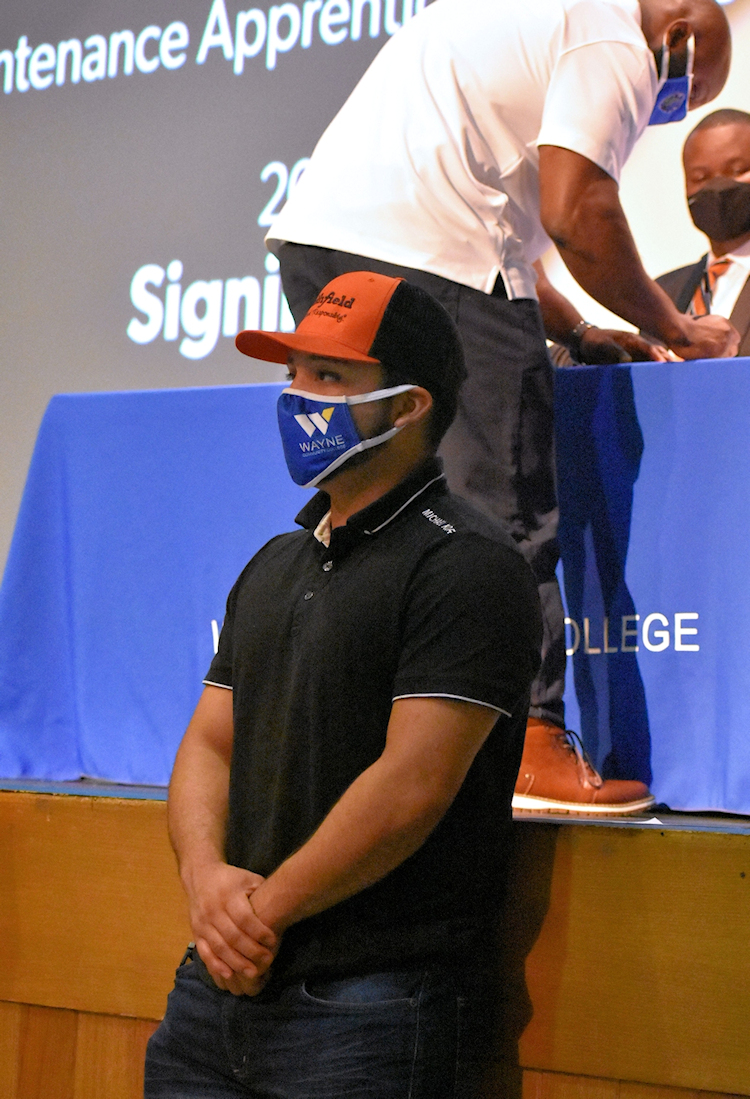 "Employers consider registered apprenticeships to be the gold standard of training," ApprenticeshipNC Director Kathryn Castelloes told the new apprentices. "It combines the benefits of both on-the-job learning with classroom instructions. Companies need apprenticeships. Companies want apprenticeships."
ApprenticeshipNC, which is part of the North Carolina Community College System, works with businesses, industry groups and other organizations to establish registered apprenticeships in North Carolina.
Most of the North Carolina's community colleges provide classroom instruction that accompanies apprentices' work-based training. Thirty-one of the state's 58 community colleges have established apprenticeship programs in partnership with local businesses.
ApprenticeshipNC served 15,657 North Carolinians during fiscal year 2019-2020, the most in the past 10 years. The number is 37 percent higher than the previous year's total.
Since the 2017-2018 fiscal year, the number of people served by ApprenticeshipNC has increased by 80 percent.
"Opportunities continue to grow," Castelloes said "Last fiscal year, we registered over 117 employers in either pre-apprenticeship, registered apprenticeship, or on the job learning programs."
According to the U.S. Department of Labor, there were nearly 25,000 registered apprenticeship programs active across the nation involving more than 633,000 apprentices in the last fiscal year.
Smithfield is in the process of expanding the apprenticeship initiative nationwide by partnering with colleges near Smithfield facilities. Metropolitan Community College in Omaha, Nebraska became the second site in March of this year. It serves maintenance technicians at Smithfield facilities in Iowa and Nebraska.
Several other companies have sponsored apprenticeships with WCC, including Mt. Olive Pickle Company, Franklin Baking Company, SPX Transformer Solutions, Team Chevrolet of Goldsboro, Hubert Vester Chevrolet of Wilson, and Linamar Forgings Carolina.
Smithfield has the largest number of apprentices studying at the college at one time.
About Smithfield Foods, Inc.
Headquartered in Smithfield, Va. since 1936, Smithfield Foods, Inc. is an American food company with agricultural roots and a global reach. Its 40,000 U.S. employees are dedicated to producing "Good food. Responsibly.®" and have made Smithfield Foods one of the world's leading vertically integrated protein companies. It has pioneered sustainability standards for more than two decades, including many industry firsts, such as an ambitious commitment to cut its carbon impact by 25 percent by 2025. Smithfield believes in the power of protein to end food insecurity and has donated hundreds of millions of food servings to neighbors in need. Smithfield boasts a portfolio of high-quality iconic brands, such as Smithfield®, Eckrich® and Nathan's Famous®, among many others. For more information, visit www.smithfieldfoods.com, and connect on Facebook, Twitter, LinkedIn and Instagram.
About WCC
Wayne Community College is a public, learning-centered institution with an open-door admission policy located in Goldsboro, N.C. As it works to develop a highly skilled and competitive workforce, the college serves 11,000 individuals annually as well as businesses, industry, and community organizations with high quality, affordable, accessible learning opportunities, including more than 140 college credit programs. WCC's mission is to meet the educational, training, and cultural needs of the communities it serves.
Follow WCC on Facebook (also @WayneCCNewsandViews), Twitter, and Instagram.