Three pieces of art created by Wayne Community College students Three pieces of art created by North Carolina State University.
Works by Dylon Bryson of Faison, Lillie Thorne of Mount Olive, and Louise Bongala of Goldsboro were selected to represent WCC on the walls of the Belk Center for Community College Leadership and Research. The three are students of WCC Art Instructor Angie Waller.
The exhibited pieces are Dylon's "Sign of the Elder Son," a charcoal drawing of a bull; Thorne's "The Golden Prancer," a color pencil drawing of a horse's head; and Bongala's "Philippine Eagle," a charcoal drawing of  the Philippines' national bird.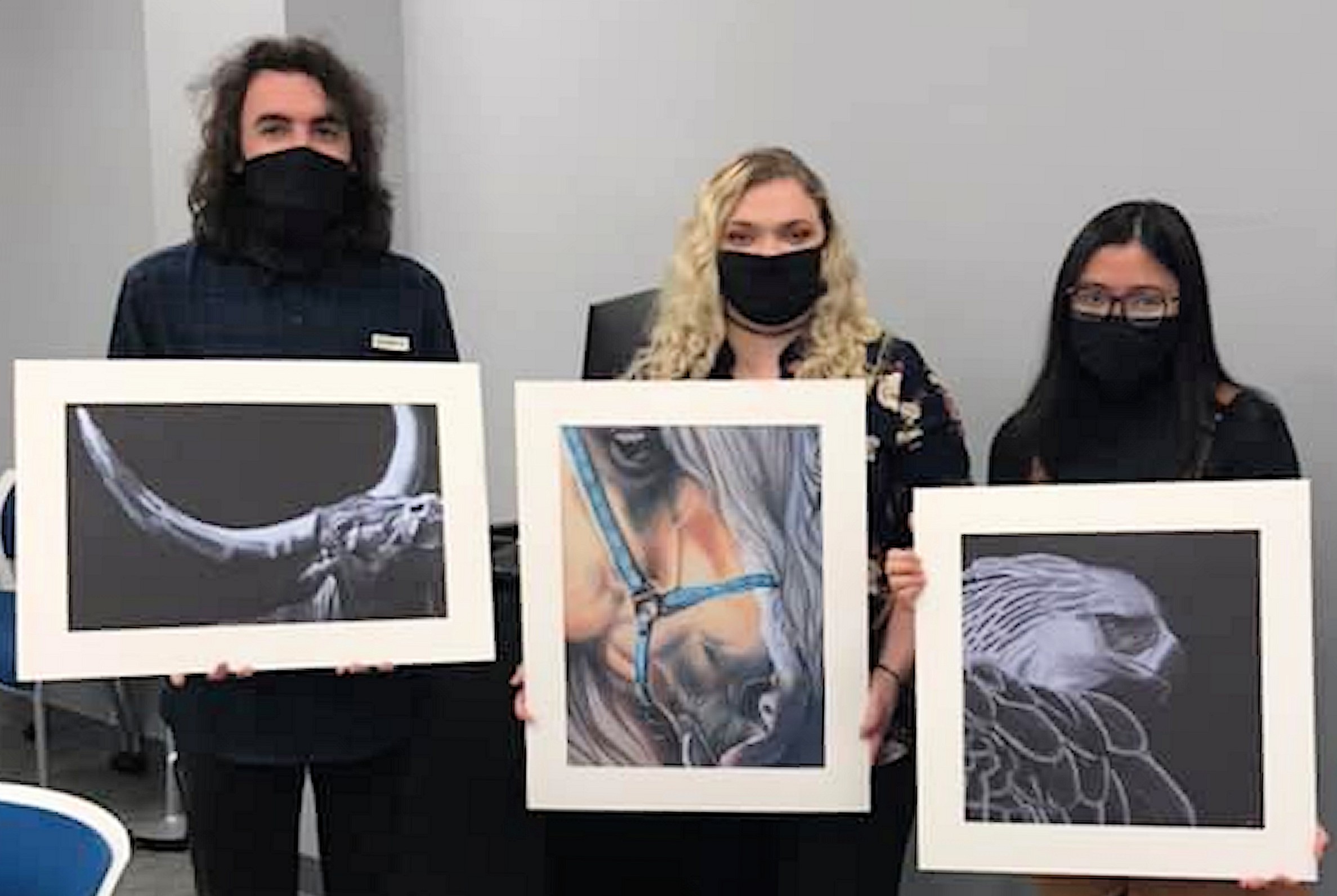 "It was truly an honor to have my piece selected, and I was really shocked," said Thorne. "I owe it all to Mrs. Angie Waller, she gave me a chance when no one else did and she saw potential in me that I didn't even see in myself."
Waller also called the selection a commendation for the artists. "For an institution like NCSU to invite my students to display their work at the Belk center is another confirmation that Wayne Community College has exceptional talent among our fine art students," she said. "I always say, we may be small in numbers compared to other programs but mighty in talent, and I believe in my kids and the level of excellence and dedication that they give to my classes. The work and quality of work speaks for itself."
"I hope to continue this partnership with the Belk Center and I strive to showcase my students' work in as many galleries as possible," said Waller. "For my students, it is validation."
The Belk Center showcases community college student artwork in its facility in downtown Raleigh and is current home to artwork from 11 colleges. It seeks art in differing forms including paintings, photography, graphic design, mixed media, and more.
"Our hope is to feature student artwork from every community college in the state on a rotating basis," said Dr. Audrey J. "A.J." Jaeger, Belk Center executive director. "The goal is to bring attention to the talents of students in North Carolina community colleges as COVID restrictions subside and visitors can view the student artwork."
About the Belk Center
The Belk Center for Community College Leadership and Research develops and sustains exceptional community college leaders who are committed to advancing college access, the social and economic mobility of their colleges' students, and the economic competitiveness of their regions.
About WCC
Wayne Community College is a public, learning-centered institution with an open-door admission policy located in Goldsboro, N.C. As it works to develop a highly skilled and competitive workforce, the college serves more than 10,000 individuals annually as well as businesses, industry, and community organizations with high quality, affordable, accessible learning opportunities, including more than 140 college credit programs. WCC's mission is to meet the educational, training, and cultural needs of the communities it serves.