Two Wayne Community College students have been awarded $5,000 scholarships from the State Employees' Credit Union (SECU).
Anita Marie Keys of Goldsboro and Tiffany K. Taylor of Seven Springs are recipients of funds from the SECU Foundation People Helping People Two-Year Scholarship Program for NC Community Colleges.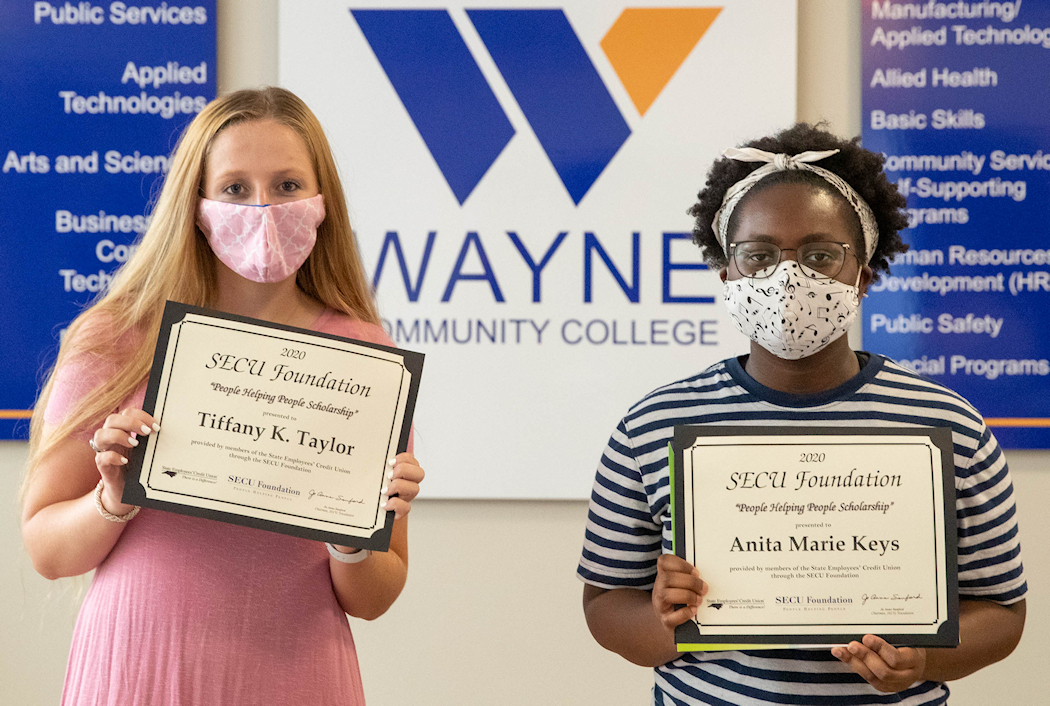 The scholarship can be used to pay for full-time tuition, books, fees, course supplies, and transportation while the students are enrolled at WCC.
Both students are freshmen working toward associate in science degrees. Keys plans to enroll in the college's nursing program. Taylor is considering enlisting in the Air Force as well as continuing her education.
Based on the SECU's philosophy of "People Helping People," the scholarships recognize recipients' leadership, character, integrity, community involvement, and scholastic achievement.
Each year, the SECU Foundation scholarship program provides two $5,000 "People Helping People" Scholarships to each of the 58 community colleges in North Carolina. To date, over $9 million has been awarded to community college students.
About SECU and the SECU Foundation
A not-for-profit financial cooperative owned by its members, SECU has been providing employees of the state of North Carolina and their families with consumer financial services for over 82 years. The Credit Union also offers a diversified line of financial advisory services including retirement and education planning, tax preparation, insurance, trust and estate planning services, and investments through its partners and affiliated entities. SECU serves 2.5 million members through 267 branch offices, 1,100 ATMs, 24/7 Member Services via phone, its www.ncsecu.org website, and a mobile app.
The SECU Foundation, a 501(c)(3) charitable organization funded by the contributions of SECU members, promotes local community development in North Carolina primarily through high impact projects in the areas of housing, education, healthcare and human services.  Since 2004, SECU Foundation has made a collective financial commitment of more than $169 million for initiatives to benefit North Carolinians statewide. In addition to the website, highlights are also available on the SECU Foundation Instagram page.
About WCC
Wayne Community College is a public, learning-centered institution with an open-door admission policy located in Goldsboro, N.C. As it works to develop a highly skilled and competitive workforce, the college serves 11,000 individuals annually as well as businesses, industry, and community organizations with high quality, affordable, accessible learning opportunities, including more than 140 college credit programs. WCC's mission is to meet the educational, training, and cultural needs of the communities it serves. Connect with WCC at waynecc.edu.
Follow WCC on Facebook (also @WayneCCNewsandViews), Twitter, and Instagram.