Three members have been reappointed to the Wayne Community College Board of Trustees.
Veda Horton McNair, Donald Best Barnes II, and Dr. David T. Tayloe Jr. took the oath of office for their next term as trustees on July 20.
McNair is entering her fifth term. She was reappointed by the Wayne County Board of Education which originally selected her to be a trustee in 2016. Prior to that, she had been an appointee of the Wayne County Board of Commissioners since 2005.
She was recognized this year with the State Board of Community College's highest honor, the I.E. Ready Award. It recognizes individuals who have made a significant statewide contribution to the North Carolina Community College System
McNair is a veteran educator who retired from Wayne County Public Schools after serving as principal of Eastern Wayne Elementary School. She is currently a Communities Supporting Schools success coach at Spring Creek High School.
Tayloe is the founder of Goldsboro Pediatrics. He was reappointed by Gov. Roy Cooper who first assigned him to the board in 2017.
Barnes is the president of tortilla manufacturer ALTA Foods LLC. He is currently the chair of the board of trustees. He is starting his second term as an appointee of the Wayne County Board of Commissioners.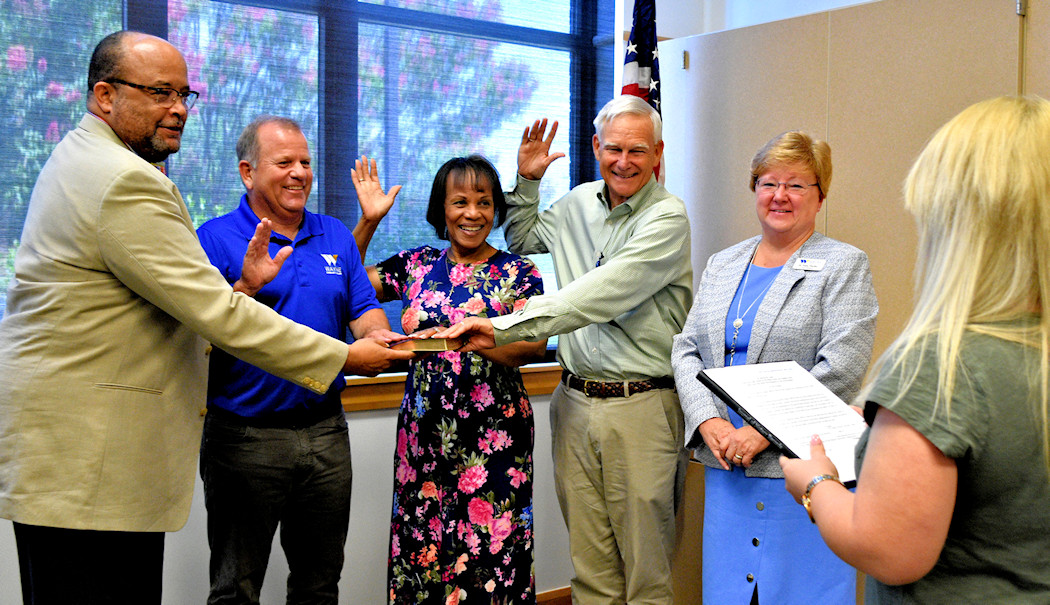 By statute, the 58 North Carolina community college boards of trustees have 13 members each. County commissions and boards of education within each institution's service area, plus the governor, appoint four trustees each plus the student government president serves as an ex officio nonvoting member. Other than the student representative's term, trustee terms of office are four years.
State statute also sets out the board's role with its institution, giving each "powers to enable it to acquire, hold, and transfer real and personal property, to enter into contracts, to institute and defend legal actions and suits, and to exercise such other rights and privileges as may be necessary for the management and administration of the institution."
Wayne Community College is a public, learning-centered institution with an open-door admission policy located in Goldsboro, N.C. As it works to develop a highly skilled and competitive workforce, the college serves 10,000 individuals annually as well as businesses, industry, and community organizations with high quality, affordable, accessible learning opportunities, including more than 140 college credit programs. WCC's mission is to meet the educational, training, and cultural needs of the communities it serves.
Follow WCC on Facebook (also @WayneCCNewsandViews), Twitter, and Instagram.