Wayne Community College will hold an information session for its spring Truck Driver Training program.
The session is scheduled for 6-10 p.m. on Dec. 16 in Room 101 of the Walnut Building on the college's main campus in Goldsboro.
The session will review the requirements for enrolling in the program.
Students must meet all conditions and register by Thursday, Jan. 9, 2020 to enter the spring 2020 program. Enrollment is capped at 10 students.
The hands-on program is designed to teach students to drive commercial tractor trailers and trucks. It will prepare them to understand safety, driver responsibility, and the laws and regulations governing the motor carrier industry.
Those who successfully complete the course will earn a WCC Workforce Continuing Education certificate and will be prepared to test for a Class A Commercial Driver's License and DOT 380 certificate. They should be equipped to obtain entry-level positions in the transportation industry.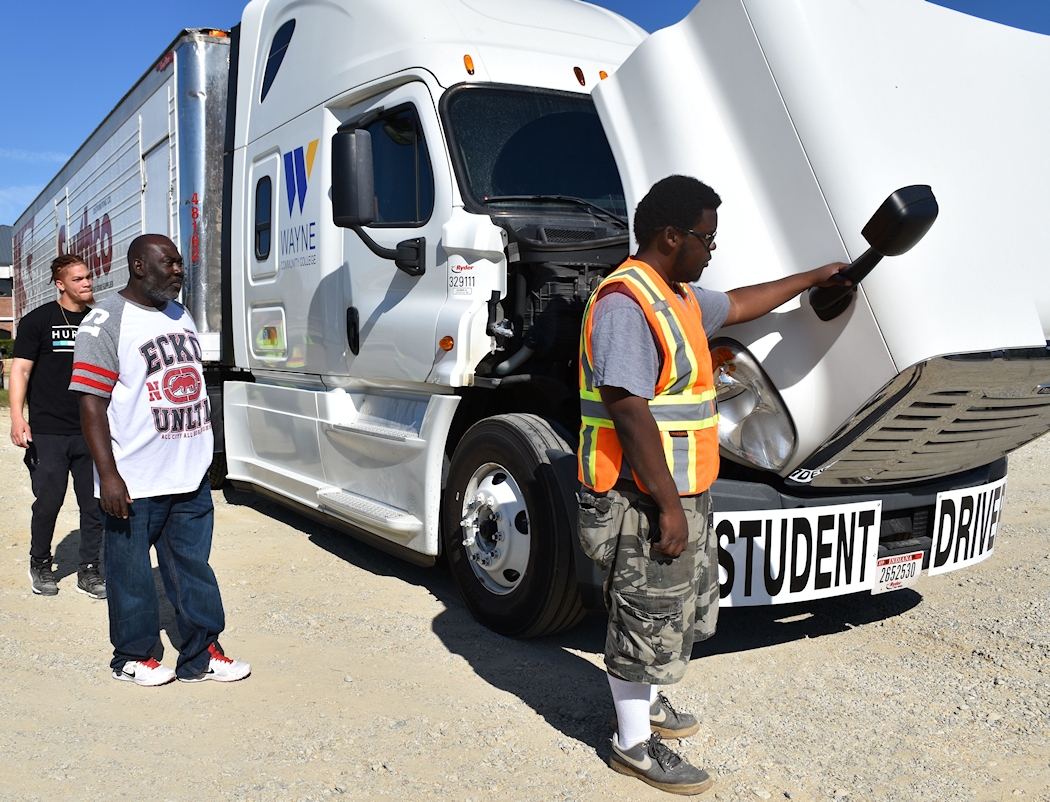 The college's Workforce Continuing Education Division began offering the training program in the fall 2019 semester in response to community requests and will graduate its first class this month.
Graduates of the program can expect to earn from $40,000 to $60,000 annually in their first year with an established company. Employment is available locally, regionally, and nationally in various industries, governmental agencies, and by self-employment. Students will be able to meet potential employers who will be invited to the classes.
Classes will be held at the college 6-10 p.m., Tuesdays through Thursdays and 7 a.m.-6 p.m. on Saturdays, Jan. 14-April 18, 2020.
Cost for the course includes $180 for tuition and $1,000 for supplies, plus fees for student identification card, parking sticker, and insurance. Students will also have to purchase a textbook.
A list of enrollment requirements, as well as details about the course, can be found at www.waynecc.edu/continuing-ed/truck-driving-training-program/.
For more information about the Truck Driver Training program, contact Hardy, the course instructor, at 919-739-6939 or tshardy@waynecc.edu or Lisa Newkirk, program coordinator, at 919-739-6931 or ldnewkirk@waynecc.edu.
Wayne Community College is a public, learning-centered institution with an open-door admission policy located in Goldsboro, N.C. As it works to develop a highly skilled and competitive workforce, the college serves 11,000 individuals annually as well as businesses, industry, and community organizations with high quality, affordable, accessible learning opportunities, including more than 140 college credit programs. WCC's mission is to meet the educational, training, and cultural needs of the communities it serves.
Follow WCC on Facebook (also @WayneCCNewsandViews), Twitter, and Instagram.