Haley Brooke Warren has been awarded the prestigious "Next Step Scholarship" from Crumley Roberts.
A 2015 Southern Wayne High School graduate, Warren is currently an Associate in Arts major at Wayne Community College.
While at WCC, Warren has served as an Ambassador. She made the college's President's List for academics and was just named to Who's Who Among Students at Wayne Community College for 2017.
She also has been a volunteer for the Southern Wayne Youth Athletic Association. She was heavily involved with Future Farmers of America in high school, where she placed in Agricultural Sales and finished in the top 10 percent in Livestock Judging in competitions.
This fall, Warren will pursue a degree in Agribusiness at the University of Mount Olive.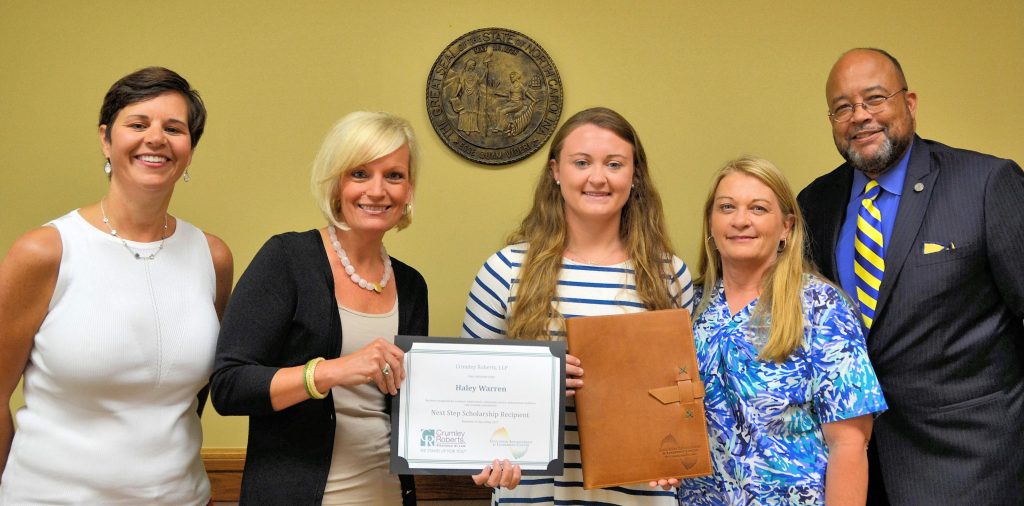 "Wayne Community College is proud of Haley Warren, not just for receiving this scholarship, but for all that she has accomplished as a student here. She has been an Ambassador not just in that official capacity on the campus, but to all who see what she has done, and will do from her entrée into higher education through this institution," said Dr. Thomas A. Walker Jr., WCC president.
"We are excited to name Haley as one of the first recipients of our 2017 Crumley Roberts Next Step Scholarship," said Ruth Heyd, executive director of community engagement and employee wellness. "This scholarship is just one way that Crumley Roberts serves the community and we are fortunate to be in a position to help nurture outstanding young role models like Haley."
"We commend Crumley Roberts for recognizing the importance of education and rewarding students' efforts with scholarships that enable them to go further still," said Walker.
The Next Step Scholarship is awarded to North Carolina community college students who will be transferring to an accredited four-year college or university in the fall.
The Crumley Roberts Scholarship Program has provided over $215,000 in scholarships and technology to help collegebound North Carolinians. In addition to the Next Step Scholarship, the firm awards Founder's Scholarships to North Carolina high school students who will attend an accredited four-year college or university. Each of the scholarships is for $2,500.
Crumley Roberts Attorneys at Law is a personal injury law firm with offices across North Carolina. For more information, visit www.crumleyroberts.com
Wayne Community College is a public, learning-centered institution with an open-door admission policy located in Goldsboro, N.C. As it works to develop a highly skilled and competitive workforce, the college serves around 12,000 individuals annually as well as businesses, industry, and community organizations with high quality, affordable, accessible learning opportunities, including more than 70 college credit programs. WCC's mission is to meet the educational, training, and cultural needs of the communities it serves.