Wayne Community College and Wayne UNC Health Care have been awarded the 2018 Distinguished Partners in Excellence Award by the State Board of Community Colleges.
This annual award recognizes an exemplary employer, business or industry group that has demonstrated decisive involvement and firm commitment to the professional development of its employees and/or to the development of North Carolina's workforce through its partnership efforts with one or more of the state's community colleges and its community college partner that has made equal efforts, commitment, and contributions.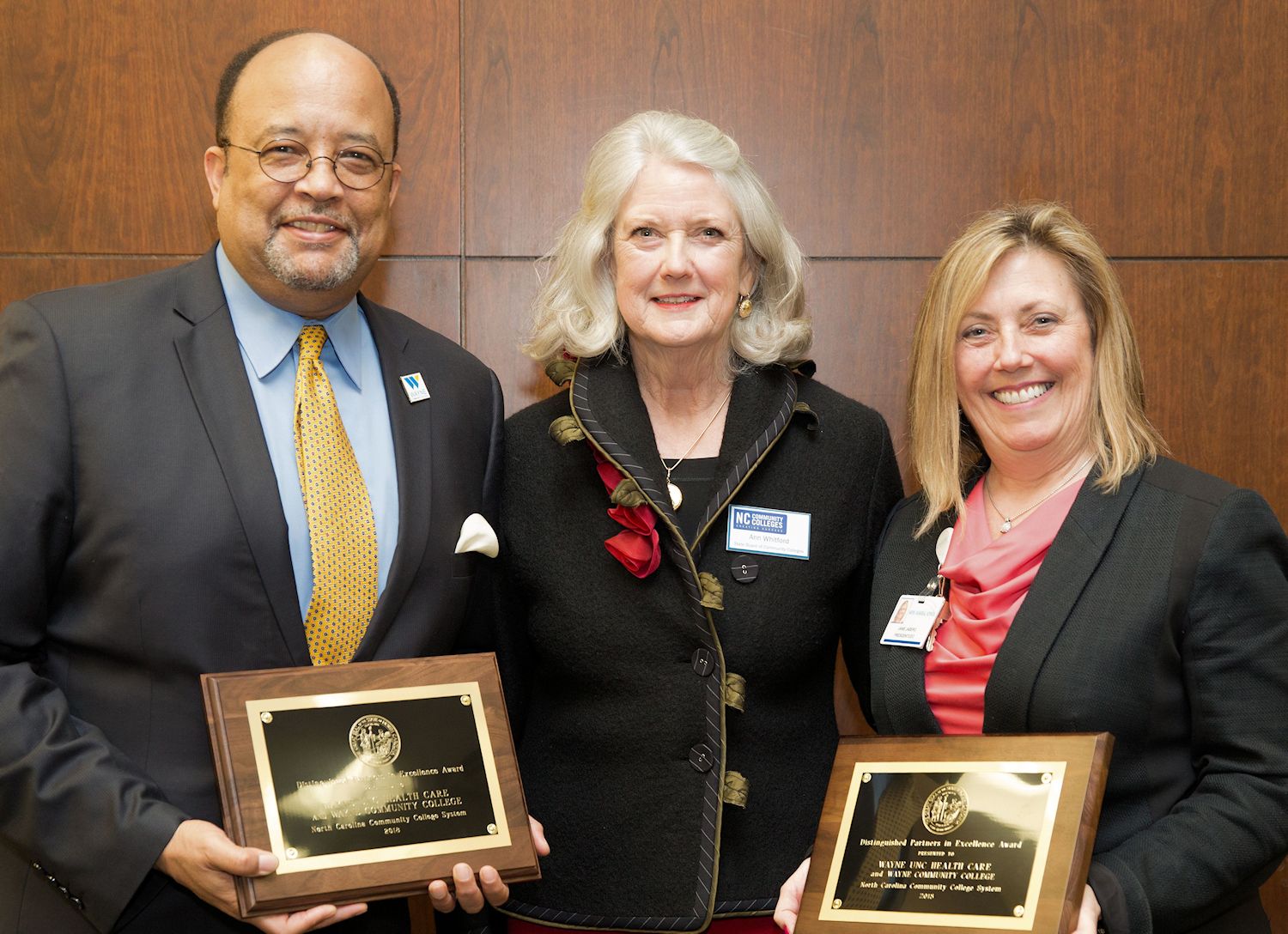 A committee of State Board of Community Colleges members chose the recipient of the award. It looked for demonstrated concern for advanced education relative to economic and workforce development in the community, as well as education training and services; financial support of a community college or program; an active partner relationship between the company and the community college; and evidence of a firm commitment on the part of the business/partnership to community colleges and of a firm commitment by the community college to the business/partnership.
Wayne Community College offers numerous health-related programs in both its curriculum (college credit) Allied Health and Business and Computer Technologies divisions and Workforce Continuing Education Division. They include Associate Degree Nursing (registered nurses), Practical Nursing (licensed practical nurses), Medical Laboratory Technician, Medical Assisting, Pharmacy Technology, Medical Office Administration, Emergency Medical Technician, Paramedic, Phlebotomy, Nurse Aide, Medication Aide, Activity Director, Direct Care Worker, ECG/EKG Monitor Technician, Health Unit Coordinator, and Medical Billing/Coding. It also has Dental Assisting and Dental Hygiene programs.
Many of these programs connect with Wayne UNC Health Care and its physicians network for clinical experience and have benefitted from material donations from the hospital or financial support of scholarships.
Conversely, Wayne Community College provides a well-trained workforce for WUNCHC and its physicians (including the hospital police force). It responds to requests for new programs and has expanded other programs to meet the hospital's needs.
WCC also won this award in 2011 with Jackson and Sons. It is the only community college to have earned it twice since it was established in 2006.
The winning partners each received a plaque and will be honored at a dinner with the State Board.
About Wayne Community College
Wayne Community College is a public, learning-centered institution with an open-door admission policy located in Goldsboro, N.C. As it works to develop a highly skilled and competitive workforce, the college serves 13,000 individuals annually as well as businesses, industry, and community organizations with high quality, affordable, accessible learning opportunities, including more than 70 college credit programs. WCC's mission is to meet the educational, training, and cultural needs of the communities it serves.
About Wayne UNC Health Care
Since 1896, Wayne UNC Health Care has been serving the health needs of Wayne County residents. With experts in primary care, emergency medicine, and all major specialties including cardiac, orthopedics, neurology, oncology, general surgery and women's services, Wayne UNC is dedicated to putting patients first and delivering quality health close to home. Wayne UNC is part of the nationally recognized UNC Health Care system.