Wayne UNC Health Care has renewed its commitment to Wayne Community College's nursing program with a $100,000 donation.
The funds will provide scholarships for second-year students in WCC's Associate Degree Nursing (ADN) Program.
"ADN students are able to receive the scholarship for three semesters if they meet certain criteria," explained Foundation of Wayne Community College Executive Director Adrienne Northington. "In return, they agree to work at the hospital for a minimum of one year if they are offered a job" upon completion of their degree and passage of the state certification exam.
The hospital began funding Foundation scholarships for students in health care training programs in 1998. It also is a long-time sponsor of the Foundation's Scholarship Invitational.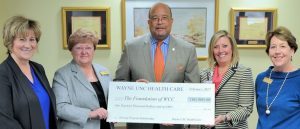 Wayne UNC Health Care is a 316-bed community, not-for-profit hospital, which has been serving residents in Wayne County and surrounding areas for 120 years. With 1,700 employees and more than 150 physicians, its mission is to provide quality healthcare services through the compassionate hands of well-trained staff in a technologically advanced, cost-effective manner. More information on Wayne UNC Health Care is available at www.waynehealth.org/.
UNC Health Care is a not-for-profit integrated health care system owned by the state of North Carolina and based in Chapel Hill. Originally established Nov. 1, 1998, by N.C.G.S. 116-37, UNC Health Care currently comprises UNC Hospitals and its provider network, the clinical programs of the UNC School of Medicine, and eight affiliate hospitals such as Wayne UNC Health Care, and hospital systems across the state. 
The Foundation of Wayne Community College is a non-profit organization that works to broaden the base of community support for educational opportunities at the college. It assisted 344 students with 544 scholarships worth more than $393,000 in the past academic year. In addition to providing scholarships, it funds mini grants and employee recognition, and offers cultural programs for the community. For more information about the Foundation, go to www.waynecc.edu/foundation.
Wayne Community College is a public, learning-centered institution with an open-door admission policy located in Goldsboro, N.C. As it works to develop a highly skilled and competitive workforce, the college serves 14,000 individuals annually as well as businesses, industry, and community organizations with high quality, affordable, accessible learning opportunities, including more than 70 college credit programs. WCC's mission is to meet the educational, training, and cultural needs of the communities it serves. More information about the college can be found at www.waynecc.edu.