Wayne Community College recognized 39 graduates of its nurse aide and phlebotomy programs in a formal ceremony on Dec. 22.
The graduates received certificates and pins that mark their transition from students to professionals.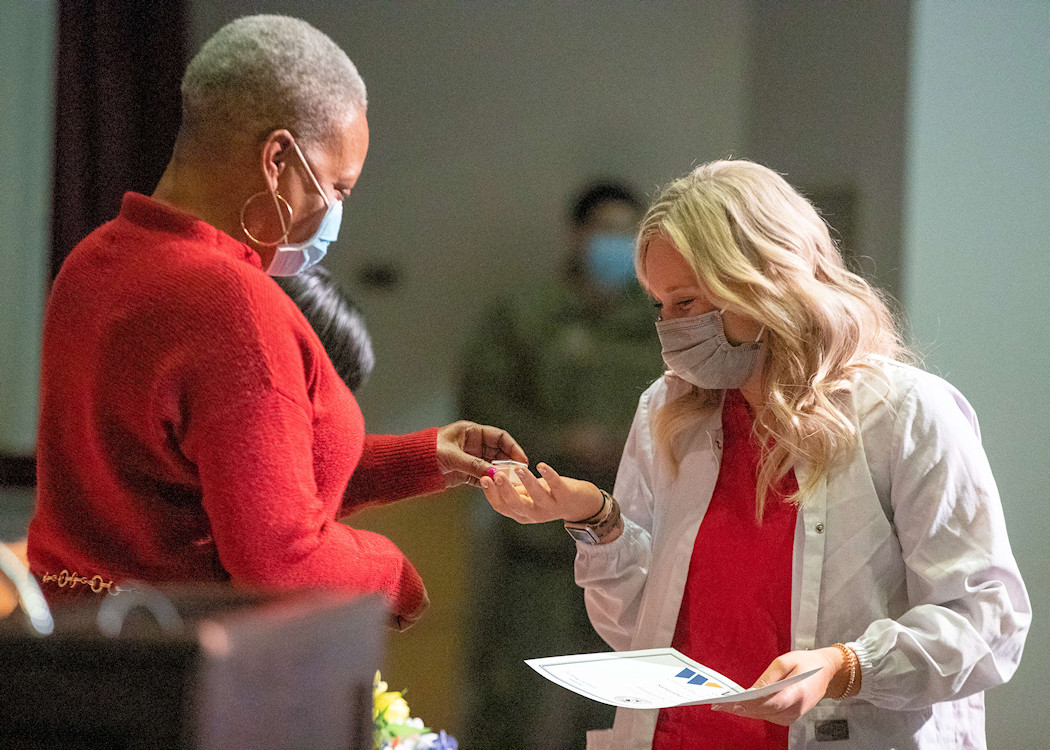 The nurse aide graduates, by city of residence, are:
Goldsboro
Reem Alrobaiey,
Anna Anaya-Vega,
D'Meka Artis,
Maria Castro-Hernandez,
Treyvone Cox,
Jesula Evariste,
Annie Ham,
Jennifer Kilpatrick,
Britton Knotts,
Shakyra McGaha,
Monica Williams, and
Maddison Zielke-Stover
Dudley
Raleya Atkinson, and
Makenna Parrish
Newton Grove
Melissa Barrera-Reyes
Pikeville
Judy Hoggard,
Luis Ramos, and
Brandi Williams
Mount Olive
Johana Juarbe
Fremont
Wendy Spivey
Saint Paul
Briondrea Washington
The phlebotomy graduates, by city of residence, are:
Goldsboro
Maria L. Alonzo-Diaz,
Marinka C. Barragan,
La'Verta A. Clawson,
Khrysten L. Edwards,
Khadija J. Faison,
Samantha J. Froehlich,
Niyah C. Hobbs,
Jailyn M. Kornegay,
Rebecca Lopez,
Jasmin M. Luna,
Amanda N. Morrell,
Editha R. Rabot,
Kaliyha Q. Richards, and
Shirley A. Shelton
Princeton
Bianca A. Battle
Pikeville
Jessica L. McCarthy, and
Cierra Vaughn-Carlile
Mount Olive
Stephanie L. Sander
"Now more than ever, with COVID and other health dilemmas, our local community needs trained allied health professionals such as nurse aides and phlebotomists," said Joyce Hamilton-Fleming, the college's interim Workforce Continuing Education Allied Health Director. "We're proud of you for taking this step to join the frontline of health care for your community"
"Your credentials have provided you an opportunity to make a difference in somebody's life," said College President Patty Pfeiffer. A registered nurse who began her career at the college as a nursing instructor, Pfeiffer noted that she started in health care as a certified nurse aide and "I used to be a pretty good stick way back then."
The ceremony was dedicated to Shirley Ann Pigford, a nurse aide instructor who died during the semester after a short battle with COVID-19. Hamilton-Fleming presented Pigford's family with a citation recognizing her service to the college.
Since 2016, Pigford had trained 199 nurse aides. "Shirley was a dedicated, reliable, and loving instructor. Students, staff, and everyone loved her. We will truly miss her," Hamilton-Fleming said.
The semester's instructors were also acknowledged. Nancy Delia, who stepped in for Pigford, Yvonne Stovall, and Joyce Simmons-Lee taught the nurse aide classes. Kimberly Merideth and Delilah Sippel led the phlebotomy classes.
WCC's Nurse Aide course prepares students for the National Nurse Aide Assessment Program examination necessary for certification and listing on the North Carolina Nurse Aide I Registry.
The Phlebotomy Technician course prepares students to take the American Society for Clinical Pathology's National Phlebotomy Certification Examination.
For more information on these and other WCC Workforce Continuing Education Allied Heath courses, contact Hamilton-Fleming at 919-739-6929 or Administrative Assistant Terrie Wynn at 919-739-6935.
Wayne Community College is a public, learning-centered institution with an open-door admission policy located in Goldsboro, N.C. As it works to develop a highly skilled and competitive workforce, the college serves 10,000 individuals annually as well as businesses, industry, and community organizations with high quality, affordable, accessible learning opportunities, including more than 165 college credit programs. WCC's mission is to meet the educational, training, and cultural needs of the communities it serves.