Wayne Community College has been named a "Military Friendly® School."
The Military Friendly® Schools list honors the colleges, universities and trade schools that are doing the most to embrace military students, and to dedicate resources to ensure their success in the classroom and after graduation.
"It is a great honor to once again have Wayne Community College designated as a Military Friendly® School," said Dr. Patty Pfeiffer, WCC vice president of academic and student services and a U.S. Army veteran. "WCC strives to support those in the armed forces, their dependents, and veterans. It is very rewarding to be able to serve the men, women, and families who have sacrificed so much for our country."
Around 10 percent of the college's curriculum enrollment consists of documented active duty military, veterans, and military dependents. WCC officials believe its actual number of military-related students is much higher.
In addition to the services provided by its Financial Aid and Veteran Services Office, WCC staffs an office and teaches classes on Seymour Johnson Air Force Base, has a Military Resource Center on the campus in Goldsboro, and administers scholarships specifically for spouses and dependents.
Every semester, the Small Business Center at the college holds Boots to Business entrepreneurial education and training programs to assist active duty military, dependents, and veterans with starting small businesses.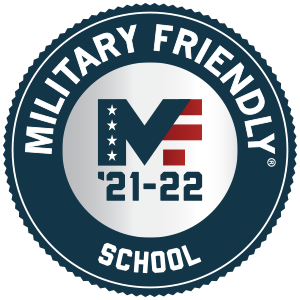 Now in its 11th year, the Military Friendly® Schools list is intended to provide a comprehensive guide to help veterans, their spouses, and the military community select the best school for the education and training needed to pursue a civilian career.
This is WCC's eighth time on the list. It is one of 18 of the 58 North Carolina community colleges to earn the designation. Overall, 41 of the state's institutions of higher education made the 2021-2022 list.
According to the publisher of the list, VIQTORY, "Military Friendly® is the standard that measures an organization's commitment, effort and success in creating sustainable and meaningful opportunity for the military community."
More than 1,200 schools from around the country participated in the 2021-2022 survey, with 747 schools earning the designation.
The full list can be found at www.militaryfriendly.com and will be published in the May issue of "G.I. Jobs" magazine.
Institutions earning the Military Friendly® School designation were evaluated using both public data sources and responses from a proprietary survey completed by the school.
The survey is administered for free and is open to all post-secondary schools.
Methodology, criteria, and weightings were determined by VIQTORY with input from the Military Friendly® Advisory Council of independent leaders in the higher education and military recruitment community.
Final ratings were determined by combining the institution's survey response set and government/agency public data sources, within a logic-based scoring assessment. Military Friendly® measures the institution's ability to meet thresholds for student retention, graduation, job placement, loan repayment, persistence (degree advancement or transfer) and loan default rates for all students and, specifically, for student veterans.
"Military Friendly® is committed to transparency and providing consistent data-driven standards in our designation process. This creates a competitive atmosphere that encourages colleges to consistently evolve and invest in their programs. Schools who achieve designation show true commitment and dedication in their efforts," said Kayla Lopez, Military Friendly® national director of military partnerships.
"Our standards assist schools by providing a benchmark that promotes positive educational outcomes, resources, and support services that better the educational landscape and provide opportunity for the military community," Lopez said.
Military Friendly® designees are allowed to display a "Military Friendly®" logo for the year of the award. Additionally, Military Friendly® recipients receive basic listings on the militaryfriendly.com website and annual print guide. Those benefits are available at no cost to all those receiving the designation.
About Military Friendly ® Schools
The Military Friendly ® Schools list is created each year based on extensive research using public data sources for more than 8,800 schools nationwide, input from student veterans, and responses to the proprietary, data -driven Military Friendly® Schools survey from participating institutions. The survey questions, methodology, criteria and weighting were developed with the assistance of an independent research firm and an advisory council of educators and employers. The survey is administered for free and is open to all post secondary schools that wish to participate. Criteria for consideration can be found at www.militaryfriendly.com.
About Viqtory
Founded in 2001, VIQTORY is a service-disabled, veteran-owned small business (SDVOSB) that connects the military community to civilian employment, educational and entrepreneurial opportunities through its G.I. Jobs® and Military Friendly® brands. VIQTORY and its brands are not a part of or endorsed by the U.S. Dept of Defense or any federal government entity. Learn more about VIQTORY at www.viqtory.com.
About WCC
Wayne Community College is a public, learning-centered institution with an open-door admission policy located in Goldsboro, N.C. As it works to develop a highly skilled and competitive workforce, the college serves more than 10,000 individuals annually as well as businesses, industry, and community organizations with high quality, affordable, accessible learning opportunities, including more than 140 college credit programs. WCC's mission is to meet the educational, training, and cultural needs of the communities it serves.
Follow WCC on Facebook (also @WayneCCNewsandViews), Twitter, and Instagram.