Wayne Community College has been named a 2023-2024 Military Friendly® School with gold award status.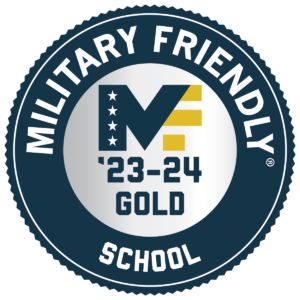 The Military Friendly® Schools list honors the colleges, universities and trade schools that are doing the most to embrace military students and to dedicate resources to ensure their success in the classroom and after graduation.
WCC earned "gold" award status in the small community college category for leading practices, outcomes, and effective programs.
"It is a great honor to have Wayne Community College designated as a Military Friendly® School for the 10th time," said Dr. Patty Pfeiffer, WCC president and a U.S. Army veteran. "WCC strives to support those in the armed forces, their dependents, and veterans. It is very rewarding to be able to serve the men, women, and families who have sacrificed so much for our country."
In addition to the services provided by its Financial Aid and Veteran Services Office, WCC staffs an office and teaches classes on Seymour Johnson Air Force Base, has a Military Resource Center on the campus in Goldsboro, houses a NC Military Business Center representative, and administers scholarships specifically for spouses and dependents.
Every semester, the Small Business Center at the college holds Boots to Business entrepreneurial education and training programs to assist active-duty military, dependents, and veterans with starting small businesses.
The Military Friendly® Schools list is intended to provide a comprehensive guide to help veterans, their spouses, and the military community select the best school for the education and training needed to pursue a civilian career, according to the list's creator, military marketing company Viqtory.
According to Viqtory, "Military Friendly® Schools strive towards and succeed in the areas that matter most in helping veterans make the transition from the military to school and, ultimately, satisfying careers in the civilian world."
More than 1,800 schools from around the country participated in the 2023-2024 survey and 530 earned special awards for going above the standard designation. WCC is one of 250 of those colleges honored with the "gold" designation for leading practices, outcomes, and effective programs.
The full list can be found at www.militaryfriendly.com and will be published in the May issue of "G.I. Jobs" magazine.
Institutions earning the Military Friendly® School designation were evaluated using both public data sources and responses from a proprietary survey completed by the school.
The survey is administered for free and is open to all post-secondary schools.
Methodology, criteria, and weightings were determined by VIQTORY with input from the Military Friendly® Advisory Council of independent leaders in the higher education.
Final ratings were determined by combining the institution's survey responses and government/agency public data sources within a logic-based assessment. We measure their ability to meet thresholds for Retention, Graduation, Job Placement, Repayment, Persistence, and Loan Default rates for all students and specifically, for student veterans.
"Military Friendly® is committed to transparency and providing consistent data-driven standards in our process. This creates a competitive atmosphere that encourages institutions to consistently evolve their programs. Award level schools have gone beyond that standard, Showing true commitment and dedication in their efforts. The Military Friendly® benchmark promotes positive educational outcomes and support services that better the educational landscape and provide opportunity for the military community," said Kayla Lopez, Military Friendly® senior director of military partnerships.
About Military Friendly® Schools
The Military Friendly® Schools list is created annually based on extensive research using public data sources for more than 8,800 schools and responses to the proprietary, Military Friendly® Schools survey. Survey questions, methodology, criteria, and weighting were developed with the assistance from an independent research firm and an advisory council of educators. It is administered for free and open to all post-secondary schools wanting to participate and receive award recognition in gold, silver, and bronze categories. Criteria for consideration can be found at www.militaryfriendly.com.
About Viqtory
Founded in 2001, Viqtory is a service-disabled, veteran-owned small business (SDVOSB) that connects the military community to civilian employment, educational and entrepreneurial opportunities through its G.I. Jobs® and Military Friendly® brands. Viqtory and its brands are not a part of or endorsed by the U.S. Dept of Defense or any federal government entity. Learn more about Viqtory at www.viqtory.com.
About WCC
Wayne Community College is a public, learning-centered institution with an open-door admission policy located in Goldsboro, N.C. As it works to develop a highly skilled and competitive workforce, the college serves 10,000 individuals annually as well as businesses, industry, and community organizations with high quality, affordable, accessible learning opportunities, including more than 165 college credit programs. WCC's mission is to meet the educational, training, and cultural needs of the communities it serves.