Wayne Community College has been named a "Military Friendly® School" for the seventh time.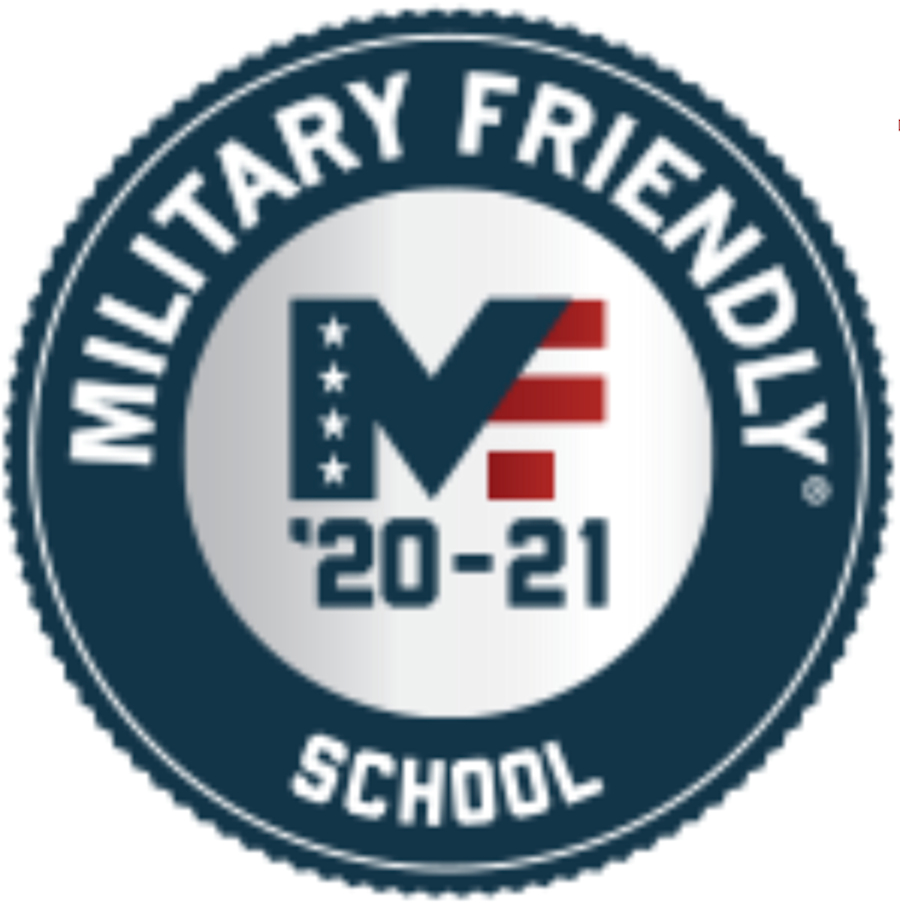 WCC is one of 12 of the 58 North Carolina community colleges to earn the designation. Overall, 33 of the state's institutions of higher education made the 2020-2021 list.
The Military Friendly® Schools list honors the colleges, universities and trade schools that are doing the most to embrace military students, and to dedicate resources to ensure their success in the classroom and after graduation.
Now in its 10th year, the list is intended to provide a comprehensive guide to help veterans, their spouses, and the military community select the best school for the education and training needed to pursue a civilian career.
"It is a great honor to once again have Wayne Community College designated as a 2020-2021 Military Friendly School," said Dr. Patty Pfeiffer, WCC Vice President Academic and Student Services. "WCC strives to support those in the armed forces, their dependents, and veterans. What is most rewarding is being able to serve the men, women, and families who have sacrificed so much for our country."
More than 1,690 schools participated in the 2020-2021 survey, with 625 schools earning the designation from every state in the country.
The full list can be found at www.militaryfriendly.com and will be published in the May issue of G.I. Jobs magazine.
Institutions earning the Military Friendly® School designation were evaluated using both public data sources and responses from a proprietary survey completed by the school.
Final ratings were determined by combining the institution's survey scores with the assessment of the institution's ability to meet thresholds for student retention, graduation, job placement, loan repayment, persistence (degree advancement or transfer) and loan default rates for all students and, specifically, for student veterans.
The survey questions, methodology, criteria and weighting were developed with the assistance of an independent research firm and an advisory council of educators and employers. Ernst & Young independently evaluated the scoring methodology used for the Military Friendly® Schools list using the criteria set forth by VIQTORY.
The survey is administered for free and is open to all post-secondary schools that wish to participate. Criteria for consideration can be found at www.militaryfriendly.com.
Methodology, criteria, and weightings were determined by VIQTORY with input from the Military Friendly® Advisory Council of independent leaders in the higher education and military recruitment community.
About VIQTORY
Founded in 2001, VIQTORY is a service-disabled, veteran-owned small business (SDVOSB) that connects the military community to civilian employment, educational and entrepreneurial opportunities through its G.I. Jobs®, Military Spouse, Military Friendly® brands. VIQTORY and its brands are not a part of or endorsed by the U.S. Department of Defense or any federal government entity. Learn more about VIQTORY at www.viqtory.com.
About WCC
Wayne Community College is a public, learning-centered institution with an open-door admission policy located in Goldsboro, N.C. As it works to develop a highly skilled and competitive workforce, the college serves 11,000 individuals annually as well as businesses, industry, and community organizations with high quality, affordable, accessible learning opportunities, including more than 140 college credit programs. WCC's mission is to meet the educational, training, and cultural needs of the communities it serves.
Follow WCC on Facebook (also @WayneCCNewsandViews), Twitter, and Instagram.