Wayne Community College has become the first community college to join NC State University in a partnership that will facilitate enrollment of military-affiliated students in both institutions.
The schools signed a memorandum of understanding for the Military Connect (MC) program of the NC State's Community College Collaboration on Oct. 7, making WCC the 14th community college partner, but the first military-focused partnership.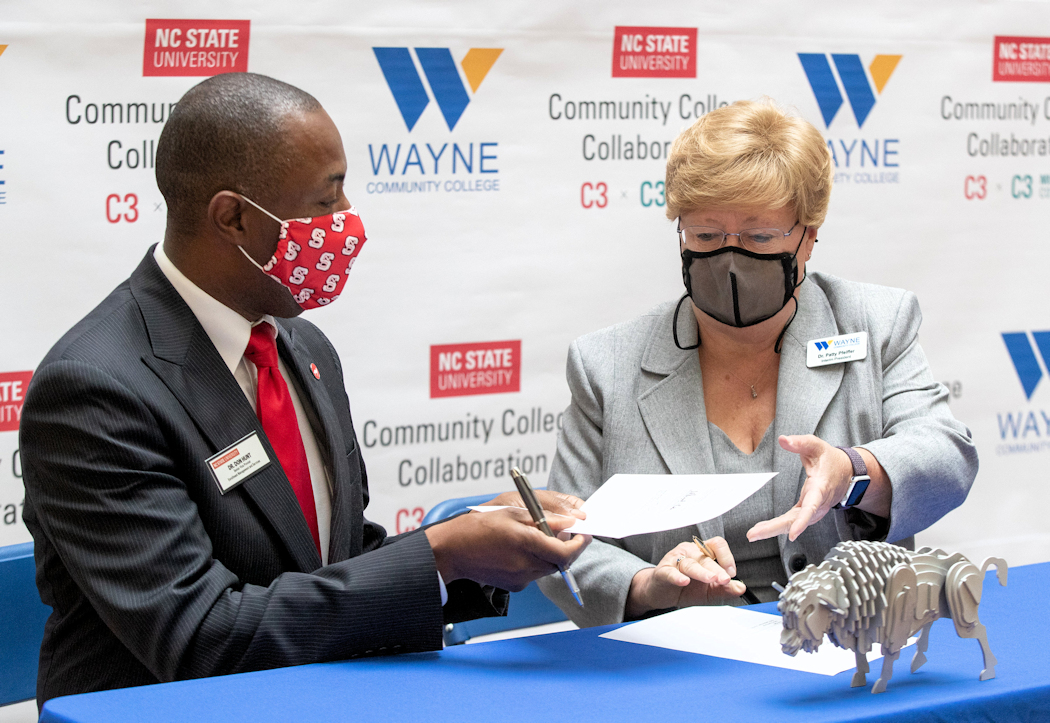 C3 is a dual-enrollment, dual-admission program that gives community college students a pathway to a four-year degree from NC State. Its Military Connect program will provide similar but specialized services to military-affiliated students, including access to NC State resources such as Military and Veterans Services, course planner and degree audit tools, and financial aid advising.
"As an administrator, my brain says this as a great deal for all involved," said Interim WCC President Patty Pfeiffer. "As a veteran who holds a degree from this very institution, the wife of a veteran who is an alumnus of this institution and the mother of two daughters – one a graduate and one who took coursework to move on to a four-year college – and even my son in law that's a graduate, this is agreement touches my heart. To be able to provide opportunities to such a deserving segment of our population brings great satisfaction, pride, and joy."
NC State Senior Vice Provost for Enrollment Management and Services Don Hunt, himself a veteran, recounted that it took him 16 years to earn his bachelor's degree, which makes the Military Connect program "near and dear to my heart."
"There is a need to have partners such as Wayne Community College and NC State to ensure that every veteran, active duty, and their dependents have a clear pathway to a four-year degree, two-year degree, or whatever their aspiration is here and beyond," Hunt said. "This is a great opportunity for us to begin this journey together and ensure that every military-connected student can have the future that they see."
Students admitted into the Military Connect program will be dual enrolled in both schools. They will have access to services, academic advising, financial aid advising and planning at both schools.
While they are studying at Wayne, MC students will be invited to participate in programming designed to help them build connections at NC State and transition into study there.
NC State guarantees admission to selected C3 MC students who complete their associate degree in art, science, or engineering with a 3.0 grade point average within three years.
"Especially exciting is the possibility of them taking NC State coursework that is available to them while they are studying here," said Pfeiffer.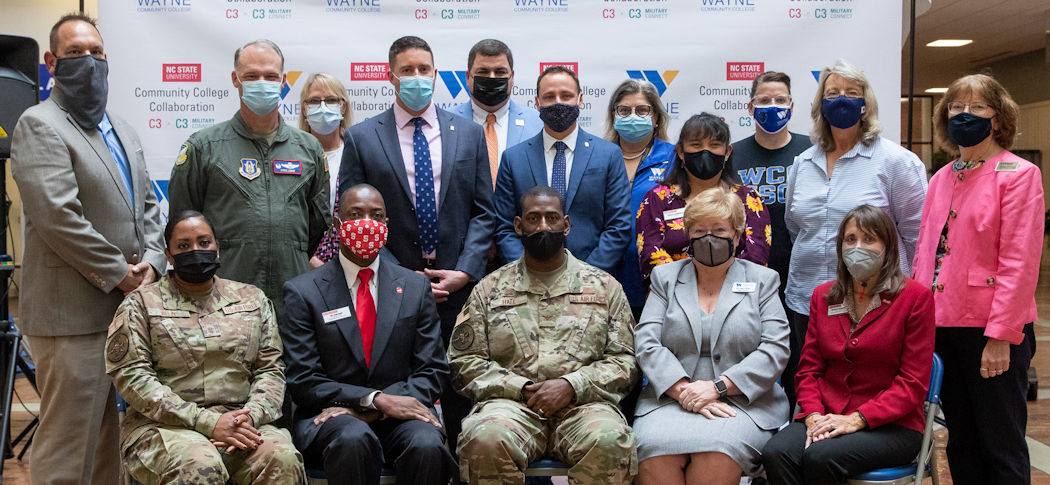 "We here at Wayne are eager to admit our first students into the C3 program and help them move through their associate degree and into a baccalaureate program at NC State, proving that bison herds and wolfpacks can coexist and thrive," Pfeiffer quipped.
Military-connected students – active-duty service members and their dependents, and veterans and their dependents – who have completed high school or who have fewer than 30 credit hours of college work are eligible to apply for the program next fall.
Interested students should apply for admission to WCC if not already enrolled there and submit NC State's C3 application that can be found at https://c3.ncsu.edu/apply/.
About WCC
Wayne Community College is a public, learning-centered institution with an open-door admission policy located in Goldsboro, N.C. As it works to develop a highly skilled and competitive workforce, the college serves more than 10,000 individuals annually as well as businesses, industry, and community organizations with high quality, affordable, accessible learning opportunities, including more than 165 college credit programs. WCC's mission is to meet the educational, training, and cultural needs of the communities it serves.