Wayne Community College and North Carolina Wesleyan College have renewed an agreement that promises smooth transfer of course credits.
The memorandum of understanding assures that courses taken by WCC graduates who earned associate degrees will transfer seamlessly to comparable programs at NCWC, giving those students an opportunity to continue their education towards a bachelor's degree.
It was signed by Dr. Thomas Walker Jr., WCC president, and Dr. Evan Duff, NCWC provost and senior vice president of academic affairs and adult studies, and witnessed by Dr. Gene Smith, WCC vice president of academic and student affairs, and Laura Estes Brown, NCWC associate dean of adult studies.
"Partnerships and articulation agreements are an important and necessary element in higher education. North Carolina Wesleyan College strives to provide access to a bachelor's degree to as many NC community college graduates as possible," said Dr. Duff.
"Establishing these effective and seamless transfer opportunities to the graduates of Wayne Community College brings life to our school's mission in regards to lifelong learning. NCWC Adult Studies classes are offered in an accelerated eight-week, one-night-a week format, and we also offer many classes online," said Dr. Duff.
Dr. Walker agreed that such alliances enhance WCC's programs by providing smooth transitions into further educational opportunities. "We are constantly striving to improve the path that takes our students to advanced educational options and better stations in life," said Dr. Walker.
Officials at both colleges view the agreement as a win-win situation for the schools and their respective students. The ability to pursue a four-year degree upon completion of an associate degree is attractive to WCC students and NCWC has the opportunity to grow its enrollment with a pool of students who have proven that they have the academic skills to succeed in an institution of higher education.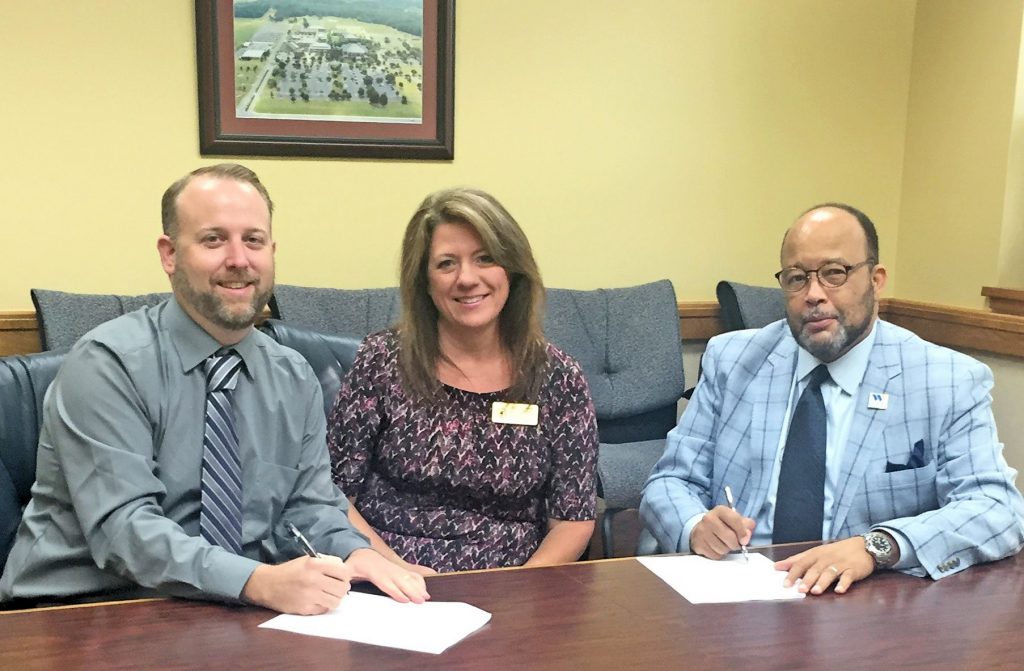 North Carolina Wesleyan, a four-year coeducational liberal arts college with a traditional enrollment of 1028 students on its Rocky Mount campus, also serves another 1052 students in its adult education programs. NCWC's offers baccalaureate degree options at sites in Goldsboro, Raleigh-Durham, and Rocky Mount, and at Brunswick Community College in Brunswick County, Pitt Community College in Greenville, The College of the Albemarle in Manteo, Beaufort County Community College in Washington, Southeastern Community College in Whiteville, and Cape Fear Community College in Wilmington. For more information about North Carolina Wesleyan College, visit www.ncwc.edu.
Wayne Community College is a public, learning-centered institution with an open-door admission policy located in Goldsboro, N.C. As it works to develop a highly skilled and competitive workforce, the college serves 14,000 individuals annually as well as businesses, industry, and community organizations with high quality, affordable, accessible learning opportunities, including more than 70 college credit programs. WCC's mission is to meet the educational, training, and cultural needs of the communities it serves. For more information about Wayne Community College, go to www.waynecc.edu.