Wayne Community College has partnered with NC State University to offer students admittance into the NC State Community College Collaboration program.
The NC State C3 program is a dual-enrollment, dual-admission program that gives community college students a pathway to a four-year degree from NC State.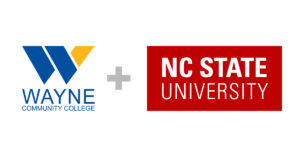 Students admitted into the program will be dual enrolled in both schools. They will have access to services, academic advising, financial aid advising and planning at both schools.
"We are excited to partner with NC State and the C3 program," said Dr. Brandon Jenkins, WCC Vice President of Academic and Student Services. "The C3 program will allow Wayne County high school students the opportunity to begin their college career at Wayne Community College while receiving academic, social, and financial support through NC State."
While they are studying at Wayne, C3 students will be invited to participate in programming designed to help them build connections at NC State and transition into study there.
NC State guarantees admission to C3 students who complete their associate degree in art, science, or teacher preparation with a 3.0 grade point average within three years.
Students from low to moderate-income households who have completed high school or who have fewer than 30 credit hours of college work are eligible to apply for the program.
Interested students should apply for admission to WCC if not already enrolled there and submit NC State's C3 application that can be found at https://c3.ncsu.edu/apply. Applications will open on September 1, 2023, for the Spring 2024 Semester.
About Wayne Community College
Wayne Community College is a public, learning-centered institution with an open-door admission policy located in Goldsboro, N.C. As it works to develop a highly skilled and competitive workforce, the college serves more than 10,000 individuals annually as well as businesses, industry, and community organizations with high quality, affordable, accessible learning opportunities, including more than 240 college credit programs. WCC's mission is to meet the educational, training, and cultural needs of the communities it serves.