Wayne Community College recognized the 18 members of its Practical Nursing class of 2017 in a formal pinning ceremony on July 27.
The annual service included presentation of nursing pins specific to the college that were designed by some of its first graduates, nurse's creed scrolls and roses by the faculty of the program; lighting of lamps (symbolic of Florence Nightingale going into the battlefield with a lantern); and recitation of the "Practical Nurses Pledge." It denotes the graduates' passage from students to professionals in the practice of nursing.
This year's graduates are
Quincina Caesandra Davis, Katrina Chandrell Evans, Bernardine Ryals Grady, Brittany Rae Hood, Tasha Renee Jennette, Moniqua Tyrrea Jones, Crystal Lane Smith, Kimberly Gayle Sprague, and Robert S. Taff of Goldsboro;
Madison LouEllen Grant, Leslie Michelle Mitchum, and Sofia Zometa Osorio of Dudley;
Kasey Jacqueline Montalvo of Mount Olive;
Heather Rae Frey of La Grange;
Dashawna Crystal Britt of Kenly;
Miranda Michele Harper of Clayton;
Percie Perry of Smithfield; and
Christina Danielle Knight of Greenville.
Evans was given the 2017 Practical Nursing Outstanding Student Award for achieving high standards in both the classroom and clinical components of the program.
In presenting the award, Nursing Department Chair Sue Beaman said that the nursing faculty described Evans as "always giving [her] best," and that she "approaches patients with a smile under the most difficult of circumstances and maintains a positive attitude, giving 100 percent consistently."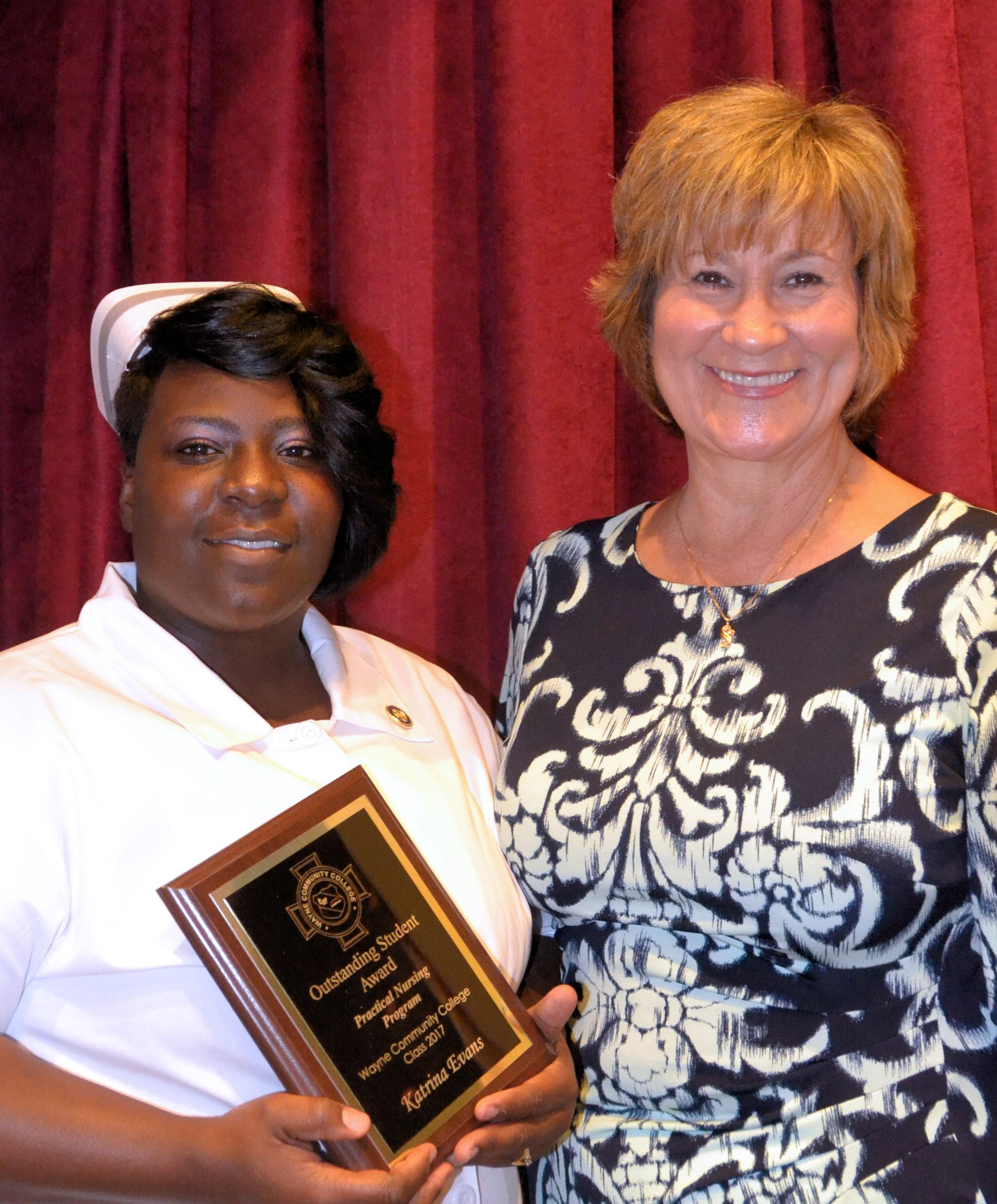 "Many have graduated from the Practical Nursing program at Wayne Community since 1957 and have paved the way for you. Now it is up to you to move the future of nursing forward," Beaman charged the graduates.
"Always wear your nursing pin with pride, remembering the strong foundation you have received as graduates of this program," Beaman said.
The graduates can begin work as licensed practical nurses once they pass the National Council Licensure Examination.
Wayne Community College's Practical Nursing Program is a limited-admission, three-semester program that is accredited by the National League for Nursing Accrediting Commission.
Wayne Community College is a public, learning-centered institution with an open-door admission policy located in Goldsboro, N.C. As it works to develop a highly skilled and competitive workforce, the college serves 14,000 individuals annually as well as businesses, industry, and community organizations with high quality, affordable, accessible learning opportunities, including more than 70 college credit programs. WCC's mission is to meet the educational, training, and cultural needs of the communities it serves.