Wayne Community College celebrated graduates of the General Motors Automotive Service Education Program (GM-ASEP) with a graduation banquet on Wednesday, Nov. 8.
The ceremony, which honored those from a variety of graduating classes, was the program's first graduation banquet to be held in the new Deacon Jones Automotive Center.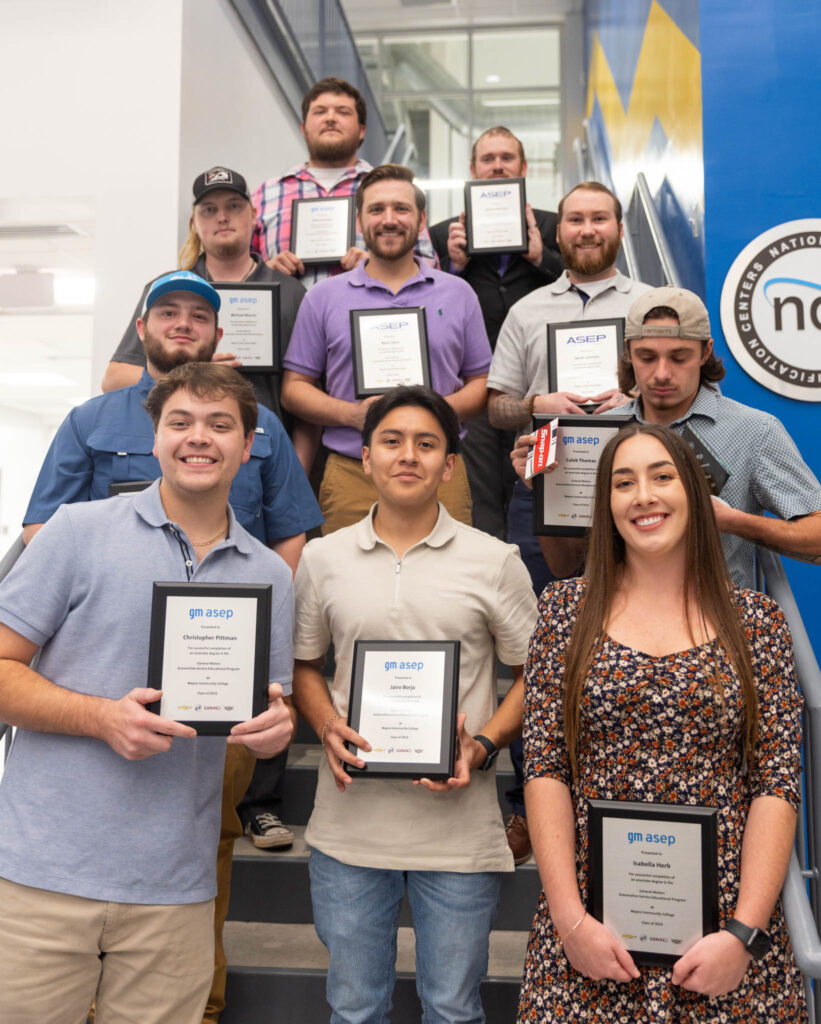 Graduates of the program are as follows:
Johnnie Williams
Gabriel Jacobs
Austin Howard
Jacob Johnson
Ryan Davis
Caleb Thomas
Bryan Garcia
Luke Jones
Logan Pittman
Jairo Borja
Dillon Teachey
James Barber
Isabella Herb
Michael Marcin
Kenneth Willoughby
WCC President Patty Pfeiffer congratulated the students on their academic achievements. "Many of you started your journey with us as car enthusiasts. But now you are professional automotive technicians," she said. "You have learned not only the nuts and bolts of an engine and a car; what you have learned is the heart and soul that drives the automotive industry forward."
"You should be very proud of your accomplishments. Now it's time to steer your own course, navigate new challenges, and accelerate into this career," said Pfeiffer.
Buick-GMC District Service Manager Jim Cuccurelo also spoke to the graduates about the responsibility they have moving forward. "There's only one person who controls your future, and that's you," he said. "You're the only person you can change to make better."
Cuccurelo stressed the importance of continued learning, especially with the constant rise of new technology in the automotive industry. "You are what we sell—your skills, your labor, your expertise," he told the graduates. "You have to be committed and do whatever it takes to continue your training and learning."
During the ceremony, three Leadership Awards were presented to Dillon Teachey, Ryan Davis, and Caleb Thomas by Transportation Department Chair Kevin Jordan. These students were recognized as exhibiting leadership attributes in school and in the community.
GM-ASEP is a strategic alliance between General Motors, GM dealers, and over 50 carefully selected colleges like WCC where students become GM certified service technicians and receive an Associate in Applied Science degree. Students in this program complete work-based learning placements in GM dealerships that supplement their classroom learning.
One of the graduates, Isabella Herb, was the only female in the program and felt that she grew each semester to find her place in a male-dominated field. "I really started to push through and prove that I could do what they were doing," she said.
Herb transferred to East Carolina University to obtain a bachelor's degree in industrial technology with a focus in mechanical design. "Everyone here has made the transfer to ECU very easy," she said. She plans to graduate in the spring.
Recent graduate Logan Pittman was always familiar with cars and the world of racing, but he didn't realize how little he knew about cars until enrolling in GM-ASEP. "When I came around people who knew what they were talking about, I realized I had more to learn," he said.
Pittman works at Deacon Jones Auto Group in La Grange where he now applies the skills he learned from his instructors. "I can't thank the teachers enough for teaching me the things they did and helping me so I can further my career. The GM-ASEP program is probably one of the best programs around."
About Wayne Community College
Wayne Community College is a public, learning-centered institution with an open-door admission policy located in Goldsboro, N.C. As it works to develop a highly skilled and competitive workforce, the college serves around 10,000 individuals annually as well as businesses, industry, and community organizations with high quality, affordable, accessible learning opportunities, including more than 240 college credit programs. WCC's mission is to meet the educational, training, and cultural needs of the communities it serves.