Wayne Community College recently joined East Carolina University in celebrating decades of eastern North Carolina partnerships and renewing their commitment to the newly rebranded Partnership Teach.
Partnership Teach was officially unveiled as the new name for the ECU College of Education's online degree completion model. In the program, formerly known as Partnership East, students take courses at a North Carolina community college and then transfer to ECU to complete a teaching degree.
"The name Partnership East reflected the original footprint which was only in eastern N.C. We continue to focus our efforts in the east, but over the years, we have expanded our online opportunities to all 100 counties," said Kathy Bradley, Partnership Teach coordinator.
Since 2019 was the last year the SECU Foundation funded the program, Bradley said, "It was a good time to embrace the name change to Partnership Teach which better reflects our mission of growing teachers through partnership."
During the meeting, representatives from the 23 two-year and community colleges that compose Partnership Teach, including WCC, re-signed their agreements with ECU.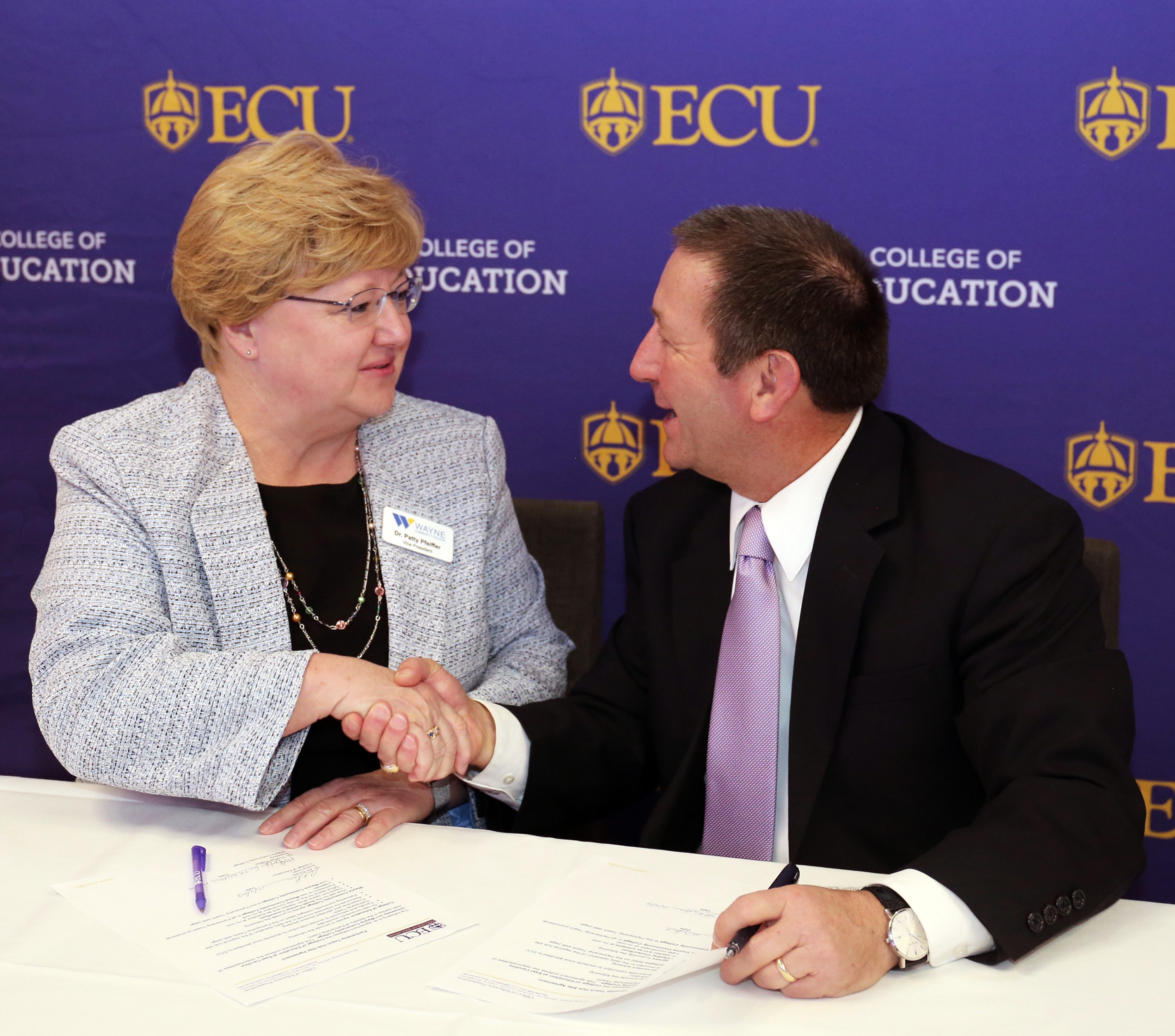 "Partnership Teach provides an excellent opportunity for our WCC students to articulate to ECU and finish their four-year degree in elementary education, special education, and middle grades education," said Dr. Patricia Pfeiffer, Wayne Community College Vice President Academic and Student Services. "The majority of the Wayne Community College students who enter the Partnership Teach program at ECU remain in Wayne County and teach in our local schools."
Since WCC joined the consortium in 2003, more than 140 WCC graduates continued their education through Partnership Teach and earned bachelor's degrees in education, the most of any of the 50 community colleges that have had students participate in the program. Dozens more are currently in the program.
"There's no better strategy for the future of our region than homegrowing talent," Interim Chancellor Ron Mitchelson said. "These local pipelines result in a huge level of success for our region and our students."
"These kinds of partnerships are integral to our work that we do together to prepare educators," COE Interim Dean Art Rouse said. "The College of Education's motto is 'Excellence Through Partnership' and these partnerships exhibit that motto daily.
"Our college is also committed to access and we could not be accessible to prospective educators without the community college connections and collaborations with our Partnership Teach," Rouse said.
Partnership Teach is comprised of Louisburg College and 22 community colleges: Beaufort, Carteret, Central Carolina, Coastal Carolina, College of the Albemarle, Craven, Edgecombe, Fayetteville Technical, Halifax, James Sprunt, Johnston, Lenoir, Martin, Nash, Pamlico, Pitt, Roanoke-Chowan, Sampson, Vance-Granville, Wake Technical, Wayne and Wilson.
Learn more about Partnership Teach at https://education.ecu.edu/partnership/ or by contacting Partnership TEACH Coordinator Lynn H. Mooring at mooringl16@ecu.edu or 919-739-7012. Mooring has offices at WCC, which serves as a regional hub for the program.
About ECU
ECU offers 84 bachelor's, 71 master's and 18 doctoral degrees to more than 29,000 students on its Greenville, N.C., campus and through an acclaimed online learning program. The university's school of medicine is recognized nationally for producing primary care physicians, cardiovascular research, advanced robotic surgery as well as obesity and diabetes breakthroughs. ECU also boasts the largest business school enrollment and largest number of new nurses and education professionals produced by a four-year North Carolina university, in addition to the largest studio art program in the state.
About WCC
Wayne Community College is a public, learning-centered institution with an open-door admission policy located in Goldsboro, N.C. As it works to develop a highly skilled and competitive workforce, the college serves 11,000 individuals annually as well as businesses, industry, and community organizations with high quality, affordable, accessible learning opportunities, including more than 140 college credit programs. WCC's mission is to meet the educational, training, and cultural needs of the communities it serves.
Follow WCC on Facebook (also @WayneCCNewsandViews), Twitter, and Instagram.